Realize LIVE Virtual Event June 23 – 24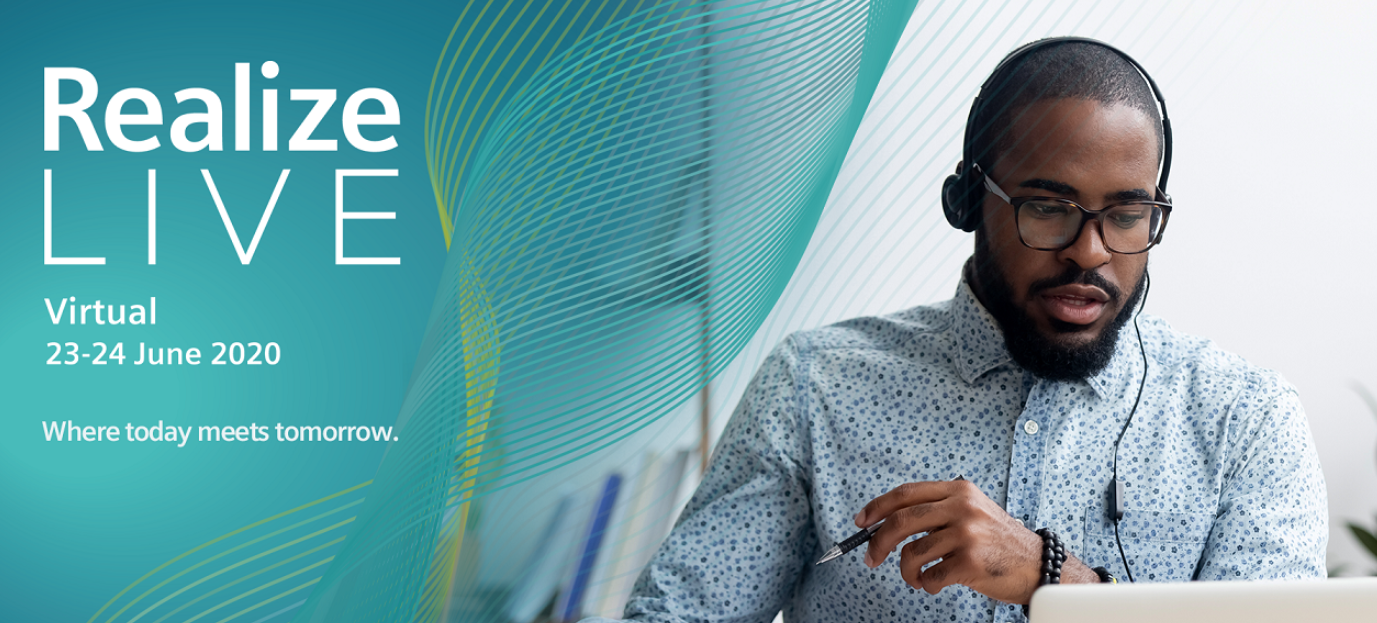 Due to the impact of the coronavirus (COVID-19) pandemic on our global community, we have decided to transition Realize LIVE 2020 to a complimentary 2-day virtual event.
On June 23 and 24 you will be able to enjoy, totally free of charge, an exciting new Realize LIVE virtual experience without travel concerns.
Our team is working hard to deliver the amazing experience you expect in this new format and will share updates here as they become available.
BRINGING TOGETHER THE SIEMENS COMMUNITY
Realize LIVE brings together users and non-users, partners, and industry thought leaders for education, networking, and training. The ultimate goal of this event is to optimize your productivity and better your business by helping you to become more proficient with the tools and resources available.
The following FAQs address some of the concerns you may have regarding the transition of
Realize LIVE 2020 Las Vegas to a virtual event due to the coronavirus (COVID-19) pandemic.
Is Realize LIVE 2020 canceled?
No, Realize LIVE is not canceled. It is being transitioned to a complimentary virtual event.
When will the new Realize LIVE virtual event take place?
We will kick-off the Realize LIVE virtual event at 11:00 EST on Tuesday, June 23 and it will continue on June 24. More details will be posted to the website as they become available or you may sign up to receive real-time updates.
Is there a fee for the new Realize LIVE virtual event?
No, the Realize LIVE virtual event will be available totally free of charge. Please sign up to receive details on how to register once they become available.
I registered and paid to attend Realize LIVE 2020 Las Vegas already. Can I get a refund?
Yes, anyone who previously registered to attend Realize LIVE 2020 Las Vegas will be receiving a full refund. If you registered via credit card, the fee will be refunded directly in the coming weeks. You do not need to take further action to initiate the refund process. If you do not see a credit on your account by the end of April or have any additional questions regarding your refund, please contact Marianne Mueller at marianne.mueller@siemens.com.
I submitted an abstract to present at Realize LIVE 2020 Las Vegas. Is there an opportunity to speak at the virtual event or a future Realize LIVE event?
Yes, more information will be sent shortly to everyone who submitted abstracts to present at Realize LIVE 2020 Las Vegas. For more information, please contact Lester Cornelius at lester.cornelius@siemens.com.
I signed a contract to sponsor or exhibit at Realize LIVE 2020 Las Vegas. Can I get a refund?
Yes, you can either get a refund or consider sponsoring our virtual event. Information will be sent to you shortly and a member of the global events team will contact you directly to discuss your options. In the meantime, you may contact Erin Wander at erin.wander@siemens.com with any questions.
I am a member of the media or analyst community. Will the virtual event contain content that is relevant to me?
Yes, but the virtual event will not be providing an experience tailored to the media and analysts.
What's the plan for Realize LIVE in 2021?
The Realize LIVE event in 2021 will be back at the Mandalay Bay Resort in Las Vegas on May 17-20, 2021, but with an exciting addition! We will be offering the opportunity to experience portions of the event virtually to enable remote participation from anywhere in the world.
I previously made hotel reservations for Realize LIVE 2020 Las Vegas. Can I get a refund?
You are responsible for cancelling your own hotel room.
All the hotels in the Realize LIVE block offer free cancellations with no penalties if canceled prior to 72 hours in advance of check in. Please ensure you cancel directly using the link provided: https://book.passkey.com/go/srlz0620mb
If you booked your hotel room through a booking site or agency, please review your confirmation or contact the hotel directly for more information on specific cancellation and refund policies.
If you still plan to travel to Las Vegas over the original dates of the event, you must contact the hotel directly. The Realize LIVE rate is no longer valid, so rates will vary.
I previously booked flights for Realize LIVE 2020 already. Can I get a refund?
Siemens will not be refunding flight costs. Please contact the airline or transportation organization you booked with to cancel your flights. Many airlines have been updating their cancellation policies and changing fees daily. Each airline has different terms.
Who do I contact for more information?
Please contact: eventinfo.sisw@siemens.com with any other questions.
Where can I find presentations from the 2019 Realize LIVE event?
Please click here to access the 2019 Post Event Content page which contains access to the web-based mobile app for all 2019 agenda items, as well as select video recordings of breakout sessions and main-stage keynotes.
More information about the NX Manufacturing sessions will be posted on the blog soon.
This article first appeared on the Siemens Digital Industries Software blog at https://blogs.sw.siemens.com/nx-manufacturing/realize-live-virtual-event-june-23-24/