Next Generation Mold & Die Machining with NX CAM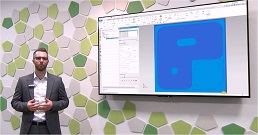 Watch our video series describing exciting new capabilities in NX CAM 12. The complete "Next Generation Mold & Die Machining with NX CAM" video transcript appears below the video link.
Narrated by Alexander Freund, Product Manager for Mold & Die, Siemens PLM Software
I want to tell you about new capabilities in NX CAM. Our newly introduced adaptive milling roughing toolpath will give our users the capability to create toolpaths that remain a consistent chip thickness throughout the complete toolpath while using the complete flute lengths of their tools. This is especially very useful for milling hard materials like Inconel or titanium. Through maintaining a consistent chip thickness and having reduced cutting forces throughout the complete toolpath it is possible to emphasize high feeds and speeds throughout the complete toolpath. Depending upon the part geometry reducing of machining time up to 60 percent can be realized.
While having the benefit of reduced machining time, NX CAM adaptive milling can also help you to save tool costs through an up to four times longer tool life. Connecting to the cut motions with the new low high transfer moves, makes it even more efficient. The tool does life just slightly in tool axis direction to position the tool for the next cut without scratching the floor. Very beneficial for our users are not only are our works for the different cut patterns but also the smoothing projects for the non-cutting moves.
Besides smoothing the transfer move corners, NX CAM can also smooth from the engage and retract motions. Depending upon the part geometry, significant reducing of machining time up to 15 percent can be achieved. The new cut plane transfer gives the user the option to maintain constant Z–height between cutting passes. The cut plane transfer type can improve overall surface accuracy by avoiding machine lifts. This is particularly effective for Z-profile and follow part cut patterns which employ open passes. With these enhancements machining time will be reduced and the surface quality of parts will be significantly improved.
Learn more about what's new in NX 12 for manufacturing on the NX Manufacturing blog.
This article first appeared on the Siemens Digital Industries Software blog at https://blogs.sw.siemens.com/nx-manufacturing/next-generation-mold-die-machining-with-nx-cam/