Products
Make time for Siemens at RAPID + TCT 2018 Conference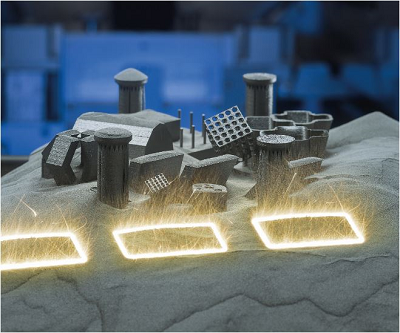 Are you attending the RAPID – TCT event for discovery, innovation, and networking in 3D manufacturing? Don't miss it. This year the four day conference will take place at the Fort Worth Convention Center in Fort Worth, TX.You'll find us in Booth #2224 just inside the entrance to the exhibition hall from the theater area. A team of Siemens experts will be on hand to talk to you about additive manufacturing and the next generation of intelligent manufacturing solutions.
Join us on April 25, 2018 at 2:45 pm, when Siemens' Marketing Manager, Ashley Eckhoff, will deliver a short presentation during a Digital Thread session for novices titled,
How Predictive Engineering Analytics Can Be Used to Improve the Additive Manufacturing Process
Manufacturers are increasingly looking to disruptive technologies like Additive Manufacturing to enable on-demand production, produce components never before possible and reduce order to cash cycle time. Even though 3D Printers are more accessible than ever, moving from prototyping to meaningful volume production still requires a significant investment in capital, process change and retooling of personnel.
Predictive engineering analytics is the application of multidisciplinary engineering simulation and test with intelligent reporting and data analytics, to develop digital twins that can predict the real world behavior of products throughout the product lifecycle. Going beyond the basic technology of 3D printing, this session answers questions for those who are seeking to fully understand how simulation, validation, and data analysis can be used to drive a more effective additive manufacturing process.


What can simulation tell you about the additive manufacturing process for a particular part and orientation?


How can you be confident that your 3D printing design decisions are not impacting manufacturing quality or increasing field failures?


How can we understand and interpret additive manufacturing information and decision points, using these to adjust the process and improve outcomes?


In order to industrialize additive manufacturing, you need to be able to make accurate decisions about how the part you are printing is affected by the variables of the printing process. This can be achieved using a combination of simulation, validation, and data analysis. To generate a virtuous cycle, you need proper feedback loops between the manufacturing process and the up-front design and setup. This allows you to focus valuable capital resources on producing the right parts with the proper inputs, resulting high-quality output.
Learning Objectives


Understand how simulation, validation, and data analysis combine to improve the additive manufacturing process


Learn how to reduce print errors by using software tools to identify areas of concern early in the process


Learn how feedback loops in the additive manufacturing process are becoming increasingly important to industrial additive manufacturing production


About Ashley Eckhoff
Ashley Eckhoff has a background in engineering and has been with Siemens for over 20 years in various capacities. He has spent the last few years deep-diving into additive manufacturing in both product design and marketing roles.
This article first appeared on the Siemens Digital Industries Software blog at https://blogs.sw.siemens.com/nx-manufacturing/make-time-for-siemens-at-rapid-tct-2018-conference/