Products
JK Machining reduced programming time from hours to minutes with NX CAM software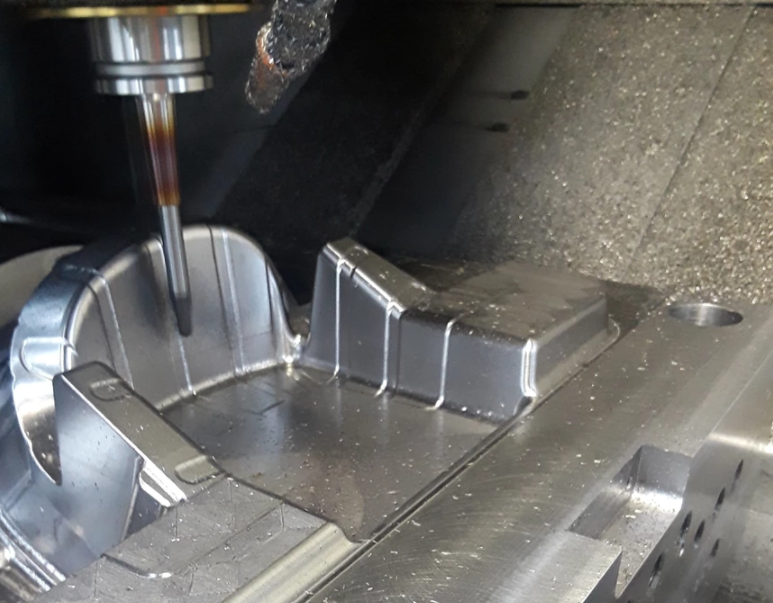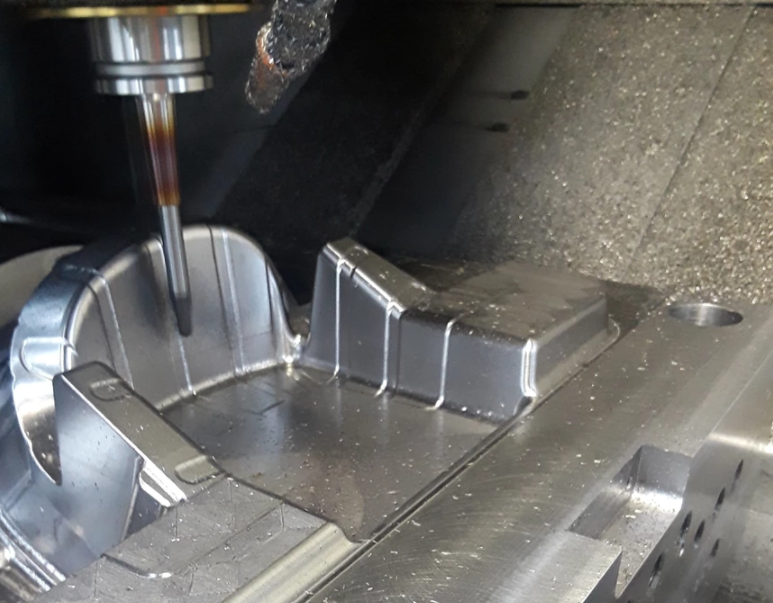 Another great NX CAM software case study coming your way! A Siemens NX Mold Wizard and NX CAM software success story is featured in the September issue of Modern Machine Shop magazine. The article shines a light on how NX software provided JK Machining with tools that simplified and automated steps in the mold manufacturing process. The following is a summary of the JK Machining success story. You can read the complete story in Modern Machine Shop.
For better high-speed machining of complex molds with deep cavities, the NC programmers use multi-axis milling. They automatically convert smooth 3-axis tool paths to 5-axis using NX CAM. Five-axis machining helps JK Machining to improve mold quality and reduce cycle time by up to four times.
About JK Machining
The 15-employee company located in Kalamazoo, Michigan focuses on class-101 molds—high-production molds with fast cycle times made from high-quality materials and designed for 1 million or more cycles. Its automotive customers are Tier-One and Tier-Two suppliers producing mostly air conditioning outlets, trim bezels, cup holders and other interior components. JK Machining also makes molds for the medical device industry. Both sectors demand high quality, better mold-parting lines, better finishes, tighter tolerances, timely delivery and reasonable costs. Such demands have only grown.
Manufacturing Challenge
JK Machining used separate software for design and production that made it difficult to meet quality and lead-time demands.
JK Machining delivers superior-quality molds on time using the latest manufacturing technologies that enable them to successfully compete with offshore moldmakers that not only have an advantage in cost but are also improving the quality.
We used to have 18 to 22 weeks to build a tool for automotive. Now that's down to 10 to 12 weeks. All of our customers want to get to market faster. Offshore moldmakers have an advantage in cost, and are bringing up their level of quality – they are our main competitors.

Henry Kalkman, President of JK Machining
Formerly, JK Machining had used separate software systems for mold design and manufacturing. To move from design to production required the company to export data from the design system in a neutral exchange format, then import the data into the CAM system for numerical control programming. This transfer and translation of data introduced additional steps and errors in the process that hampered productivity. Furthermore, the data translation and transfer steps complicated the handling of inevitable design changes, which are difficult to track and implement correctly through the convoluted process.
JK Machining's previous NC programming software solutions lacked key capabilities that limited the types of jobs the company could undertake. When JK Machining acquired high-speed, 5-axis machines, the NC programming software proved to be difficult to operate and to customize to better address its specific requirements for speed and efficiency.
Success with NX Software
A finished mold component is being examined for quality. Using the advanced cutting methods in NX CAM, this job shop can machine molds with near-mirror finish that minimizes manual bench re-work.
JK Machining selected NX based on several key characteristics of the software. With its fully integrated capabilities, NX offered automation of the entire mold development process, from design through manufacturing. The CAD tools of NX include powerful functions for working with geometric models provided by customers, as well as mold-specific capabilities that support an efficient best-practice workflow for mold design. For NC programming, NX CAM software delivered leading-edge tools for 5-axis and high-speed machine programming that would enable the company to take full advantage of its advanced machine tools. With this integrated system, JK Machining established a digital thread that enabled process automation throughout design and manufacturing.
With comprehensive NC programming capabilities and high levels of user control, NX CAM software enables JK Machining to program all the mold assembly components, including mold plates, cavities, cores, and EDM electrodes, using one software system.
With the 5-axis tool tilt method in NX CAM, we improve molds quality while reducing machining time by up to four times.

Henry Kalkman, President of JK Machining
Key results
Seamless mold making process – from design to finished molds
Reduced average mold development time from 20 weeks to 11 weeks
Automated the entire mold manufacturing process
Reduced programming time from hours to minutes
Efficient design change management
Reduced machining time by up to four times using five axis machining
Siemens' NX integrated software helped JK to improve mold quality and reduce lead time by 50 percent. The plastic injection molds are manufactured for Tier 1 and Tier 2 automotive and medical device suppliers, which demand short delivery times for complex molds with better mold parting lines, better finishes and tighter tolerances.
This article first appeared on the Siemens Digital Industries Software blog at https://blogs.sw.siemens.com/nx-manufacturing/jk-machining-reduced-programming-time-with-nx-cam/