Products
NX 11 Advanced Sheet Metal for Automotive and Aerospace Parts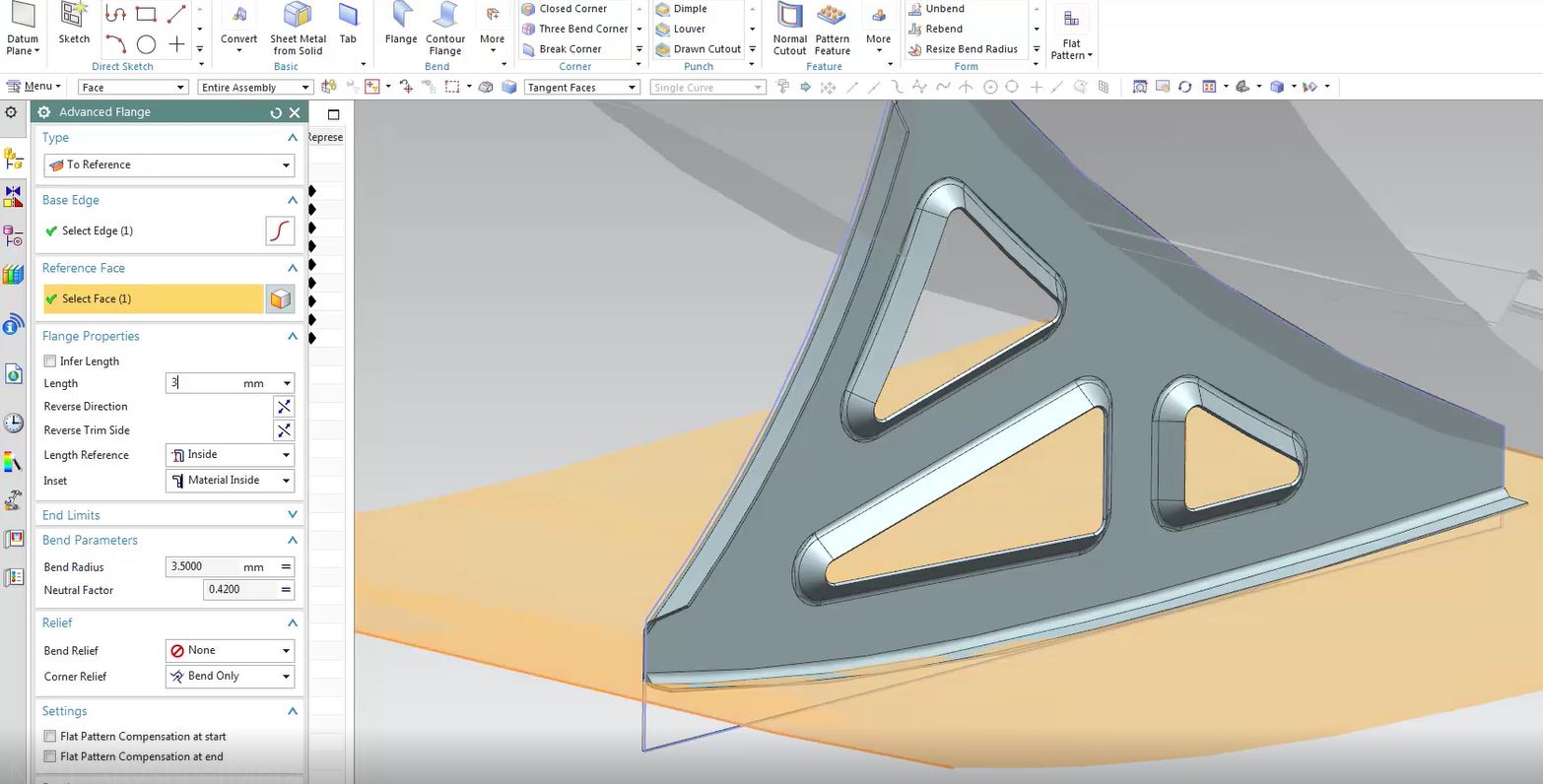 Creating fast, accurate flat patterns is the goal of any organization that manufactures products which contain sheet metal parts. NX Sheet Metal provides a set of tools within the NX design environment that allows for simple and fast design of sheet metal parts, dependent on their material and manufacturing process, the most common of which is straight brake sheet metal forming.
With NX Sheet Metal, formed and unformed representations of the parts are created closely following the industry workflows and best practices for bending calculations, tooling, and sheet metal features. The value lies in improving quality and reducing cost of sheet metal parts by producing an accurate sheet metal pattern as the correct input for part manufacture, whether internally or to a supplier.
As the name suggests, straight brake sheet metal forming uses manufacturing tooling (press brakes) that form the part by bending the metal blanks along linear or straight lines. This is an efficient and cost-effective way to create simple brackets, housings, and enclosures across many industries. However, if you look around you at many items that are made from constant thickness sheet metal, you will see that the shapes and bends are more complex than just straight line bends. These parts are not just simple planar brackets or boxes and cannot be manufactured using straight brake bending techniques; instead, their manufacturing techniques are more complex and consequently will be higher cost. The manufacturing techniques typically used for these more complex parts include hydroforming, drawing, and deep drawing. Progressive dies as well as other types of dies and punches also allow non-linear bends and forms to be created.
In NX Modeling, complex uniform thickness parts (often sheet metal) are created either by using surfacing techniques and then thickening the result, or by starting with a solid shape, blending, and then shelling the part to get uniform thickness. For complex parts, which have variable radius blends and important curvature conditions, these techniques are necessary to produce the correct part. However, for some less complex parts that still have non-linear bends and don't need to be modeled in NX this way, NX Advanced Sheet Metal can be used instead.
NX Advanced Sheet Metal has been re-written in NX 11 to be consolidated with NX Sheet Metal. Its Advanced Sheet Metal features—Advanced Flange, for example—are targeted at parts that have non-linear bend lines and are typically not manufactured with straight brake tooling. This allows more automotive parts to be created and flattened using the NX Sheet Metal (Advanced) application, typically in automotive parts around the curved edges of a plate that requires a strengthening flange. Advanced flanges can be created on non-linear edges or tangent curves. The flanges can follow a contour curved or b-surface face as well as a reference surface, supporting bend allowance and compensation adjustments.
Additionally, NX Advanced Sheet Metal in NX 11 now also includes functionality that was previously only available in NX Aerospace Sheet Metal. Starting in NX 11, Aerospace Sheet Metal is retired, and its functionality can now be found in the improved and consolidated Advanced Sheet Metal product—Aerospace Flange is now Advanced Flange; Aerospace Joggle now Joggle; and Aerospace Lightening Cutout now simply Lightening Cutout.
NX Advanced Sheet Metal is now the product to choose for creating aerospace sheet metal parts. Typically, the aerospace sheet metal parts have planar tabs and webs, with the flanges being offsets from the curved surface of the fuselage skin for the frames, and the ribs in the wings have their flanges offset from the airfoil skin. Using the Advanced Flange, the tabs and webs are automatically trimmed and flanges added as reference to the airframe or wing's skin.
With the new Joggle command, complex joggles can be created on tabs and flanges. This allows the sheet metal parts to fit around each other in assembly, with the stationary to offset (joggled) region via transition, with run-out and clearance values input during the joggle creation. With both Advanced Flange and Joggle, there are additional flat pattern compensation controls available to allow for finer adjustment of the flat pattern.
Lightening Cutouts are used in aerospace to reduce weight, add strength, and provide access for cables. The Lightening Cutout creates a flanged cutout inside a sketch or defined point to simulate a stamping tool, which creates a bent flanged edge to reduce chaffing on any cables fed through it.
In summary, the new Advanced Flange found in NX 11 Advanced Sheet Metal is a strong addition to NX Sheet Metal, allowing for quick creation of parts with sheet metal features and flattening, particularly for automotive sheet metal parts that are neither too complex nor are manufactured with straight brake tooling. For aerospace sheet metal parts, Advanced Flange, Joggle, and Lightening Cutout are powerful tools now also available in NX 11 Advanced Sheet Metal, bringing the standard required aerospace sheet metal design workflows to the NX user.
This article first appeared on the Siemens Digital Industries Software blog at https://blogs.sw.siemens.com/nx-design/nx-11-advanced-sheet-metal-for-automotive-and-aerospace-parts/