Products
FIA names Siemens "Official Supplier of Urban Mobility Advocacy Solutions"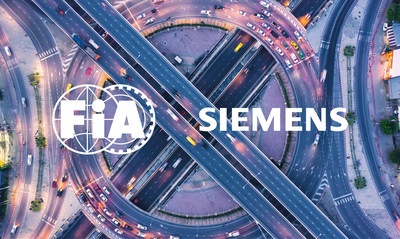 As an "Official Supplier of Urban Mobility Advocacy Solutions" for the Fédération Internationale de l'Automobile (FIA), the governing body of world motor sport and the federation of the world's leading motoring organizations, Siemens plans to develop a toolkit of software solutions for FIA member clubs to help them provide an evidence-based approach to advocate for the implementation of mobility policies and strategies. The 'FIA Mobility Advocate' combines modeling for mobility, autonomous vehicles, and the environment, with enhanced analysis outputs to help meet current future mobility goals.
"As our global population explodes and puts increasing pressure on urban areas, technologies are evolving to meet these demands. The speed of implementation of these technologies must be balanced with the safety and security of the population. Simulation models and digital twins are instrumental in allowing the FIA to bridge this gap and advocate for mobility policies & strategies that benefit not only their members but all citizens."

Karen Giese,
Smart Cities Program Manager,
Siemens Mobility and Intelligent Traffic Systems
The 'FIA Mobility Advocate', supported by the FIA Innovation Fund, will utilize a suite of innovative and integrated software platforms from Siemens Mobility's Intelligent Traffic Systems and Siemens Digital Industries Software that can be implemented across many different locations.
"The more you can create a digital twin of the environment in which a vehicle ultimately is going to operate, the better you know you're designing a successful transportation system. "You need digital twins from sensors to mechanical and electrical systems to the traffic and physical urban environments. Our joint efforts with the FIA are a great example of applying simulation to improve pedestrian safety in both racing and urban environments."

Ed Bernardon,
Vice President, Strategic Automotive Initiatives,
Siemens Digital Industries Software
This project expands Siemens' relationship with the FIA with the goal of leveraging digital technology expertise and innovation to improve convenience, safety, efficiency, affordability, accessibility and reliability while responding to global mega trends and changes in consumer behavior. Last year, the FIA and Siemens worked together to improve rally safety by exploring how autonomous vehicle pedestrian detection technology could be used to identify rally spectators in dangerous locations, making it easier for rally organizers to take preventative action to avoid accidents. Importantly, outcomes from this project directly benefit efforts to improve pedestrian safety in cities, another important element of today's announcement.
Read the full press release here.
This article first appeared on the Siemens Digital Industries Software blog at https://blogs.sw.siemens.com/nx-design/fia-names-siemens-official-supplier-of-urban-mobility-advocacy-solutions/