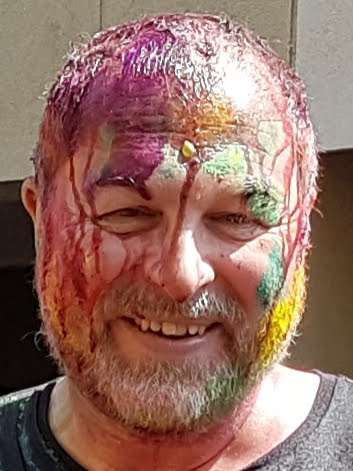 As we pass the purple girls on their scooter and the green headed man wizzes round us on his bike we enter the residential area. Initially the green park area and blue swimming pool provides a quiet oasis from the audible and visual noise of the high street, but then we walk around the corner of a building into a whirlwind of colour. People dancing, children squirting water pistols, and everyone covered in multiple colours from head to toe. Where am I? Across the road from Siemens PLM office in Pune, India.
On seeing the pale coloured visitor that I am, friends and strangers in the crowd break off and head towards me with smiles and words of greeting, followed quickly by a storm of coloured powders and hands of wet paints covering my head and face. Within seconds I am welcomed as part of the party celebrating the festival of colours called Holi.
This festival of colours really brings people together, not just neighbours coming out of their homes to enjoy each other's company but also to welcome strangers willing to join in the kaleidoscope of coloured paints and water fights, connecting different cultures and ages together.
But this is not the primary reason why I am in Pune. I am here to work with colleagues in NX development on the next versions of NX MBSE (Model Based Systems Engineering). This is also about making connections through colours, but this time between engineers working in different departments and connecting requirements of products to physical measurements on components and assemblies.
As explained in the article It's not only Logical in NX 12 we delivered a deep integration showing the connectivity between requirements in Active Workspace to geometry in NX.
Also providing visual reports showing pass/fail of checks on measurements against requirements.
We now have in NX the ability to connect CAE results to the master DMU of the product allowing you to see the status of structural and dynamic simulations through visual reporting on your product from within the main CAD assembly. An efficient visual workflow to connect information between different groups within the organisation.
In the next phase of the project we will be providing diagrammatical views of the physical model using colour bars to show the status of requirements on components and how those components relate to one another through various connections.
This will allow you to see how changes modify the status of components and sub-assemblies and what impacts those change have on other components.
Steven Vickers, NX Product Manager
This article first appeared on the Siemens Digital Industries Software blog at https://blogs.sw.siemens.com/nx-design/colours-that-connect/