Products
BIM Navigator | NX Tips and Tricks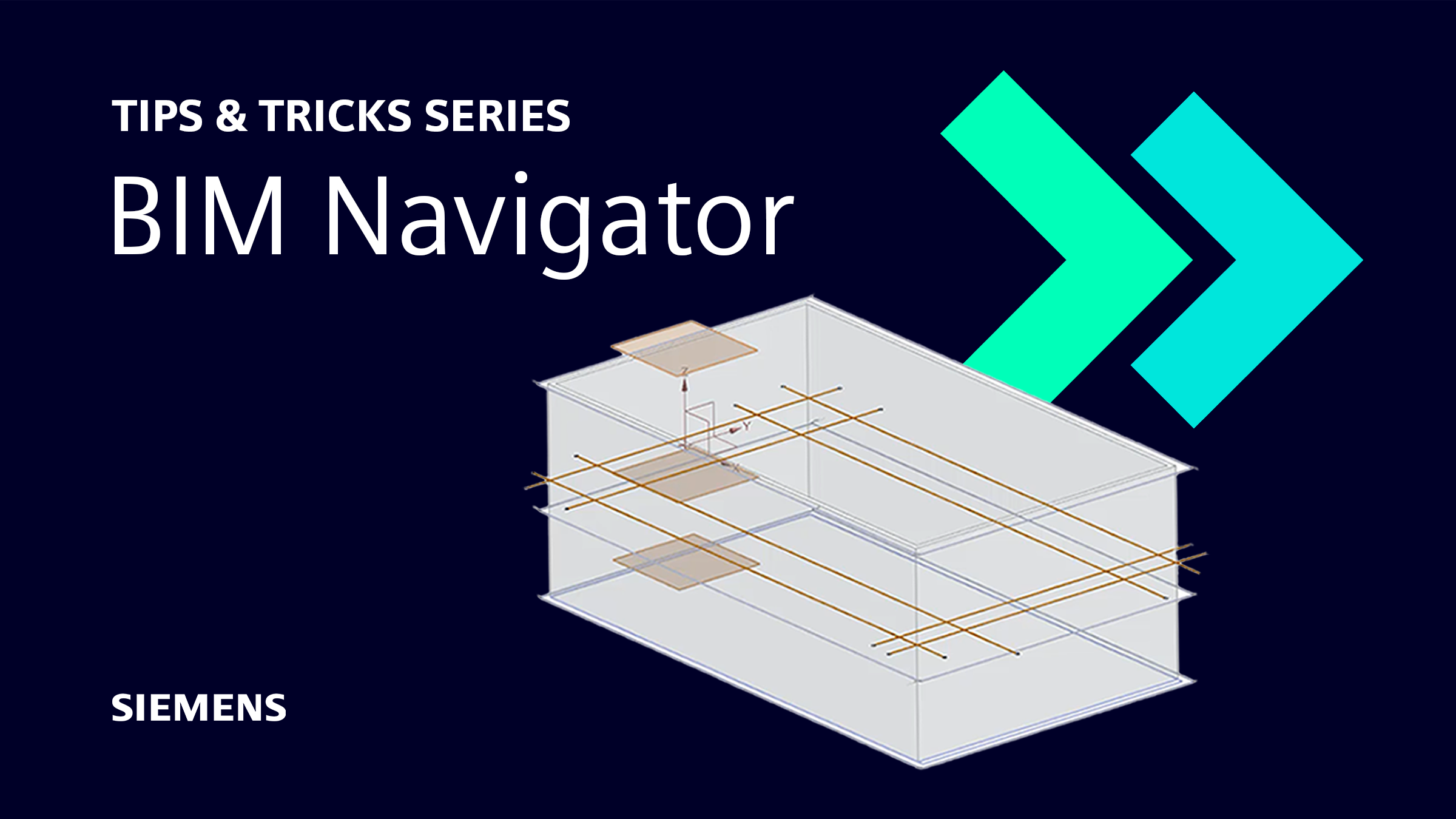 Introduction
For our next Tips & Tricks post, we'll be diving into some exciting new functionalities in the December 2022 release of Siemens NX product, NX for BIM (Building Information Modeling). This post, along with the accompanying video, will showcase how NX delivers you and your team advanced automation and integrated technology—helping to accelerate the design process within the Building Information Modeling category.
Architecture, Engineering & Construction (AEC) software background
For simplicities sake, AEC design software has typically used a monolithic structure which has made design and collaboration within this space unnecessarily complicated. This simple CAD design structures is adequate for a single designer or architect, but problematic when attempting to collaborate with multiple people across disciplines or attempting to understand and manage design changes. So many tools have been devised to try and manage objects and enable collaboration, yet ultimately these tools fall short in providing robust, efficient collaboration and change management solutions.
Mechanical CAD tools leverage assemblies and components to enable collaboration and change management. However, AEC design software do not leverage assemblies and components, which negatively impacts performance as the size of projects increase. Additionally, without assemblies, multiple users cannot effectively work concurrently, and real-time change management becomes an ever-present collaboration issue for teams.
NX simplifies component interaction through a single BIM Navigator
Realizing these challenges when using AEC software, NX set out to create a familiar, efficient, and intuitive design environment for designing and creating buildings. NX 2212 has been enhanced with the ability to easily work within an assembly structure — eliminating the overhead traditionally experienced when using assemblies. This capacity to quickly and intelligently move between components while creating walls, doors, and windows is essential.
BIM Navigator Tips & Tricks Key Points:
NX provides a single BIM Navigator that simplifies interactions with components—with all the benefits of assemblies (e.g., concurrent design, assembly LW load performance, components are managed individually, as well as the ability to easily manage design changes and lifecycles).
Editing design features such as walls, floors, ceilings, doors, etc. is as simple as double-clicking on a BIM object. Working within the traditional Assembly-Component environment would require at least two steps. First, the user would make the component the Work Part so that the feature could be edited. Next, the user would then need to again make the displayed part as the Work Part.
Activating Levels immediately isolates the level and clips the view to easily see windows within walls.
The BIM Navigator includes standard architecture views, allowing users to easily return to viewing the entire design.
Finally, in unique cases where something cannot be done in the BIM environment, simply switch into modeling and access all of the tools within NX (which cannot be done in traditional AEC tools—forcing users to find work arounds that are not intuitive or easy).
Conclusion
We hope these tips & tricks within the BIM category have been helpful as we continue dive in and explore all the new functionalities of the 2212 release of NX. Keep checking back for more tips & tricks as we'll be covering more features across multiple sectors. Finally, please don't forget to let us know if there are any specific features you'd like us to cover as part of this series!
This article first appeared on the Siemens Digital Industries Software blog at https://blogs.sw.siemens.com/nx-design/bim-navigator-nx-tips-and-tricks/