Products
Introducing NX Sustainability impact analysis
Sustainability assessment at the heart of the product design process
Siemens Digital Industries Software today announced that it is bringing world-class environmental impact data and assessment capabilities directly into its NX™ software, its flagship solution for product engineering from the Siemens Xcelerator portfolio of software and services.
---
Sustainability Impact Analysis
NX sustainability impact analysis puts environmental impact assessment at the heart of the product design process, enabling smart decisions based on accurate up-to-date data. The new module allows organizations to calculate, view and evaluate the impact of their design decisions based on a diverse and comprehensive set of 30+ environmental impacts. Additionally, this also introduces CAD native machine learning-driven material recommendation capabilities based on real-world data and design requirements. All of this maximizes the use of information from the design processes through manufacturing, logistics, use-phase, and eventual end-of-life with connected enterprise systems and reuse information learned in subsequent design iterations.
---
CAD Design Processes
Companies will be able to benefit from the added transparency in their design processes and continue to get the most out of their digital tools. As companies work to track and minimize their environmental impact, the metrics and assessment capabilities NX sustainability impact analysis provides can help reduce key design-influenced key performance indicators (KPIs) by up to 40%.
CAD Sustainability Capabilities
Designers and engineers will be able to perform environmental impact calculations and rollups at all phases of the product lifecycle, carry out what-if analyses, and material selection optimizations driven by machine learning that take advantage of best-in-class life cycle assessment models and data sets. This data will be available for export in traditional report form and will persist inside NX, viewable using the graphically rich 3D-based HD PLM reporting capabilities.
---
"Designers and engineers are under unprecedented pressure to ensure that their products meet sustainability requirements. What has traditionally been unavailable is a fully integrated and efficient method of assessing the environmental impact of a product at the very formative stages of development, where decisions based on carbon emissions can sit alongside the other diverse factors involved in product development."

PAUL BROWN, SENIOR MARKETING DIRECTOR, SIEMENS DIGITAL INDUSTRIES SOFTWARE
---
Enabling Product Circularity
NX sustainability impact analysis targets the complete product lifecycle from design, through manufacturing and even logistics, allowing assessment and reporting on not only material extraction and piece part material impacts, but provides insight into the impact of assembly and production, transportation, and end-of-life.
Once established during design, sustainability data is then available for comparison with data measured from the final manufactured physical parts and processes. The system also leverages Siemens Digital Logistics for assessing the impact to transportation-related carbon emissions. When connected to the wider enterprise, environmental targets and requirements for design can be driven from requirements captured in Siemens' Teamcenter™ software for product lifecycle management and used for validation against requirements and environmental credits.
Finally, the capture of such fundamental data in an intelligent product model within a managed data environment means that reassessment against new and increasingly fast-changing governmental legislation and industry regulations becomes a quick and efficient process; for existing designs, during design refreshes, and when developing next-generation products.
---
Sustainability analysis with the digital twin
"Companies need the ability to provide designers with sustainability metrics early on in the design process. An integrated approach can change the mindset and optimize environmental impact, helping companies to introduce the next generation of sustainable products."

GUY LEWIS, ESG & SUSTAINABILITY ANALYST, VERDANTIX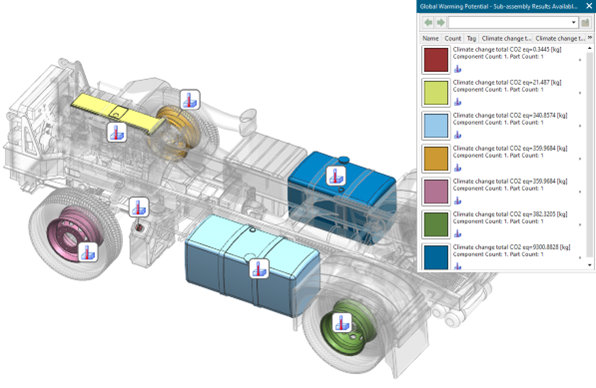 Sustainability impact analysis arms designers with a toolset that adds to the world's most comprehensive Digital Twin that integrates sustainability data into the design process at the point where it can have the greatest influence and impact. Learn more about Siemens NX for product engineering and how it can help drive a more sustainable future with advanced technologies ranging from carbon emission data to topology optimization to simplifying assemblies by visiting our website.
---
This article first appeared on the Siemens Digital Industries Software blog at https://blogs.sw.siemens.com/nx-design/announcing-nx-cad-sustainability-impact-analysis-for-product-design/