Products
Low-code agility for IoT profitability
Digital transformation creates opportunities
Today's digital revolution is creating new opportunities for industrial companies. New business strategies powered by digital technologies are fundamentally changing the business landscape. Companies recognize they need to move quickly. As our Business Sustainability (and Survival) Strategies 2020 survey found, "Almost one-half of businesses (46%) have increased focus and/or accelerated digital transformation due to the pandemic."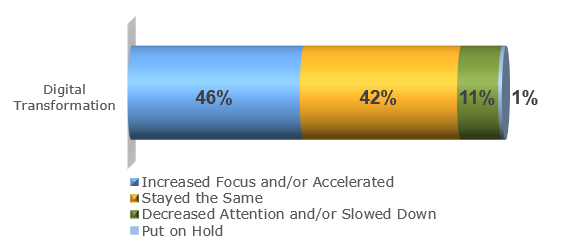 The IoT opens up new business value
One of the most significant new technological advances is the maturation of the Internet of Things (IoT). The increased readiness and adoption of IoT, and the related industrial Internet of Things (IIoT), opens up new opportunities for manufacturers. The potential new initiatives range from improving their own plant performance to connecting with their products to offer new value-added services. Some companies are even using the opportunity to move to a new revenue model where their products are sold based on usage, performance, or throughput. Whether manufacturers want to improve their operational performance or adopt an innovative new business model such as the product as a service (PaaS) approach described above, the IoT offers the potential for significant new business value.
Digital transformation creates gaps
Companies need to find ways to take advantage of the data and opportunities generated by the IoT. They need to figure out how to:
Connect and communicate with equipment or products
Monitor and analyze data and performance
Notify and act on the findings
These requirements create the need for many new applications. Gaining value from IoT data requires functionality that is typically not in any existing systems. On the other hand, it often relies on information in those systems. This is the nature of a "digital transformation gap," and manufacturers are running into lots of them.
Filling IoT digital transformation gaps
Manufacturers have to move fast to fill these gaps. Our Filling Digital Transformation Gaps with Applications research finds that 54% of industrial companies say that digitalization has increased the speed of change/demand for agility. These opportunities really can't wait for traditional systems to catch up. IT departments, and their users, need help.
Low-code helps fill the gaps
Low-code application development is maturing at the right time to fill these gaps and help manufacturers gain value from the IoT. Low-code development allows rapid development to meet the large number of applications needed to fill digitalization gaps. More importantly, the model-based development approach enables users to be involved in defining and iterating on application designs to meet an evolving, unpredictable set of needs created by the IoT and related business models. This collaboration allows companies to get applications right by allowing domain experts and IT to work together through rapid design and prototyping. As the "Transformation Gaps" study finds, "48% of companies using low-code development report streamlining application development and better meeting business needs as benefits" – allowing them to get applications right, fast.
Beyond the efficiency in initial application development that low-code provides, the approach also lets companies iterate to learn – quickly and inexpensively – so they can try new things to see what works. Optimizing competitive advantages and profitability from IoT initiatives requires some trial and error.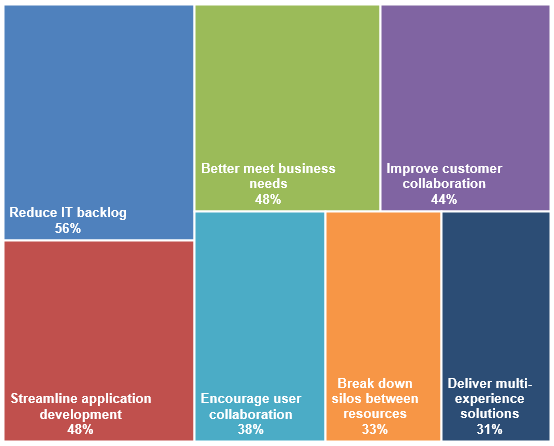 Additional benefits of low-code for IoT
Low-code development has some additional benefits that make it well-suited to help companies take advantage of the IoT opportunity. The first is integration. IoT initiatives typically require a combination of data from different sources. For example, an app intended to intervene when a machine is trending toward a breakdown (and costly downtime) might need to access data from a CRM for customer information, a SLM for warranty/repair information, a PLM for design information, and an IoT system or data lake to gather sensor data. None of these individual systems has the full data and process context, creating a gap. Low- code can span and connect these existing applications and build new capabilities that leverage information from each.
Low-code can also help companies adopt new technologies that they may not be as familiar with. For example, low-code applications can incorporate artificial intelligence (AI) capabilities to further the capabilities of underlying systems. It can also help extend apps to edge devices and mobile apps that companies are not as familiar developing for, while still leveraging the same development environment.
In our prior example, low-code could help incorporate predictive analytics to identify a potential equipment failure and alert a service technician on a mobile device.
The bottom line
The IoT brings new opportunities and new challenges. At the same time, it can create or widen gaps that overburden existing IT resources. Low-code can help companies keep up with the new demands by allowing them to move quickly while also better meeting needs and preventing rework through better collaboration with business users. Needs will change and new gaps will arise. Low-code creates the agility needed to keep up with them and profit from IoT opportunities.
The bottom line is that our study shows that "companies currently developing solutions using low-code development are over three times as likely to be able to fill digital transformation gaps "very well" than those not yet using it." This advanced development capability is a strategic advantage manufacturers can't do without as they address the challenges and opportunities of digital transformation and the industrial IoT.
For more information, read the full research study completed by Tech-Clarity, Filling Digital Transformation Gaps with Applications.
---
This article first appeared on the Siemens Digital Industries Software blog at https://blogs.sw.siemens.com/mendix/2021/04/21/low-code-agility-for-iot-profitability/