Filling digital transformation gaps with low-code applications
The road for manufacturers to fulfill digitalization is rugged, and there are many gaps to bridge. How can you fill digital transformation gaps in a way that will evolve with current and future needs? Are there any solutions that could accelerate your digital transformation journey?
An online survey conducted by Tech-Clarity, an independent research firm, has the answers based on 300+ survey responders. According to the survey, companies currently using low-code application development are over three times more likely to be able to fill digital transformation gaps "very well" than those not yet using it. Around 40% reported their companies have already adopted or planned to adopt low-code development. With demand for applications increasing, low-code development platforms are an appealing solution to fill digital transformation gaps.
Why low-code? Here are some main factors:
Increase collaboration 
Any team is only as good as its ability to collaborate. It is recognized that lack of effective communication was almost always at the heart of software failure.
When domain experts and professional developers speak in the same language — as in a visual model in low-code development — no translation is required, everyone understands the problems as they are presented and the solutions as they evolve, iterations are rapid. Collaboration enables the right solution to be built quickly and reduces rework.
Faster time to market
Today, companies struggle to keep pace with the growing demand for new software solutions to meet the rapidly changing need of their business. Speed, specifically the quick translation of ideas into tools to support dynamic, evolving business needs, is critical in a digital organization. In a fast-changing world, delay means yielding advantage to the competition.
With the right experts working together, low-code development allows you to save a great deal of time and resources building the solutions that make an impact. It provides efficiencies and agility that modern transformation requires.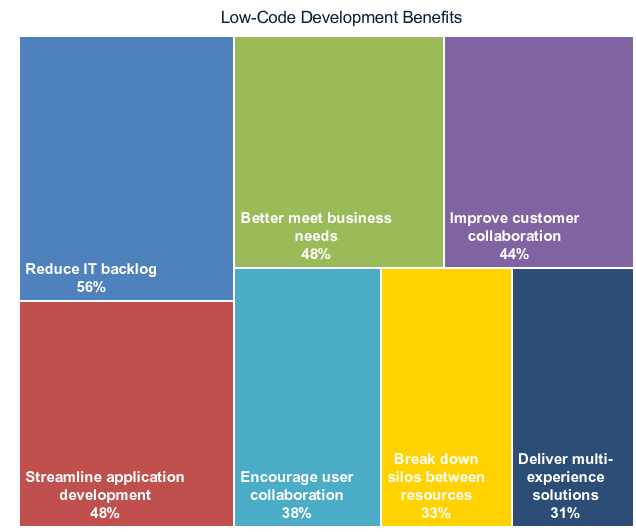 ---
Time to prove it with low-code  
Every competitive organization will experience the shortfalls and gaps exposed during their digitalization journey – how to handle the gaps is what is key. Early adopters confirm low-code app development is worth the buzz. It is no longer an emerging tech with potential, it's a proven tool with proven results in the industrial industry.
Do you want to explore it and figure out the effective way to fill digital transformation gap? You'll be ready, since we can back you up. Siemens Xcelerator is the catalyst for digital transformation, and it includes the leading low-code development platform.
Download "Filling digital transformation gaps with applications" and see how quickly you can meet your digital transformation goals with low-code.
This article first appeared on the Siemens Digital Industries Software blog at https://blogs.sw.siemens.com/mendix/2021/03/04/filing-digital-transformation-gaps-with-low-code-applications/