Mendix World 2020: Go Make It.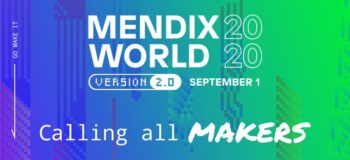 Low-code development and digitalization
Navigating a global disruption requires change-readiness and adaptability. At its core, low-code development is built on these supporting principles — collaboration, agility, openness, and innovation.
Learn how you can use low-code to drive digitalization forward and embrace our new reality. Attend Mendix World: Version 2.0 for inspiration, tools, and best practices to help you make a real difference.
About Mendix World
The event kicks off on September 1 with our CEO + CTO keynote at 8:00 ET/14:00 CEST followed by 60+ breakout sessions. All sessions are pre-recorded and available for you to watch on your own schedule, whenever works best for you.
Additionally, we will offer a dozen live workshops throughout the rest of the event launch week—stay tuned for more details!
Register now and check out some of the sessions we think you might like:
This session put into focus how engineers can make a direct impact on process digitalization, generating apps that are process and business specific and engaging to use. For me, one of the key strenght of Mendix in the industrial domain.
Challenge is: doing that was a challenge for engineers. Up until today. This session will show how Teamcenter data can be exposed to other systems and users without holding an informatics degree. We might also be able to get a solid look at the Mendix Data Hub (which is super-awesome, I saw it already)!
Trust is good, control is better! You can trust the glossy slides of the sessions above after seeing what was implemented at CNH Industrial.
I have been hearing from GBS a lot recently in my new role within the Siemens Mendix adoption program. They achieved to create an incredible amount of value, even at the very start of their Mendix journey. While their use cases are not very close to engineering, what GBS did is a prime example of what you can achieve with low-code adoption.
This article first appeared on the Siemens Digital Industries Software blog at https://blogs.sw.siemens.com/mendix/2020/08/24/mendix-world-2020-go-make-it/