What Manufacturing Operations Software has done for 4 of its users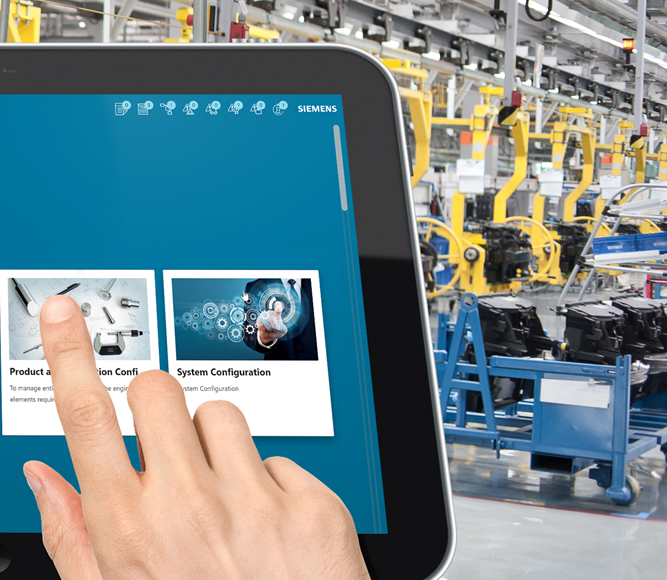 Today's manufacturers are balancing customer demands for personalized products, machine productivity, quality, and more.
Industry 4.0 smart solutions like Manufacturing Operations Management (MOM) software can help with this precarious balancing act, and more importantly, it's within reach and easy to implement.
Embracing new technology helps manufacturers keep up with growing customer demands while simultaneously increasing productivity and moving more quickly and cost-effectively.
What is Manufacturing Operations Management Software?
Manufacturing Operations Management Software is another solution manufacturers can use to help optimize automation activities on the factory floor.
MOM software like Opcenter from Siemens provide a return on investment from day one.
Opcenter empowers users to digitalize their entire manufacturing operations, providing end-to-end visibility into all their processes and giving decision-makers the information they need to make positive changes.
When four different manufacturers implemented Opcenter, each of them experienced positive results across the board.
Accelerating time-to-market
DAB Pumps manufactures pumps designed to move water in a variety of residential, commercial, and agricultural applications.
The company embraced digitalization and implemented Opcenter as their MOM solution.
With six production sites located around the world, tracking manufacturing processes proved to be a significant challenge.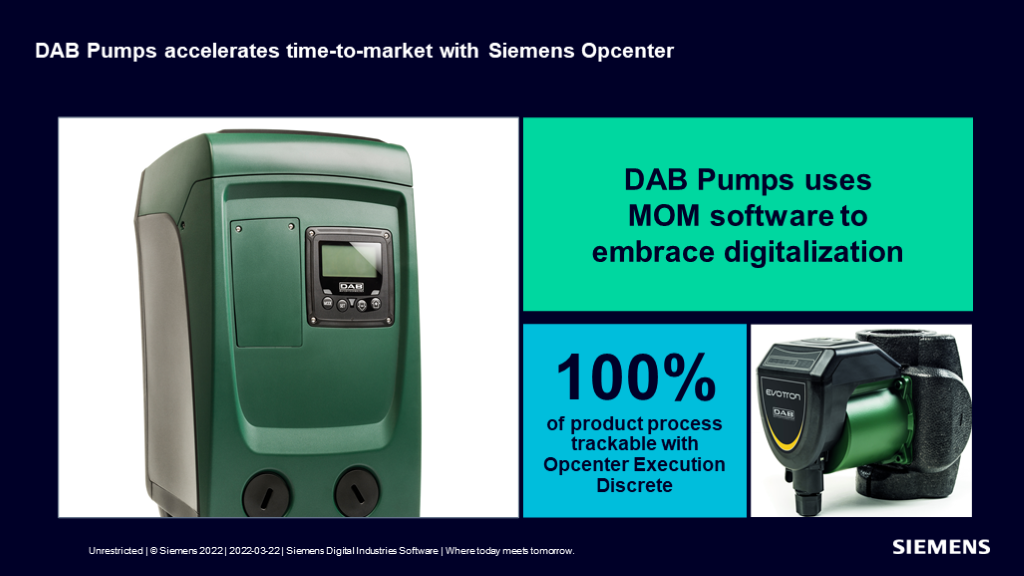 Opcenter made it possible to track 100 percent of their production processes, regardless of location.
This improved visibility empowered the company to analyze their processes and get their products to market faster than ever before.
A more efficient manufacturing process despite complexity
Danfoss, a large enterprise company immersed in a variety of productions ranging from compressors and burner components to pumps, valves, sensors, and more.
Highly complex and configurable products create challenges for the efficiency of manufacturing processes.
With a flexible enterprise architecture approach using Opcenter, Danfoss can better serve their customers.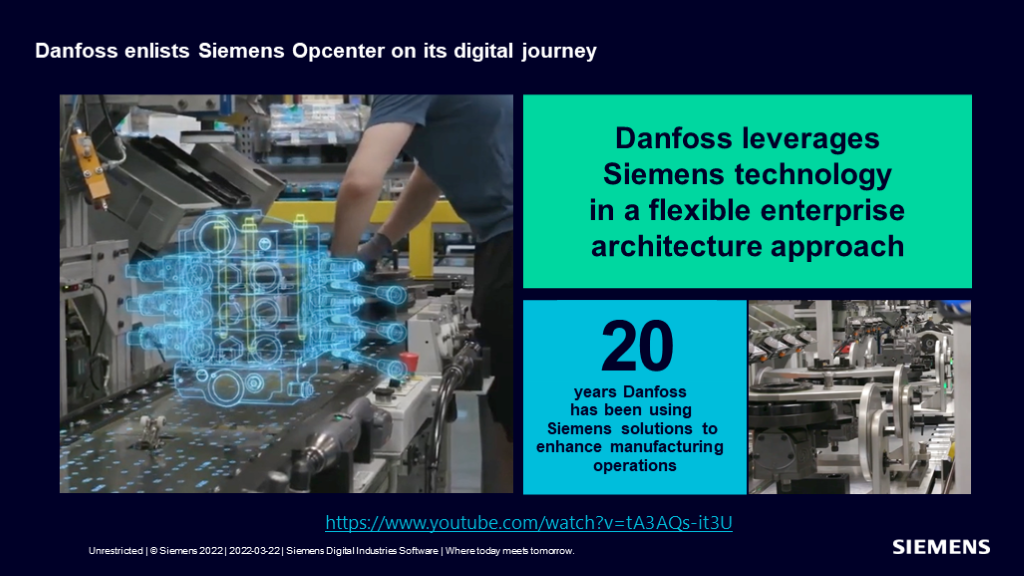 And by using Siemens technology for over 20 years to enhance their manufacturing operations, Danfoss has made it possible to achieve a competitive advantage when producing highly configurable products with high variations at a high volume.
Complete operational process integration and management
A global leader in the packaging sector, Robopac specializes in end-of-line solutions and packaging equipment.
To remain in the lead and increase their growth in the long-term, the company needed a way to manage their production operations automatically.
Up until this point, most production lines were handled manually.
Robopac implemented Opcenter and discovered they were able to improve the efficiency, flexibility, and quality of their processes.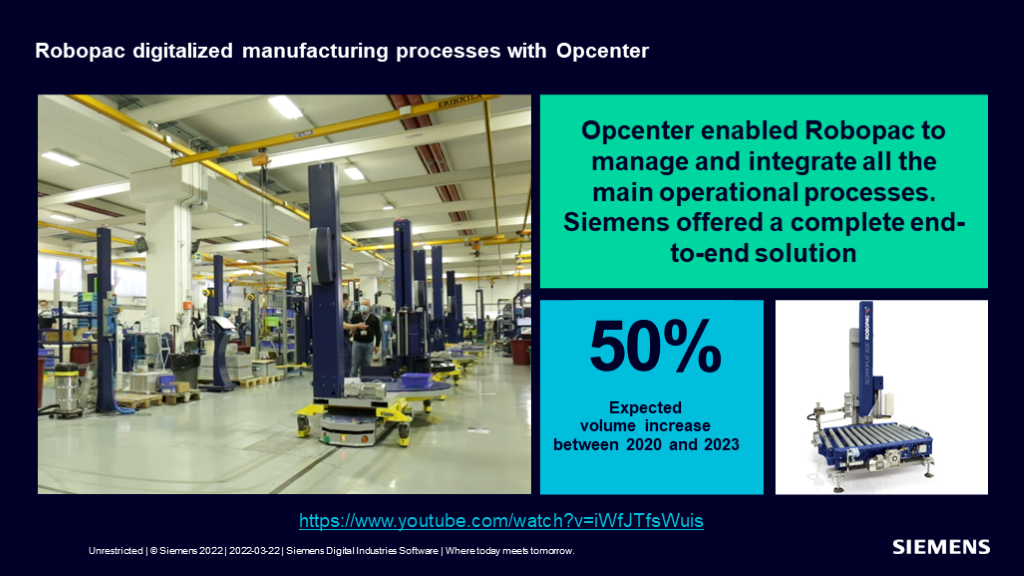 The end-to-end solution easily integrated with their ERP system, and now they have full visibility of materials and parts in addition to the skillset of their workforce at each of their 40 different workplaces.
This insight allows decision-makers to maximize productivity and minimize downtime based on the available resources.
Eliminate the software island landscape
Vorwerk is an international corporate group, and their main business focuses on household appliances.
The company pieced together more than 20 software solutions to monitor different production processes in molding, fabrication, and assembly.
They discovered Opcenter could provide a single point of truth, and it could be integrated with PLM and ERP.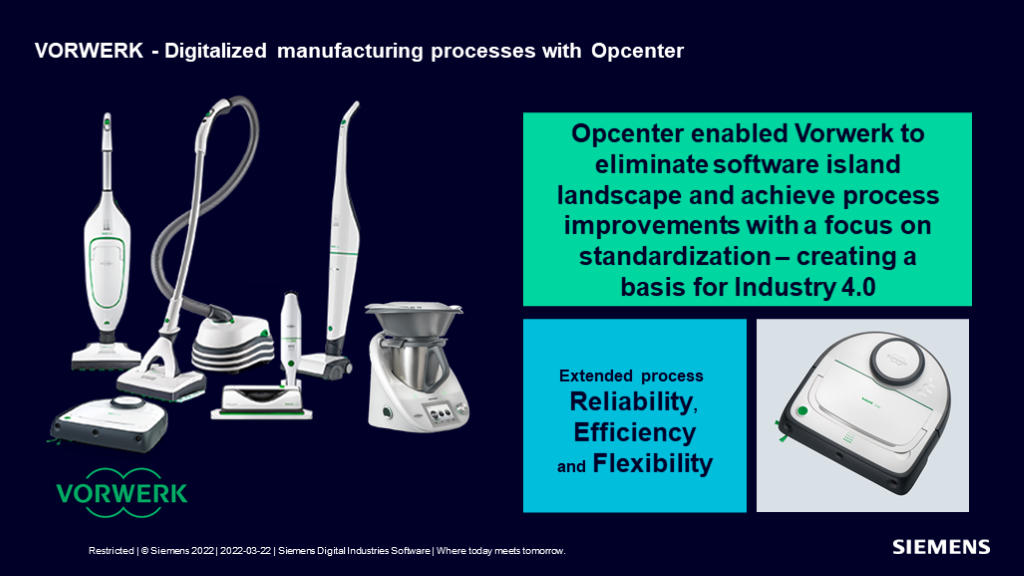 Vorwerk fully embraced the new software, and as a result, they were able to increase productivity and improve efficiency with a simple single solution in place.
Manufacturing Operations Management Software from Siemens
Opcenter is a holistic Manufacturing Operations Management (MOM) solution enabling users to
digitalize their entire manufacturing operations.
Opcenter provides end-to-end visibility into production, allowing decision-makers to readily
identify areas to be improved while providing the information needed to make positive
operational adjustments.
This scalable platform delivers multiple capabilities and enables users to combine production
efficiency with quality and visibility.
Manufacturers of varying sizes and types have something to gain from this solution. Watch this webinar or read read the white paper to learn more about Opcenter and go in-depth into how these different customers used this software solution to improve their manufacturing operations and grow their businesses.
This article first appeared on the Siemens Digital Industries Software blog at https://blogs.sw.siemens.com/industrial-machinery/2022/04/15/what-manufacturing-operations-software-has-done-for-4-of-its-users/