Corporate
Eric Massingham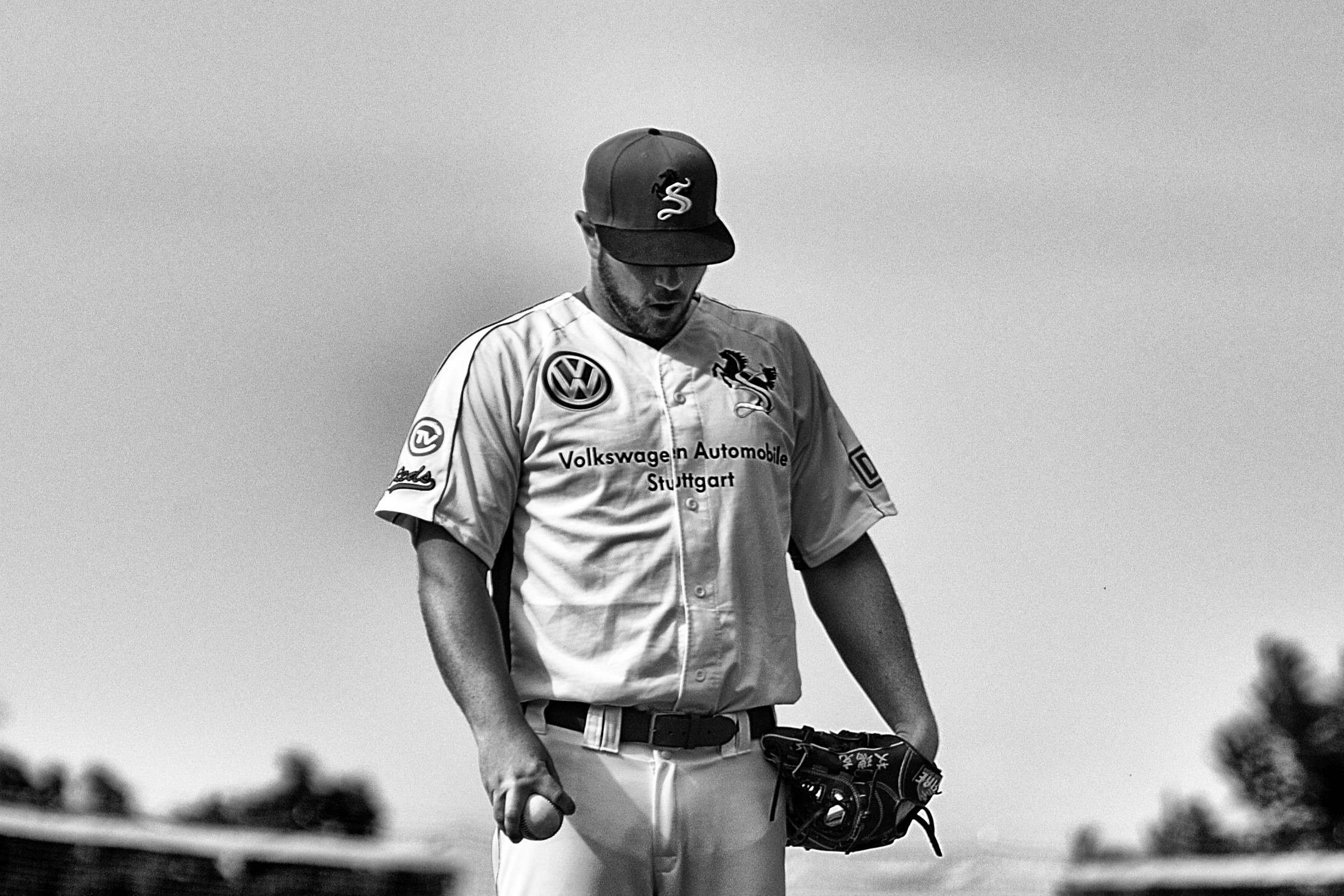 Among the dwindling number of rituals and traditions that bind people together and translate well across cultures, sports stand out. And while soccer has long been preeminent as the world No. 1 game, it's not alone in attracting fans on TV and online, filling stadiums large and small, and capturing imaginations. Any list of globally popular team competition must include baseball, played professionally in cities from Arlington, Texas and Phoenix, Arizona — hosts of this year's Major League Baseball (MLB) World Series between the Texas Rangers and the Arizona Diamondbacks — to Stuttgart and Mainz in Germany, the last stops on Eric Massingham's career as a pro ballplayer before joining Siemens in 2019.
Massingham is now a strategy and pricing manager for Siemens Digital Logistics, which provides cloud-based solutions for logistics collaboration. His former team, the Stuttgart Reds, still occasionally asks him if he'd like to do some part-time coaching, but for now his hands are full in his career and at home, where he's the father of two young children. Yet even the most cursory telling of his life and career story so far hinges on baseball, America's pastime, and without which he never would have wound up in Germany.
In 2015, Massingham was nearing the end of his playing days, which had included highs and lows unique to professional sports — getting drafted and cut by the Philadelphia Phillies organization, and then having a globe-trotting adventure in the world of professional baseball beyond the MLB. But before stashing away his glove, he used his baseball network to make his way to two professional clubs in Germany, a useful home base from which to explore the rest of Europe, having already played in Australia and starred in the 2013 Asia Series in Taiwan. He's been in Germany ever since.
Massingham doesn't fit the stereotype of an ex-jock. Pictures from his playing days show an imposing bearded 6'2" pitcher, known for a split-finger fastball. On the phone he's soft-spoken and polite, equally expansive whether the topic is all the former stars he played with along the way (Masahiro Tanaka and Buster Posey to name a few), cloud-based software (Siemens Digital Logistics has had a cloud-first strategy for years) or even J.R.R. Tolkien (his favorite book is The Silmarillion, generally only tackled by the most serious Tolkien fans).
Earlier this year, as another baseball season was set to begin, I talked to Massingham about a life in baseball and beyond, and some of the unexpected good things that can happen professionally when a childhood dream doesn't quite work out. The conversation, edited for length and clarity, appears below.
On the mound, around the world
Given that we're a technology company, I often ask for a first memory with a computer, but I'll modify that for you. What came first? Playing with a computer or playing baseball?
I probably discovered both at around the same time. My mom was a software programmer. There are pictures of me as a kid in front of a giant computer monitor at home. We always had computer gear because of her. But of course, there are pictures of me around the same age with little foam baseball bats and balls. I'll say I never envisioned myself working in technology but in a way, I've sort of come full circle to work in software at Siemens.
There are no shortage of little kids who want to grow up to be professional athletes. I'm pretty sure in elementary school I would have said 'play first base for the San Francisco Giants' if asked what I hoped to do when I was older. Were you the rare case of the child who actually said something similar and nearly made it? Was baseball always the plan for you?
It was actually. My parents saved some of my elementary school class projects and early writing where I said I wanted to be a professional baseball player. That was my dream and I guess I made it. But looking back, maybe I should have specified Major League Baseball player. I didn't know there was a difference in what to wish for back then.
When did you start to get serious about baseball?
At the start of high school. I played basketball too and enjoyed that. But after fall baseball, the coaches said, 'you have a chance to be the only freshman on the varsity team, but you have to train with us all winter,' so that was that. It's probably a good thing. I was already 6'2" as a freshman though didn't get any taller. I would have gone from being a center on the freshman basketball team to being a guard by the time I was a senior, and my shot was never that good. Still, sometimes I think it's a shame I had to make the choice so early.
I guess there are pros and cons when it comes to specialization in sports and probably much else besides. Nowadays it seems like it's a much bigger marketplace of competition, with private clubs and coaches outside of school. What was that like for you?
I played high-level club baseball and went to national tournaments in the summer and all that, but I still felt like my primary focus was playing for my high school team. I think it's different today and it's sort of a shame the direction things have taken. The best part of playing is the camaraderie you develop with teammates over a long period of time and that's just not there with these private club travel teams, even though the level of play is much higher.
Local connections vs. the bigger stage…sounds like we could talk about that a lot more. There are variations of this theme everywhere. Even Roland Busch is now talking about glocalization when it comes to our business. But I'll stick with baseball! You were a top prospect out of high school. What happened next? How would you describe your baseball career in a nutshell?
It was…gosh.
Sorry, that's an impossible question.
Well, in a nutshell, it was being very successful but still falling short of my goals. Yes I was a high school top prospect and on various lists with people like Buster Posey and Brandon Crawford. I thought I'd be signed by an MLB team out of high school though I got injured my senior year so my draft stock dropped. I wound up going to college. I played at Cal Poly in San Luis Obispo. In hindsight this turned out to be a lucky break. I've had plenty of professional teammates who either skipped college or waited until they were done playing in their late 20s to enroll. Without having a business degree, I probably never would have gotten a job at Siemens when my baseball career ended.
I assume you were a college star? And what can you say about finally signing with a MLB team?
To be honest, at Cal Poly, there were times when everything looked like it was coming together, and other times when things sort of fell apart. I played well my senior year and ended up drafted by the Philadelphia Phillies organization. I had two really good years with Phillies minor league teams but then I was released. It caught me by surprise which made the whole thing worse.
What's it like to look back on that today? Does it still sting?
It was heartbreaking to me in every sense. That day is one of those memories that pop up in my sleep sometimes. From the age of five, my whole goal was to be a major leaguer, so the day, 20 years later, when that all ended, was tough.
But it didn't end, since you eventually played professional in Germany. What happened next?
I always told myself if it didn't work out in the MLB I would quit, but when it came down to it, I wasn't ready. I'd had minor surgery to get rid of bone spurs and had gone through spring training with the Phillies. I wanted to give myself another chance so I found my way to an independent team in Evansville, Indiana. They say independent baseball is the truest form of professional baseball. On MLB minor league rosters, playing time is sort of set by the size of your contract and where you went in the draft. If you're a first-round pick and you go into a slump and are hitting .150, the manager will leave you in the lineup because it's all about continuing your development. In contrast, in independent leagues, winning is literally all that matters, so if you perform you get to play. I loved it and did well. About half my teammates had played for MLB teams and I was keeping up with them. At the end of the year in Indiana I moved up to the Atlantic League, which is the highest level independent league in North America. After that year the whole Australia thing happened.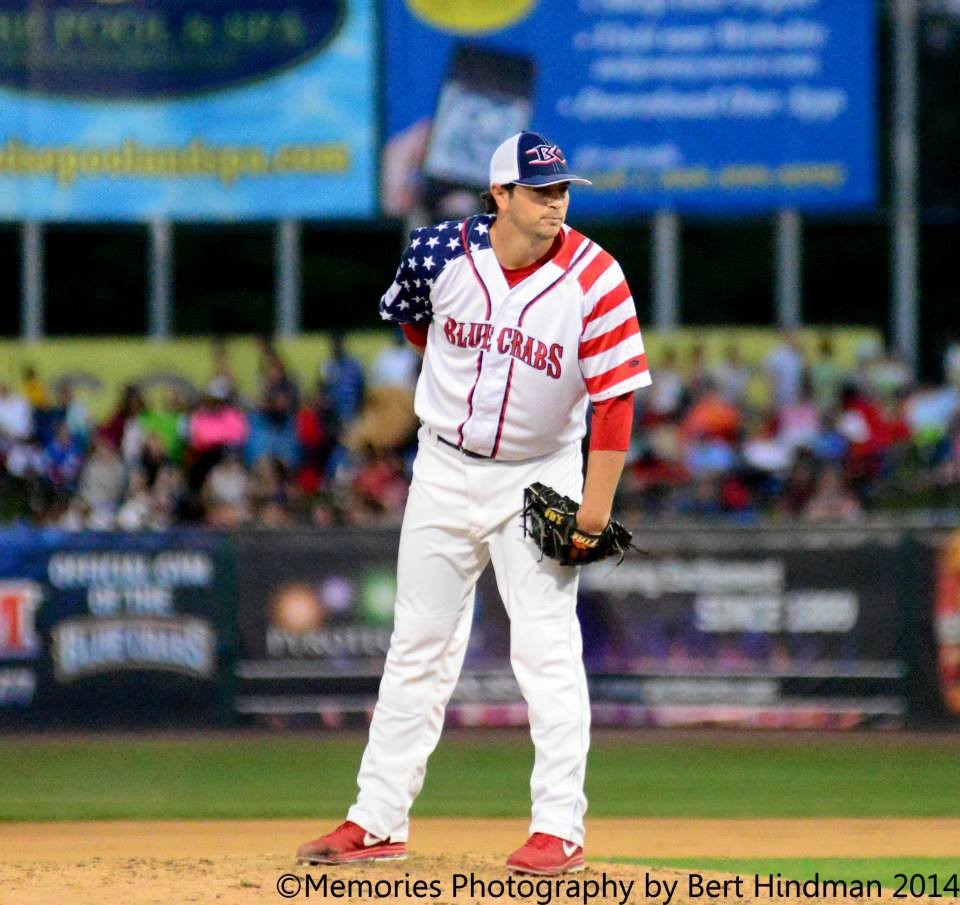 You were part of the Canberra Calvary team that won the 2013 Asia Series, which when it was running, was basically a tournament of the best professional teams from Asia and Europe. Canberra is a long way from Evansville.
My former pitching coach with the Phillies was managing the team in Canberra. I went to play with them and yeah, we won that tournament, hosted in Taiwan. Without a doubt it was my best baseball experience. First, Canberra won the Australian Baseball League championship which had never happened before. And then the Asia Series…no Australian team had ever won even a game in that tournament. It was by far a David-Goliath thing. Japan's entry was the Tohuku Rakuten Golden Eagles. Masahiro Tanaka, who signed a $155M contract with the Yankees in 2014, was a pitcher on that team. The budget of our entire team was orders of magnitude less. It was sort of a Cinderella story. (Below: Massingham pitching for the Canberra Cavalry in the 2013 Asia Series Championship win over the 7Eleven Lions from Taoyuan Taiwan.)
We still haven't gotten to Germany.
I was 27 in the Asia Series. I realized if I hadn't made it by then, it probably wasn't going to happen. I wanted to play one year in Europe to explore a little bit and then start what I thought of as real life. That's how I ended up in Stuttgart.
What's the environment like at a professional baseball game in Germany?
It varies depending on the city. Heidenhelm and Regensburg get the most fans and the Armin-Wolf-Arena in Regensburg is equivalent to a U.S. minor league stadium. Playing in some of the smaller cities, the facilities felt like high school. And the level of play varies too. There are former pros from the United States, Australia, and many European, Asian, and Latin American countries, also European teenagers just starting out in the Bundesliga. It was a mixed bag – there's a lot of talent but Germany is also a developing baseball country. (Below: Massingham pitching for the Stuttgart Reds in 2015.)
Can you sum up your baseball life? Do you miss it?
Well, I was a guy who never wanted it to end, whether a 140-game season or just playing in general. And while I fell short of playing for a MLB team and knew lots of guys who did, I'm thankful for how it all worked out, all the various experiences I had, including in Germany. I played with guys who were drafted, played seven or eight years in the minor leagues with the same organization, and never made it. Their experiences were different from mine. I got to see a lot and play all over the world. It feels like I've lived two lives when I look back at the baseball. It's a strange situation living in Germany. In the U.S., I always received a lot of enthusiasm, interest, and follow-up questions when anyone found out I played professional baseball, whereas here no one cares at all. If it comes up in conversation — usually only when I'm asked where I "worked" before Siemens — it's either ignored, treated as a hobby, or confused with basketball (and then subsequently ignored when I explain that baseball is not basketball). So this was very enjoyable for me to relive the "glory days" for a moment because otherwise, it's as if it never happened! When I finally retired from baseball, I got an MBA from Pforzheim University and wrote my thesis with AXIT in 2018. AXIT was rebranded to Siemens Digital Logistics in 2019, around the same time I was hired.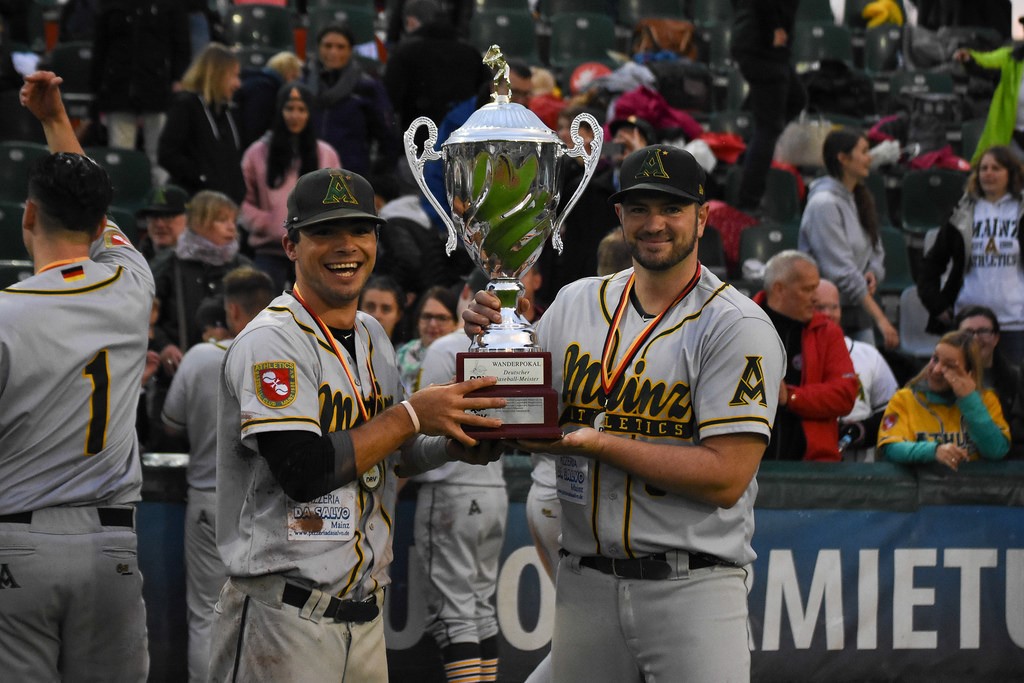 Siemens Digital Logistics
Since this isn't a sports blog, we should talk about your role at Siemens. Many people don't think of Siemens as a technology and software company. And I'm guessing that even those who know about the big pieces of our software portfolio — PLM, EDA, low-code — don't know about Siemens Digital Logistics. What does SDL do?
The easiest way to put it is we make software products that help customers manage their supply chains and logistics networks. Our customer base can include anybody with physical goods that need to be moved, including logistics and manufacturing companies.
Supply-chain stories were much in the news during the pandemic. How are things going in terms of the tension between optimized, lean and just-in-time approaches on the one hand versus prioritizing resiliency and redundancy on the other?
It's always a balancing act and really depends on the customer and their own tradeoffs and priorities. In general, I'll just say we're not going back to an era with lots of excess inventory sitting around in warehouses. No one wants to go backwards in efficiency. Rather customers want to add the ability to make predictions and calculate risk, and also to consider things like sustainability.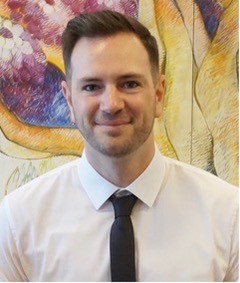 What's your role?
I work in strategy and pricing. It's kind of a hybrid role. I'm in meetings with various product owners and am in discussions way down at the level of various features and new releases, though I'm also looking at the overall market and thinking holistically about our strategy. It's never boring, that's for sure.
What about cloud offerings and SaaS?
For SDL it's a mix of on-premise, hybrid SaaS and full SaaS. We have one product that's been completely cloud-native for 20 years. Supply chains often include different companies in different parts of the world, from suppliers of input materials to end customers to everything in between. The cloud is the only way to bring all these parties together, to have a single point of truth for everyone. Honestly, you just can't do supply chain collaboration at the level customers demand without the cloud.
Imagine you're giving advice to a software company considering a cloud transition. What do you say?
SaaS isn't just about technology or business models. It requires a big shift in mindset and culture. It's not enough to take an existing on-prem product and release a version of it on the cloud. Making the most of SaaS requires rethinking everything, from development flows and release schedules to sales and service. You have to approach it like you're going to make the most of the entire SaaS environment.
Let's step back and talk about technology in general. There's so much churn right now…lots of opportunity, but lots of dislocation too and maybe more criticism of technology too. What gives you optimism?
Obviously in the bigger picture, I see positives and negatives. But focusing on supply chains, which is how we get most of our goods and services, there are just so many good things happening and much more we can do when it comes to linking people together and helping them collaborate efficiently. And I'm not just talking about giant corporations. So many mom-and-pop shops also benefit from trusted, efficient supply chains, especially when it comes to shipping products outside of their local area and building trust with customers around the world.
Read more on Siemens Digital Logistics:
Quick takes
Are there other former professional athletes you've come across at Siemens?
Not personally, but I'm sure there are others.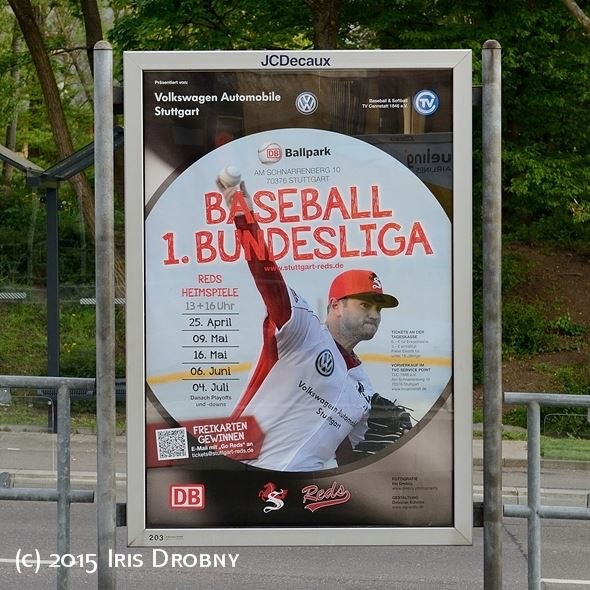 Book recommendation?
The Silmarillion by J.R.R. Tolkien. I love Tolkien. I read it years ago and found it tough going. I read it again fairly recently after doing lots of prep and knowing what I was getting into. It was just absolutely amazing. Oh my gosh, is that a book.
Favorite food?
Tri-tip. I had no idea growing up that it was sort of a special cut of beef. It's hard to find in Germany.
One technology you could live without? And one you're looking forward to?
I could live without social media. Initially it was useful to stay in touch and send updates. But now it seems clear that there are really negative psychological and social effects on younger people that grew up with it, which I didn't. I'm looking forward to advances in commercial travel in efficiency, time and carbon emissions. The main motivation is to be less disconnected physically from people we care about who are far away.
Best part about living where you do?
The festival culture, whether Fruhlingsfest in the spring or Oktoberfest in the fall. Everyone associates these with beer drinking, which is part of it and a highlight, but there's so much more too — carnival rides and all sorts of things for families. It's really a fun time.
World Series pick?
My only wish is that it's a good series that goes at least 6 games. Every game starts at 2 a.m. my time. If I have time and can stay off my phone, I'll watch the archived games and fast forward between innings. European MLB fan life is not easy!
This article first appeared on the Siemens Digital Industries Software blog at https://blogs.sw.siemens.com/employee-spotlight/2023/10/27/eric-massingham/