Getting it right while getting it wrong
I love great customer service and I do my utmost to give feedback and to celebrate companies and individuals who get it right. A couple of examples are here and here. Although it is great when a service is executed really well, the most impressive customer service becomes apparent when something goes wrong. How a company deals with a problem really shows up what their customer service is like …
Sometimes the best laid plans go awry. In almost any aspect of life, bad planning can lead to problems, but even really good planning may not cover every possible eventuality. Life is just like that. A key function of a customer service organization is to reduce the impact of such unexpected issues. Not only does this protect a company's reputation/image, but, done well, it can positively enhance that image. A customer, whose bad experience was addressed well, is likely to come back, knowing that they will be looked after. I have encountered many examples …
Quite a while ago, a very well known Internet shopping site [you know the one – named after tall, warlike women] failed to deliver an item. I was spectacularly impressed with how they dealt with the problem and wrote about it here. Since then, I have remained a very loyal customer.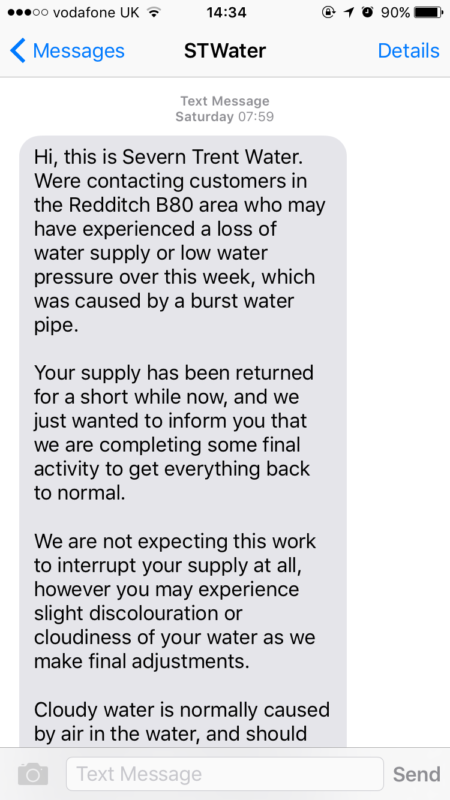 Last week, my wife and I took a short break in Berlin – a favorite destination where we have a number of friends. It was a really good trip in almost every respect. But a couple of things went wrong.
The first problem became apparent quite early in the morning. The issue was not with us in Berlin, but back home in the UK. There had been a burst water main, which cut off supplies for a period in the town where we live. This would have been annoying, had we been at home, but we congratulated ourselves on our timing. The water company sent me a text message, telling me in detail what the problem was and how they were dealing with it, along with lots of information about the likely after effects. Later, another message told me that it had all been sorted and apologized profusely. I was truly amazed by their care. I did not even know that they had my cellphone number! Interestingly, they are not driven by competition – I cannot choose who supplies my water – so I am a little surprised that they were so efficient [cynical? me?].
On Saturday, we planned a trip to Dresden to see a friend, who had just had a baby. This is a 2-hour train ride from Berlin. I had booked my tickets online some time ago and we set off to the main station. I received an email from Deutsche Bahn telling me that the train was delayed, because a tree had fallen onto the main railway line during the night. They were projecting a 110 minute delay. Just getting the message impressed me – I would have expected to receive the basic information from the station's departure board – but there were a number of details that made the service really good:
all the communication was in [good] English
there was a link to a live page with the latest schedule information
there were some detailed suggestions for other services that might meet my needs
another link was available to a page all about my rights to compensation etc.
In due course, the delay grew longer and we decided that we should cancel the trip, as we would have so little time in Dresden. I was entitled to a refund and went to the ticket center. The receptionist, whose English was perfect, explained that I needed to complete a form [which proved to be easy and in English] and she would send it off for my refund. It could not have been easier. At the time of writing, only a few business days have passed, and there is no sign of the refund yet, but I will be patient.
I would like DB come to the UK to run our railways …
This article first appeared on the Siemens Digital Industries Software blog at https://blogs.sw.siemens.com/embedded-software/2016/08/25/getting-it-right-while-getting-it-wrong/