Industries
Elevating Data Centers: Practical Solutions for Greener, More Efficient Operations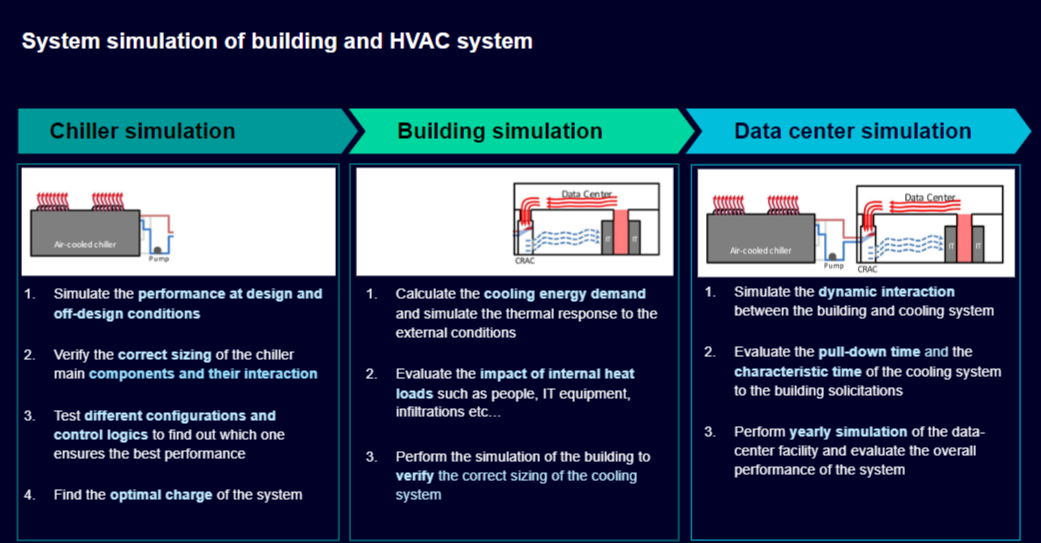 Imagine the energy required to power thousands of servers, keep them cool, and support the entire ecosystem of a data center. Large data centers can consume between 20 to 50 megawatts of electricity annually – enough to power 37,000 homes! With their surging energy consumption, data center stakeholders are under pressure to adopt innovative solutions and technologies to slash their carbon footprint.
The challenge is clear: how can we navigate the path to greener data centers and significantly reduce their environmental impact?
A Sustainable Revolution: Embracing Advanced Technologies
In our On-Demand Webinar, Enhancing Energy Efficiency and Sustainability of Data Centers: Navigating the Path to Greener Data Centers Through Innovation and Simulation, Siemen's Business Developer, Francesca Furno goes over the latest energy-efficient technologies that data centers should be embracing like liquid cooling, heat recovery systems, renewable power sources, and direct current (DC) electric power distribution are on the horizon.
These technologies promise not only to decrease operational costs but also to significantly reduce the ecological footprint of data centers. One such technology, system simulation, is poised to revolutionize data center design and operation.
System simulation offers invaluable insights by:
Identifying optimal configurations to meet specific requirements.
Defining interactions between subsystems.
Conducting energy analyses with dynamic scenarios.
Allowing for risk-free virtual commissioning long before any hardware is physically deployed.
Other Webinar Highlights
Join us in taking a significant step towards a more sustainable future for data centers. Watch the on-demand webinar and be part of the transformation that will lead us to greener, more efficient, and eco-friendly data centers.
Learn how to design the most efficient liquid cooling layout for data center cabinet racks to minimize cold plate temperatures.
Explore power consumption analysis in conventional air-cooled data centers.
Discover how to verify and validate PLC controllers to adapt cooling power availability to variable ambient conditions and IT loads.
Understand the role of green energy availability and the correct power mix in achieving carbon-neutral goals.
This article first appeared on the Siemens Digital Industries Software blog at https://blogs.sw.siemens.com/electronics-semiconductors/2023/10/09/elevating-data-centers-practical-solutions-for-greener-more-efficient-operations/