Interactive Wearables: From Taylor Swift to the Stanley Cup!
If you've been to a major concert lately, or perhaps watched the 2016 NHL Stanley Cup finals you've either worn or undoubtedly noticed the attendees wearing colorful lighted wristbands pulsating to the events lighting or sound. PixMob (http://pixmob.com/), a leader in this thriving crowd experience wearable technology space is connecting audiences with events giving attendees the feeling of participation like they've never experienced before.
The printed circuit board example below is from a wristband that one of my daughters received when attending a Taylor Swift concert during Swift's 2015 "1989" world tour. More examples of the different types of events where Pixmob devices have been distributed can be found here: http://pixmob.com/project/. Of course I could not wait to take it apart and get a good look at the guts of this device.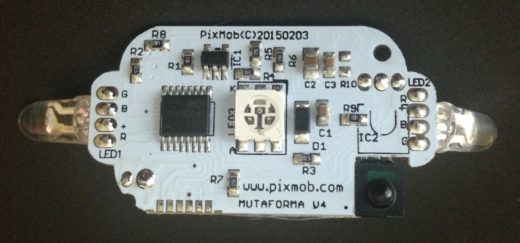 The PCB encased in this wearable wristband as you can imagine is quite small measuring approx .75 X 1.38. The component side of the PCB (shown above) has a surface mount RGB (LED3) centered. Two additional through-hole style RGB's (LED1 & LED2) are mounted on each end. I initially thought I might discover some type of RF micro device being used to control the unit but instead found a wireless IR detector (IC2), seen in the lower right mounted from the rear with the leads bent 90 degrees to be forward facing.
Just left of the centered SMT LED (LED3) is a tiny microcontroller (no ref des?) by ABOV  (MC81F4204  1509). It is a CMOS 8 -bit MCU which provides a 4 KB FLASH-ROM and 192 B RAM. It's major features are a 12-bit ADC with a 7(5)-ch A/D Converter which can be used to measure minute electronic voltage and currents.
So, what controls these devices and how many wristbands can be controlled at a time? The example I have is the over 1500 attendee version. By simply connecting a Pixmob device called a PRO node to the events lighting board the lighting tech can create various colorful visual effects including waves, crossfades, strobes, and shimmers. This PRO node also offers global, grouped, or individual control of the objects. (see http://pixmob.com/solutions/ignite/) Alternately, a video node can be connected to a video server that controls the colors of the wearable devices in relation to stage lighting even changing color locations to create a global video image. The Pixmob under 1500 attendee version by the way is not controlled by IR but rather an amplified Bluetooth transmitter.
The back of the PCB, not shown, has a large circular contact area where two lithium CR2032 batteries are stacked. These are commonly used as a CMOS battery in things like calculators, remote controls, wireless doorbells, garage door remotes, watches and other small devices.
Interactive wearable technology is very cool and provides event attendees a unique immersive experience that extend the show from the stage to the stands. I can't wait to see what's next!
Thanks for reading, John
This article first appeared on the Siemens Digital Industries Software blog at https://blogs.sw.siemens.com/electronic-systems-design/2016/06/23/interactive-wearables-form-taylor-swift-to-the-stanley-cup/