Products
Elvis Presley: a technology early adopter?
Elvis is famous for many reasons: his music, his movies, and his moves. But, have you ever considered Elvis as an early adopter of technology?
In the 1961 movie Blue Hawaii — long before product placement became such a blatant part of the movies as we've become accustomed to today, Elvis owned and wore an electronic device that most had only heard about in the news or read about. What was Elvis wearing? The world's first electric wristwatch introduced by the Hamilton Watch Company in 1957.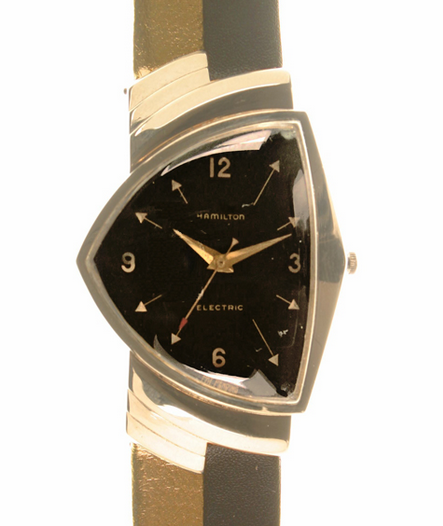 If you are a SERIOUS movie aficionado, you may have noticed the same Ventura model wristwatch worn by Elvis was also worn by Will Smith and Tommy Lee Jones in the popular Men in Black motion picture franchise.
The Hamilton Electric 500 watch was powered by what was described as "chemical energy stored in a tiny battery energizer the size of a shirt button." This button-sized battery, along with a coil, a balance wheel motor, and a pair magnets took the place of the gears and winding mechanism that had been used in wristwatches first introduced by Swiss watch manufacturer Patek Phillippe more than 50 years prior.
It's hard to believe that the demand for Hamilton's new electric watches was so low that production was discontinued. Seiko later took the electronic movements to the next level with quartz movements that housed few to no moving parts.
Being a techy-type, I was impressed with the development of the small button-sized battery first introduced by Eveready in 1955 for hearing aids. In the late 1950's, these miniaturized batteries sparked the development of the cylindrical alkaline batteries that revolutionized portable power.
Hamilton Watches recently re-launched The Ventura Collection of watches with its now fashionable non-traditional asymmetrical case style worn by Elvis and those men in black. Seven different variations of the design, in fact, with both quartz and automatic winding timepieces. Paying tribute to Elvis, Hamilton named one watch in the new Ventura Collection the Elvis80 Auto on January 8, 2015. It would have been Elvis' 80th birthday.
Thanks for reading! John
---
Connect with me via the comment section below or on Twitter.

Listen and subscribe to my podcast, PCB Tech Talk, on iTunes.
This article first appeared on the Siemens Digital Industries Software blog at https://blogs.sw.siemens.com/electronic-systems-design/2015/09/15/elvis-presley-a-technology-early-adopter/