The Votes are in.. and the Winner is…
Thanks to everyone that responded to our "ECAD or MCAD, one giant "STEP" for Design-Kind" poll last week online and during our "Effective ECAD / MCAD Collaboration in PADS" webinars. Both the European and US sessions were well attended and some great questions were presented and addressed during our live Q&A.
Here are results of the poll question "My 3D STEP models come from …….. ?"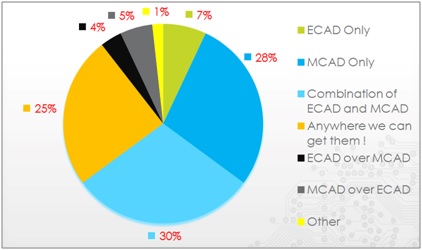 Are you surprised by these results?  Feel free to add your comments below.
During the EDMD Webinars last week there were several questions related to which ECAD and MCAD companies support EDMD Collaboration. I would encourage you visit the ProSTEP iViP ECAD/MCAD Collaboration forum to learn more. You'll find that most major ECAD and MCAD tool vendors are project partners and have been implementing the ECAD/MCAD data schema which is designed to ensure the interoperability between the different applications.
Another great question was raised related to which group, ECAD or MCAD generates the initial baseline for collaboration. Firstly, it can be either but I typically see that MCAD provides the board baseline based on the PCB's mating enclosure and mounting requirements. In my webinar demonstration, the cell phone design I used had a very intricate board outline and fixed location requirements for physical interface components like the display, camera, switches, connectors, etc. These component locations are typically non-negotiable by MCAD and ultimately driven by the end user. If you were not able to attend either of the "Effective ECAD / MCAD Collaboration in PADS" webinars, the recorded session can be viewed here.
This article first appeared on the Siemens Digital Industries Software blog at https://blogs.sw.siemens.com/electronic-systems-design/2014/01/27/the-votes-are-in-and-the-winner-is/