Products
How automation can help meet Electrical Wiring Interconnect System (EWIS) guidelines
As platforms become more electrical, and the safety of flying becomes paramount, the FAA's EWIS regulations serve as a cornerstone to modern aircraft wiring compliance and safety certification.

EWIS (rhymes with "Gee whiz") is both a concept and practice that embraces wires, cables, harnesses, connectors, terminals and all other electrical devices found on today's aircraft as part of a system rather than a conglomeration or assembly of individual components.

Quite simply, EWIS breathes life into an otherwise inanimate object.
Why EWIS?
EWIS regulations were created by the FAA after a couple of major airline incidents in the late 1990s. Failures attributed to electrical wiring onboard these aircraft were thought to be a major contributor to these accidents. In response, the FAA updated their EWIS regulations for OEMs and suppliers. For any new platform today, adhering to EWIS regulations is a mandatory procedure for commercial aircraft certification.

Interestingly, while originally intended for commercial aerospace companies, EWIS guidelines are now commonly applied to military and defense aircraft as well.
Aerospace and defense platforms are more electrical
Aerospace and defense platforms are increasingly implementing onboard functions electrically. Electrical/Electronic (E/E) systems are quickly becoming one of the more dominant disciplines associated with this new functionality. Why? Benefits of adding more electrification to a platform range from increased reliability, easier maintenance, increased payload (i.e. reduced function weight) and lower overall energy demands. Pneumatic and hydraulic functions of the past are being quickly replaced by all things electrical. As this continues, modern aircraft are becoming more capable, more affordable, more secure and safer.
But all these electrical systems and various implementations must strictly adhere to a rigid set of guidelines. And that's where the EWIS guidelines come into play.
Miles and miles of wire
When you think about it, the electrification of modern aircraft is having a profound impact on the industry as a whole. Design and compliance methods of the past are difficult to maintain given the volume and complexity of wiring systems in modern aircraft.
Here's an article from Aerospace America that addresses this very issue.
To give you a better idea of what the OEMs are up against, take a look at these typical numbers found in today's aircraft wiring architectures: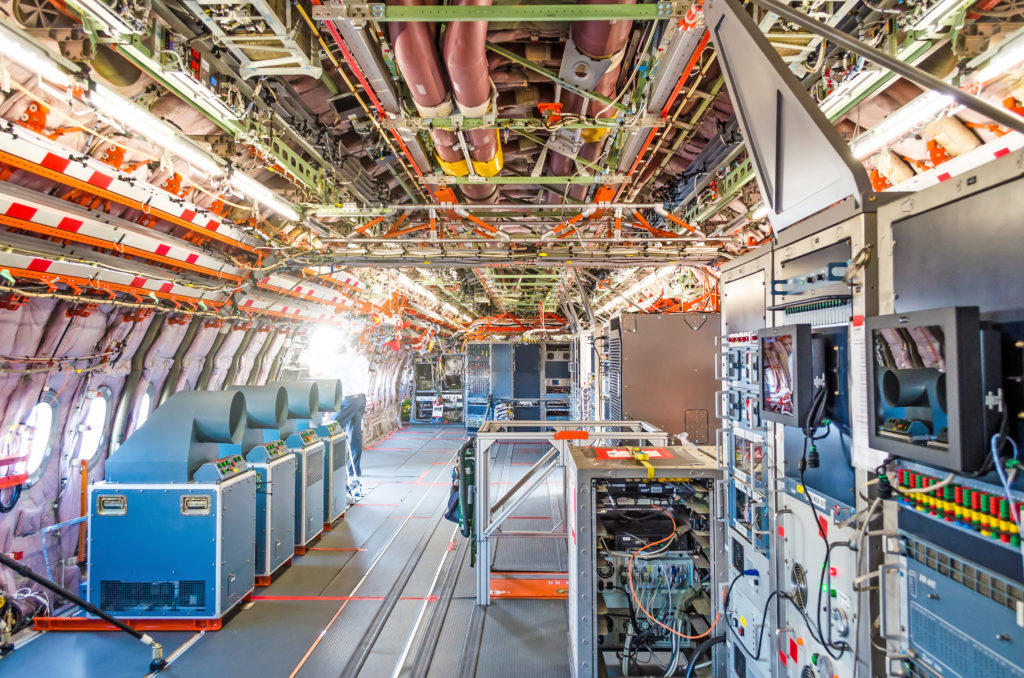 Military Cargo Aircraft:
– 40 miles of wire
– 160 wire harnesses
Modern Business Aircraft:
– 50 miles of wire
– 345 wire harnesses
Modern Commercial Aircraft:
– 70 to 100 miles of wire
– 500 to 1,400 wire harnesses
So what's the answer?
EWIS means that companies must investigate new approaches and processes to manage wire and wire harness systems – while keeping costs and program risks to a minimum. A key aspect of EWIS compliance is introducing automation into the myriad tasks and best practices that comprise the complete build of an aircraft. By bringing automation in, OEMs can streamline the process among their suppliers and within the manufacturing value chain. Clearly, one of the best ways to introduce automation is by way of the digital thread. The Siemens Digital Industries Software digital thread solution can digitally connect the product, production and performance platform lifecycles. And the good news here is the Siemens platform-level approach encompasses the entire aircraft (not just the wiring systems) and is one of the more prudent ways to approach electrification and EWIS guidelines.

Proven and innovative tools such as Capital, provide the technology and much-needed relief aerospace OEMs need to meet their electrification demands today – and well into the future – while complying with FAA regulations and EWIS guidelines along the way.
This article first appeared on the Siemens Digital Industries Software blog at https://blogs.sw.siemens.com/ee-systems/2020/03/17/how-automation-can-help-meet-electrical-wiring-interconnect-system-ewis-guidelines/