The path to operational resiliency: Forrester's strategies for efficient operations in the manufacturing industry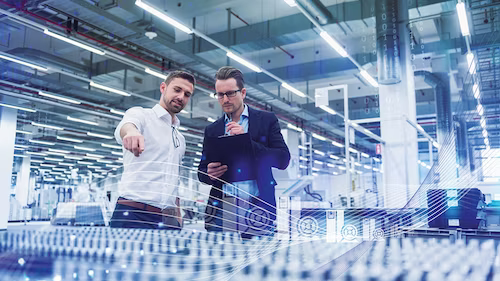 Disruptive events can have a significant impact on an organization's operations. In this report, we explore how operational resiliency can be achieved through efficient operations. We will uncover the key findings from Forrester's comprehensive survey and shed light on how these insights can empower organizations to maintain their resilience in the face of an increasingly turbulent world.
The Importance of Operational Resiliency
In recent years, disruptive events have become both more frequent and more severe, casting a shadow of uncertainty over businesses of all sizes. In fact, according to Forrester's enlightening survey, a staggering 75% of respondents recognize that improving operational efficiency is a critical factor in fortifying organizational resilience.
Operational resiliency is the lifeblood of an organization's ability to weather the storm and keep operations afloat amidst disruptive events. Whether it be natural disasters, cyber-attacks, supply chain disruptions, or pandemics, organizations armed with operational resiliency can swiftly adapt to changing circumstances and continue to deliver products and services to their customers.
Look Beyond Localized and Short-Term Efficiency Gains
Simplistic measurement of machine, work cell, or line efficiency can be counterproductive, sometimes emphasizing local performance at the expense of product- or organizational-level effectiveness. To ensure sustainable and resilient operations across the organization, business leaders must take a longer and broader view and be willing to sacrifice short-term local results for the sake of bigger corporate goals.
Organizations should focus on improving overall efficiency rather than just localized efficiency gains. This means looking beyond individual machines or work cells and considering how different parts of the organization interact with each other. Business leaders should prioritize long-term goals over short-term gains by investing in technology that improves overall efficiency.
Deploy Smart Technology to Improve Efficiency and Resiliency
Technology can play a crucial role in improving operational efficiency and resiliency. Organizations should deploy smart technology to automate processes, reduce manual errors, and improve decision-making capabilities.
For example, organizations can use artificial intelligence (AI) and machine learning (ML) to analyze data and identify patterns that can help them make better decisions. They can also use robotics and automation to reduce manual labor and improve efficiency. Cloud computing can provide organizations with the flexibility they need to quickly adapt to changing circumstances.
Key Takeaways
In conclusion, operational resiliency is a crucial aspect of any organization's strategy. Disruptive events can have a significant impact on an organization's operations, and it is essential to be prepared for them. By looking beyond localized and short-term efficiency gains and deploying technology smartly, organizations can achieve efficient operations that minimize the impact of disruptive events.
To learn more about how organizations can improve their operational resiliency, read the full report commissioned by Siemens and conducted by Forrester Consulting. The report provides in-depth insights into how organizations can become more resilient in the face of disruptive events.
This article first appeared on the Siemens Digital Industries Software blog at https://blogs.sw.siemens.com/consumer-products-retail/2023/05/05/the-path-to-operational-resiliency-forresters-strategies-for-efficient-operations-in-the-manufacturing-industry/