Products
AUA students meet Siemens EDA!
By Armen Asatryan
On June 14, a group of twelve students from the American University of Armenia (AUA), several faculty members, and Michael Kouchakdjian, the director of the AUA Entrepreneurship and Product Innovation Center (EPIC) program, visited the Siemens EDA campus in Fremont, California. The goal of the tour was to expand the global awareness, knowledge, and understanding of AUA's most talented students by providing them with exposure to cutting-edge technology companies, accomplished entrepreneurs and technologists, and the innovative concepts of the Silicon Valley ecosystem, including the electronic design automation (EDA) industry.
During their visit to Siemens EDA, we had the opportunity to acquaint the students with the history of EDA, including how it all started, how the industry was formed and how it has evolved, who the major players of the industry are these days, and the market size and forecast for the next decade. We discussed how EDA tools are enabling modern electronic design/fabrications and semiconductor industry, and explained why and how Moore's law is alive with the More Moore and More than Moore trends.
The presentation also covered the history of EDA in Armenia, and the main factors for establishing an EDA presence in Armenia. Since 2012, Siemens EDA (formerly Mentor Graphics) has collaborated with AUA on multiple research topics. Last year, we celebrated 10 years of successful collaboration by signing an Extended Collaboration Agreement with AUA for an additional six years.
The Q&A session was very dynamic! There were many questions about the Moore's Law forecast and the possibility of going below the 1 nm tech node. Students were also interested in learning more about the skills and knowledge required for EDA tool development, and the opportunities for further career growth in this industry. In fact, at the end of the visit, many of the students shared that the visit and the awareness session changed their view of EDA companies as a promising place to work, with multiple possibilities and opportunities for professional growth, and the chance to make a difference.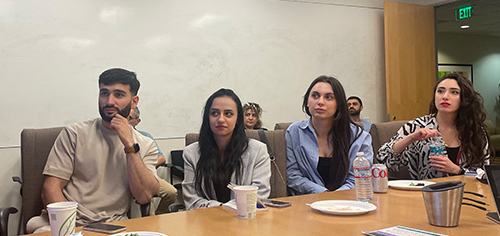 Through investments such as these in the next generation of Armenian entrepreneurs, AUA EPIC hopes to inspire personal and professional growth, ambition, and the entrepreneurial mindset while networking with diaspora business leaders, startup founders, and university students. We at Siemens EDA are delighted to have had the opportunity to meet these promising young students, and look forward to perhaps welcoming some of them as colleagues in the future!
This article first appeared on the Siemens Digital Industries Software blog at https://blogs.sw.siemens.com/calibre/2023/07/11/aua-students-meet-siemens-eda/