Products
TSMC OIP Ecosystem Forum 2022 all wrapped up, but not gone yet…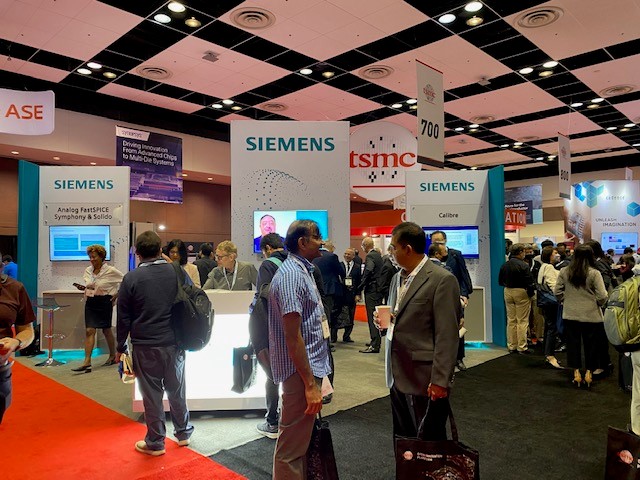 By Calibre Design Staff
1500+ attendees! 50 technical papers (30 live, 20 online) in three separate tracks! Standing room only in the general sessions! Safe to say, the annual US TSMC OIP Ecosystem Forum in Santa Clara was a success, both for TSMC and for all the companies and attendees who came together to share research, new technologies, and success stories.
In his keynote, Dr. L.C. Lu, TSMC Fellow and Vice President, Research and Development/Design and Technology Platform, highlighted three major areas of focus for TSMC over the past year:
In a continuation of 2D scaling, TSMC introduced the innovative N3 FINFLEX™ technology to support interlacing of 2-fin and 1-fin standard cells for mobile, and 3-fin and 2-fin standard cells for high performance computing (HPC) designs to deliver the right balance between cell density, energy efficiency, and speed performance
TSMC has significantly improved the productivity and design closure time required for custom/analog design migration to a new node by providing enhanced PDKs for IP block reuse and analog cells of regular layouts, similar to how digital standard cells are handled
TSMC also introduced their 6th OIP grand alliance—the 3DFabric™ Alliance. Partners include EDA companies, IP companies, Design Center Alliance (DCA) members, Value Chain Aggregator (VCA) members, memory companies, outsourced assembly and test companies (OSATs), substrate companies, and testing companies. The 3DFabric Alliance provides the opportunity for TSMC to join forces with partners to accelerate 3D IC ecosystem innovation and readiness, with a full spectrum of best-in-class solutions and services for semiconductor design, memory modules, substrate technology, testing, manufacturing, and packaging
As always, the TSMC OIP Partner of the Year awards were a highlight of the event. Siemens EDA is proud to announce that we received Partner of the Year awards in no fewer than three categories!
Joint development of the 3Dblox™ Design Solutions. The TSMC 3Dblox standard unified design ecosystem provides modularized physical stacking and logical connectivity information in a generic language to ensure interoperability for every aspect of 3DIC designs
Joint development of the Cloud-based Productivity Solution
Joint development of the N3E Design Infrastructure
Siemens EDA receives 2022 Partner of the Year awards from L.C. Lu of TSMC. From left to right: Michael Buehler Garcia accepts our award for joint development of the 3Dblox Design Solutions, Michael White accepts our award for joint development of the Cloud-based Productivity Solution, and Anant Adke accepts our award for joint development of the N3E Design Infrastructure.
In addition, Siemens EDA presented five technical papers:
TSMC 3Dblox™ simplifies Calibre verification and analysis
John Ferguson
TSMC, Microsoft Azure, and Siemens EDA collaboration – enabling your jump to N3E using the cloud and Calibre nmDRC
Michael White, in collaboration with Andy Chan (Microsoft)
Advanced assembly verification for TSMC 3DFabric™ packages
Mike Walsh, in collaboration with Sudersan Sampath (Broadcom)
Low-power, high-density design implementation for AI chip
Venkat Rao, in collaboration with Elyasaf Munk (Hailo Technologies)
SerDes clocking catered to robust noise handling in advanced process technologies for HPC, Datacenter, 5G and AI applications
Pradeep Thiagarajan, in collaboration with Danfeng Xu, et al. (eTopus Technology)
Perhaps you registered, but were unable to attend, or missed a presentation? Using your original registration link and code provided by TSMC, you can now access the TSMC OIP Ecosystem Forum virtually through May!
As a Platinum sponsor, Siemens is proud to continuously collaborate with TSMC to provide the pioneering technologies enabling our mutual customers to deliver their IC innovations to market more quickly, with confidence in their quality and performance. As Joe Sawicki, our executive vice president, IC-EDA, expresses it:
For more details about the latest TSMC certifications of Siemens software, and our participation in cloud processing, the 3DFabric Alliance, and 3Dblox design solution enablement, reference our press release:Siemens partners with TSMC for 3nm product certifications and other technology milestones
This article first appeared on the Siemens Digital Industries Software blog at https://blogs.sw.siemens.com/calibre/2022/11/17/tsmc-oip-ecosystem-forum-2022-all-wrapped-up-but-not-gone-yet/