Corporate
Lights! Camera! Action! Siemens and AWS put on a show at Hannover Messe 2023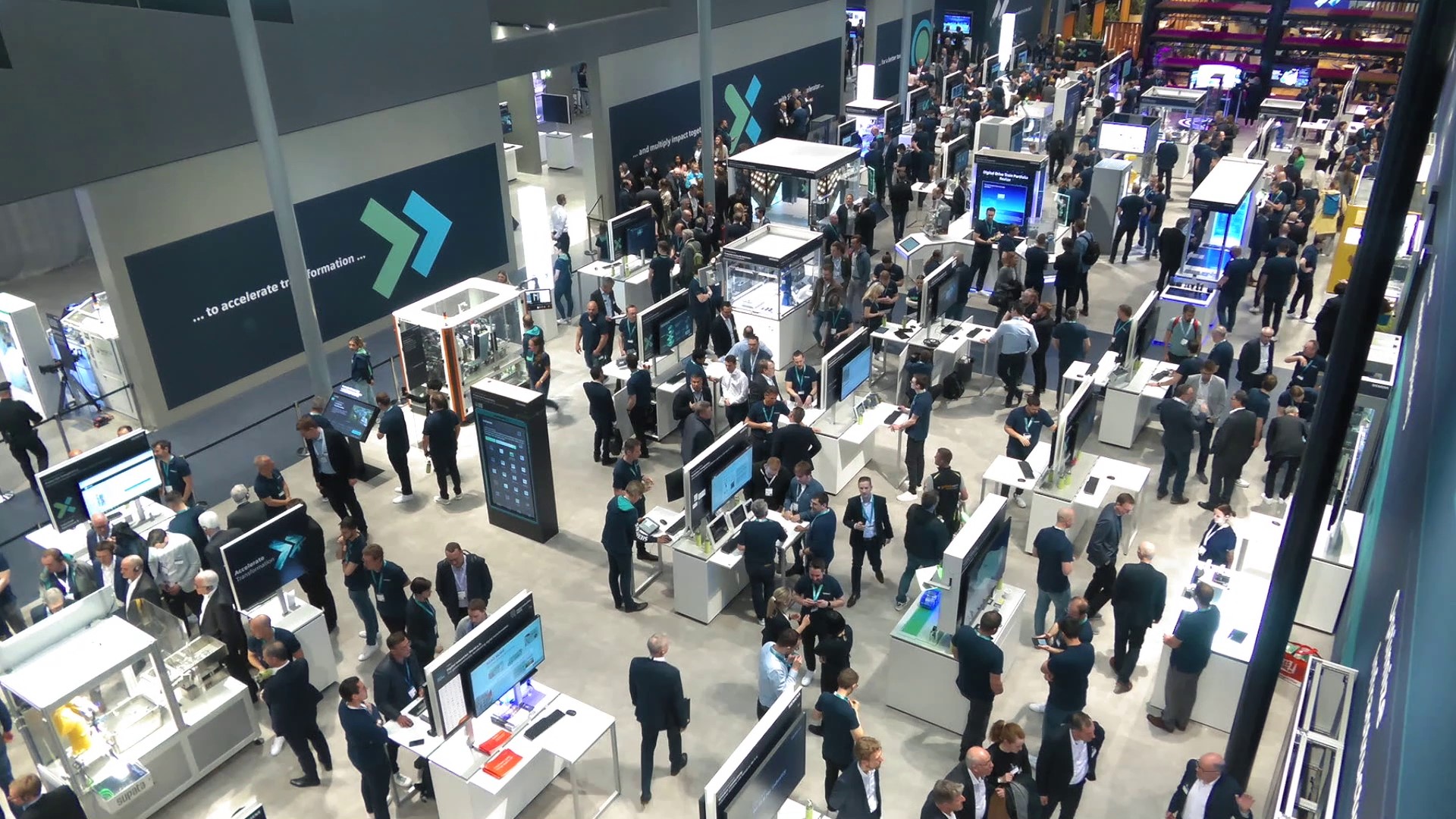 You know it's going to be good when German Chancellor Olaf Scholz makes an appearance.
Chancellor Scholz was just one of the many highlights at this year's Hannover Messe 2023. So much excitement. So much to see. And so many happy, enthusiastic attendees! The one thing we can all agree on is accelerating transformation was the main attraction at the show.
Another major draw was seeing how Amazon Web Services (AWS) and Siemens are working together to propel the digital future. From the preparations before the show to the actual show itself, it was an impressive display of teamwork and collaboration between Siemens and AWS.
Where to begin?
Digital transformation for all
The more we talk about digital transformation, the more we talk about cloud computing and Siemens SaaS offerings powered by AWS. This continuously expanding list has had a tremendous impact on our customers. AWS and Siemens are making it easy for businesses and organizations of all sizes to move operations to the cloud as part of their digital transformation journey.

With that in mind, let's stop by AWS booth.
The Siemens executable digital twin
A lot of activity at AWS booth this year. A major highlight was Siemens CEO, Dr. Roland Busch, stopping by our booth – a testament to the strength and alliance of the Siemens and AWS partnership. Another highlight was how we used a robot demonstrator to perform high-fidelity simulations and then how it packages and integrates those simulations onto the physical system to provide insights. On the industrial edge, the robot receives datastreams from the sensors located on the arm of the robot and combines the data with the model to virtually measure the stresses and deformation anywhere on the structure. To visualize data, these simulations are sent to an augmented reality app which can overlay the stress field onto a real factory setting. This ultimately results in faster, more efficient trouble-shooting across the production line.
A new development suite – Lean Daily Management debuts at the show
Attendees also learned how to take the next step towards combining the real and digital worlds of manufacturing by utilizing the Siemens Xcelerator business platform which in this solution offering consisted of IIoT solutions, Siemens comprehensive digital twin and the personalization capabilities of the Mendix low-code platform – along with AWS services. Siemens, together with AWS, enables the manufacturing industry the ability to create a digital twin of their plant operations which in turn provides an array of advantages including data connectivity and visualization capabilities. 
This new development suite is ideal for the day-to-day operations of any manufacturing plant. It communicates easy-to-understand information quickly and reliably.
Numerous Siemens and AWS partnership booth presentations!
Here are the Siemens and AWS partnership presentations that deserve special mention. It was non-stop action from the opening minutes to the closing moments. Our booth presentations covered key topics and were well-attended.
Siemens and AWS booth presentations:

Monday, April 17th
"Accelerating digital innovation in space tourism"
-Presenters: Brycen Spencer and Bob Tahmassebi
"Unlimited Tomorrow transforms prosthetic
creation with AWS and Siemens"
-Presenters: Brycen Spencer and Bob Tahmassebi
Bob Tahmassebi (AWS) and Brycen Spencer (Siemens).
Tuesday, April 18th

"Accelerating engineering transformation
with AWS and Siemens"
Joint presentation: Sid Gambhir (Accenture AWS Business Group), Matt Thomas (Accenture)
and Carroll Jarvis (Siemens)
Wednesday, April 19th

"Compose and personalize your manufacturing
applications with cloud native low-code platform"
-Presenter: Subba Rao (Mendix, a Siemens business)

"The impact of the industrial metaverse
on manufacturing operations"
-Panel discussion
Flemming Kongsberg of AWS talks about
the Siemens and AWS partnership
It was an honor to have Mr. Kongsberg, Director of Business Applications and Partnerships at AWS, stop by and speak. We captured his talk in the video below.
Industrial Operations X continues to gain momentum
So many conversations and never-ending discussions on digitalization, the cloud and the numerous challenges our customers face on a regular basis. One topic that intrigued attendees was the "Industrial Metaverse" and how the Siemens Industrial Operations X portfolio addresses new levels of productivity and innovation in this emerging space. Industrial Operations X is quickly setting new benchmarks in digital transformation with a broad range of products and services. Many of the services found within this portfolio integrate operational technology (OT) with information technology (IT). This initiative combines IT and software capabilities with automation and Machine Learning (ML) along with built-in data analytics to increase adaptability, scalability and flexibility.
From early production design and planning, to actual product design and simulation, to automation of the product line – everything is made possible through the Siemens Xcelerator business platform. The Siemens Industrial Operations X portfolio (a subset of Siemens Xcelerator) provides a broad range of services and solutions including product lifecycle management (PLM), manufacturing execution systems (MES), industrial edge computing, and tools for IT/OT convergence and connectivity.
New customer FREYR Battery
Speaking of the Siemens Industrial Operations X portfolio, a major announcement was made at the show highlighting that portfolio. New customer FREYR Battery plans to scale battery cell Gigafactory production using the Siemens Industrial Operations X portfolio along with partners NVIDIA and AWS using an immersive industrial metaverse.
Read the press release here.

It's probably worth mentioning the deep and highly successful collaboration between Siemens and AWS. We've been working with AWS for almost ten years and just recently, AWS awarded Siemens the AWS Manufacturing and Industrial Competency designation. Here's the official press release. No question we are a natural fit together. If you'd like to learn more about the partnership, this Siemens blog offers some details. More collaborative achievements to come. Watch this space!
Finally – the Siemens big stage
During this five-day event preliminary numbers reveal over 130,000 visitors attended. Another 15,000 joined virtually. More than 4,000 exhibitors presented their solutions for a digital, connected and more sustainable world.
Some of the more popular events were the joint presentations by Siemens and AWS together. Siemens and AWS presentations covered a variety of topics with the primary focus on bringing new levels of sustainability to all facets of manufacturing and industry.

Needless to say, it was one big, bad, digital innovation bash!
You're invited to click on any of the following recorded events and watch the presentation – as it occurred live at the show.
Presentation #1 – Wednesday, April 19th
"Lean Daily Management made easy with cloud native
low-code and AWS IoT TwinMaker"
Presentation overview: Here's a newly developed template called Lean Daily Management – a joint collaboration from Mendix, Siemens and AWS. This new offering gives line, shift and production leaders insight into what causes production delays in areas that are normally difficult to detect. A new offering that eliminates guesswork and gives teams new agility on the production floor.

Presenters Emad Mankbadi of AWS (left) and Sabastian Bersch
of Siemens (right).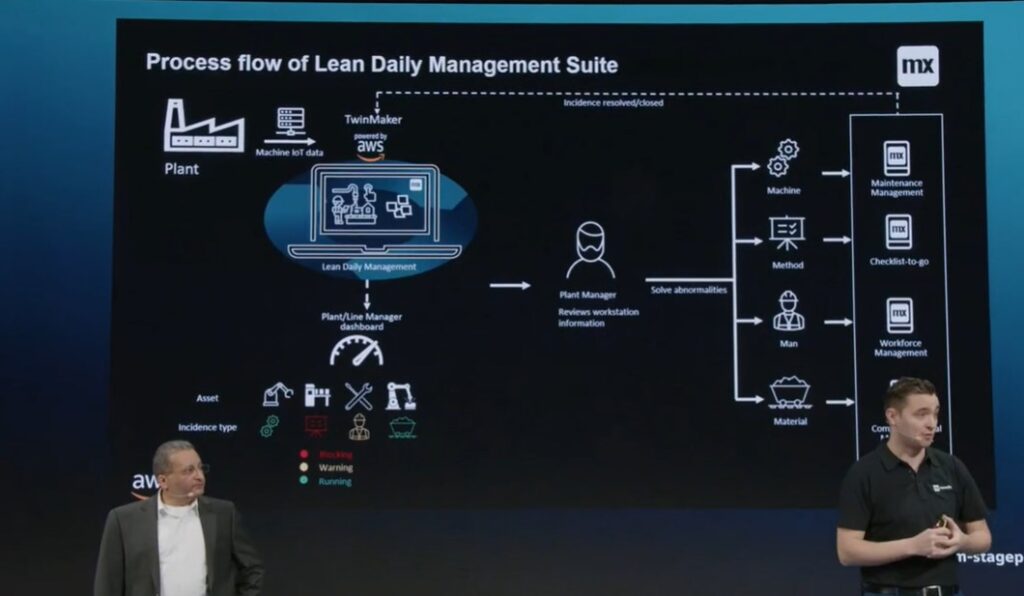 Presentation #2 – Thursday, April 20th
"Digital transformation with IIoT driving
decarbonization – intelligent energy management"
Presentation overview: Learn how Siemens IIoT solutions leverage the AWS Cloud to drive business outcomes forward as IT/OT operations converge. Intelligent energy management is a modern-day solution that helps companies take action to keep energy usage costs under control. These days it's all about sustainable energy management and both Siemens and AWS are committed to finding viable and real-world solutions.
Presenters Frank Kovacs of AWS (pictured) and Alan Wardle of Siemens.
Presentation #3 – Friday, April 21st
"Accelerate your manufacturing digital transformation
using Siemens cloud services on AWS"
Presentation overview: This talk presents a clear strategy for digitalization. The strategy discussed enables customers to efficiently orchestrate operations on the production floor, where the digital and physical worlds converge. As manufacturing operations management (MOM) software evolves to a modular, cloud-based architecture, it makes digital transformation accessible to a broader spectrum of companies.
Tom Wormus of AWS (pictured) and Rob Schoppema of Siemens.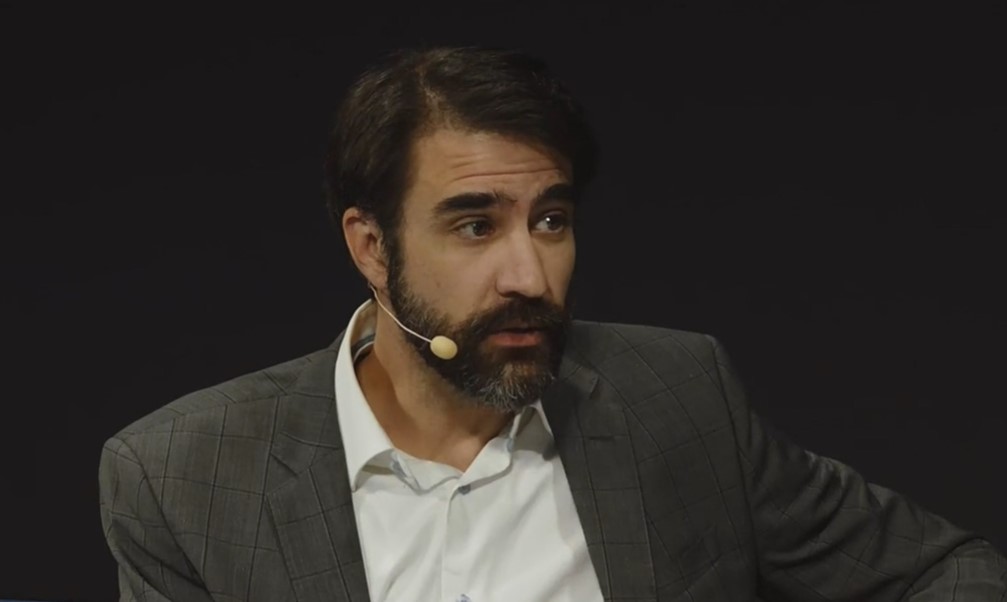 For a virtual experience of the entire show, please visit this Siemens website.
Mendix makes an appearance reimagining manufacturing with a low-code platform

Team Mendix at the show
Across the street from the fair, the Mendix team set up shop at the Radisson Blu Hannover Hotel. This invitation-only immersive event was off the charts! Here, the concept of "Compose Your Transformation" was introduced demonstrating how Mendix, a low-code SaaS platform, can empower manufacturing organizations to digitally transform. From "top floor to shop floor, cloud to edge" as the Mendix folks like to say.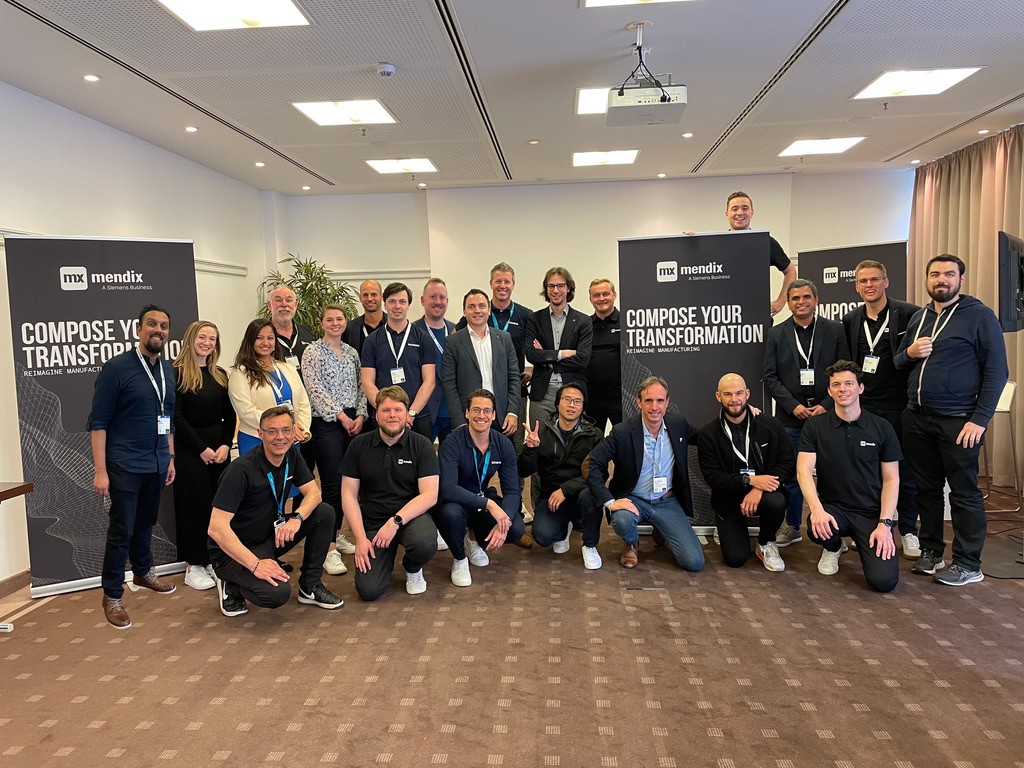 For a closer look at how to compose your own transformation via a low-code and highly adaptable platform – powered by AWS, visit this Mendix website.
Closing thoughts
Informative and inspiring – that was Hannover Messe 2023. It's here where Siemens professionals, industry experts, valued partners and customers from all over the world came together to accelerate transformation.
If you were not aware of the Siemens and AWS collaboration before, perhaps now you can see the critical role AWS plays in transforming the everyday for our customers. AWS is the world's most comprehensive and broadly adopted cloud platform with over 200 fully featured data centers across the globe. From agile start-ups, small- to medium-sized businesses, established enterprises to leading government agencies – people are using AWS to lower costs and gain new levels of agility and efficiency. In this world of ever increasing complexity, to innovate faster and at scale.
The Siemens and AWS partnership was center stage this year. The promise. The technology. The future together.
Indeed, these are exciting and historic times.
This video does a nice job of capturing the excitement and activity at Hannover Messe 2023.
This link allows you to embark on your own digital experience at this year's show. Enlist the help of a digital assistant and attend the show selecting the areas that interest you the most. Have some fun and we'll see you next year!
And thanks for stopping by.
---
Scott Salzwedel is a senior communications and technology writer for Siemens Digital Industries Software. In addition to blogs, Scott writes numerous articles, white papers, videos and various other types of communication relating to AWS and the digital transformation. He also created the podcast series "Talking Aerospace Today."
This article first appeared on the Siemens Digital Industries Software blog at https://blogs.sw.siemens.com/aws/2023/05/22/aws-at-siemens-hannover-messe-2023/