Corporate
Siemens Software Helps Develop Engineering Talent – Partnering with Formula Student Austria 2019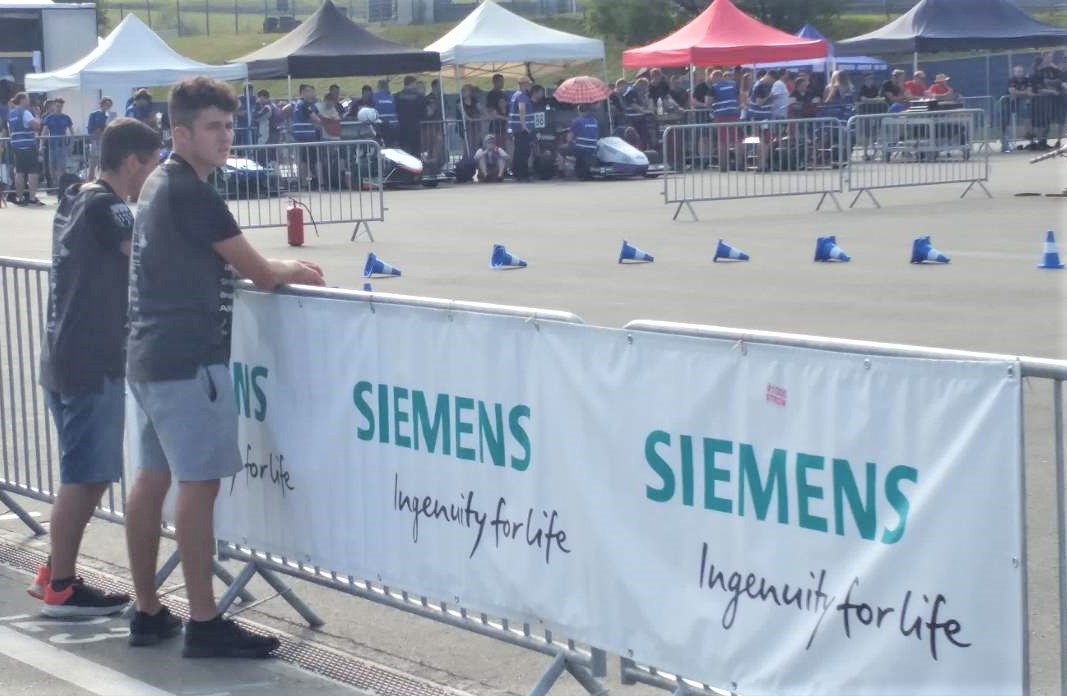 Leigh Anderson, Siemens Business Development Manager – University Competitions Worldwide
This past July/August, Siemens Digital Industries Software helped support the Formula Student Austria(FSA) competition. This event challenges university undergraduate and graduate students to design, fabricate, develop, and race formula style racecars. Teams compete in static events such as business, design, and cost in front of judges from the auto industry and they compete in dynamic events such as acceleration, skid pad, autocross, endurance, and efficiency. For both combustion engine and electric-powered racecars, the competition was held with 58 teams from July 29th to August 4th, 2019 at the Red Bull Ring Formula 1 track facility in Spielberg, Austria.FSA specifically draws elite teams from all over Europe (and some overseas teams) as it is the best event to prepare for the 'Olympics' of Formula Student – at Formula Student Germany the week following.
All-teams group photo from 2017 FSA event. (Due to weather, 2018 and 2019 group photos were missed.)
World-class teams at FSA use Siemens software
Siemens' academic program has been supporting Formula Student Austria for several years as well as Formula Student events in North America, Germany, China, and Japan, plus aerospace competitions. These elite students are highly sought after by industry because of their proven readiness for the engineering workforce.
The 2019 FSA 1st place overall for Formula Electric was won by the Technical University of Munich team, seen here in the judges' bay ready for FSA DESIGN judging- supported by Siemens Software, such as NX for 3D-CAD, FAE, CAM for design and fabrication, with carbon fiber downforce aero package simulated and optimized with STAR-CCM+ software
The FSA challenge is heightened by the addition of business and cost management, marketing, recruiting, and training new members and logistics. These students have proven to be passionate, hardworking, smart, and high initiative engineers, while handling difficult engineering theory classes as well as 80-hour weeks or more to compete at the highest levels in Formula Student. In addition, the teams have to recruit and train new members every year as students graduate. They also have to recruit a diverse mix of mechanical, electrical, computer science, business and marketing members.
The 2019 FSA 1st place overall for Formula Combustion was won by the Fachhochschule Joanneum Graz Austrian team, seen here in on track at speed- supported by Siemens Software, such as their potent downforce aero package optimized with STAR-CCM+ software.
Taking home the Siemens Chairs Awards for Best Deployments of Siemens' Engineering Software were the Global Formula Racing team from Oregon State University/DHBW Ravensburg University team, and the eCurie AIX team from RWTH Aachen.
Left: Global Formula Racing car, Right: Siemens chairs prizes for "Best Deployment of Siemens Software" awarded to Global Formula Racing team and to the RWTH Aachen team
Siemens Booth
At the Siemens booth, students enjoyed cool drinks, along with thoughtful discussions on Siemens' software tools and advice on careers.Booth staff included human resources, CFD expert, software grants adviser, and other staff from Siemens' Digital Industries group.
Students enjoyed cool drinks at our booth, along with
thoughtful discussions about Siemens' software tools and advice on careers.
Industry Support at FSA
Many FSA event sponsors are among Siemens customers. We are pleased to aid in preparing students for their careers in industry through our support of FSA and the impressive teams at FSA!

AVL's large booth for recruiting FSA students, including a large room inside
FSA Sponsor ITK Engineering even brought an electric powered racecar from the professional
Formula E racecar series for students to see (and get ideas from)
Thyssenkrupp, another FSA industrial sponsor brought their
technology-demo-vehicles to aid their recruiting of talented FSA students
Siemens sponsored the FSA event again this year, alongside these and other industry sponsors.Teams were offered no-cost software grants of Siemens software and training resources to help design their cars and develop their talents. There is a huge need to address the worldwide engineering workforce gap due to aging demographics that exist in most of the developed countries. Teams are turning to Siemens software because they realize that we can help them overcome issues with hard-to-learn, limiting, or incapable engineering software. Teams can use our Formula-Student-specific tutorials, and online training course resources to reduce their software learning curve, make better design decisions, and focus their time on developing a better car.
Siemens Award for Excellence in Electrical Systems & Wire Harness Engineering
This special award for electrical systems design and fabrication carried with it a prize of 4500 EUR, across 3 places.
Siemens' Electrical System expert judge, Hugo Cervantes (on left), discussing the
merits of the UAS Tallin team's advanced electrical system and wire harness
with the team's lead electrical engineer, (This talented team is from Estonia).
1st place was won by the world-class Technical University of Delft of the Netherlands:
TU Delft racecar sponsored by Siemens. This team set the world record for 0-100 kph acceleration at an astonishing 1.51 seconds! The car's lightweight carbon fiber construction, all-wheel-drive, custom electric motors and torque-vectoring/traction-controls technology were all self-developed by the team to achieve this impressive record.
Siemens' Leigh Anderson presenting the 1st Place Electrical System Prize to the Technical University of Delft
2nd place for the Siemens Electrical System Award was won by the Technical University of Munich (TUM) TUfast Formula Electric car – which was also the 1st place overall winner of FSA Electric class teams! See the 1st photo at the top of this article for the TUM car photo.
3rd place for the Electrical Award was won by the Ecurie AIX team from RWTH Aachen University in Germany, who use a wide array of Siemens engineering software to design and simulate their advanced racecar.

Tips and Resources for Formula Student Teams
To apply for no-cost software grants for student competition teams, see this advice.
Students can download a STAR- CCM+ simulation template so that students can build a complete CFD simulation for aerodynamics in 1 hour. This is made possible by the way STAR-CCM+ interconnects each step of the simulation process through robust, high quality meshing. There is also a resource to speed the set-up of a radiator duct and fan simulation in STAR-CCM+.
Siemens sees that more Formula Student teams find that their existing CAD software can't handle large assemblies – and it doesn't include fiber-composite fabrication simulations, CAM, accurate FEA, wire-harness design tools or e-learning – all of which are provided through an integration of NX, Fibersim, and VeSys software.
Siemens has also negotiated for free high-speed computing time for STAR-CCM+ with two cloud-computing companies. On the same forum as this article, students can find many best-practice tips and techniques.
For printed circuit board (PCB) design, software like PADS Professional replaces common buggy 'freeware' PCB software. This professional level PCB took is especially critical for Formula Electric teams who have to design custom high voltage, high current boards packed into a compact space in their racecars. For example, The PCB verification tool, Hyperlynx, checks 8 types of electrical integrity to prevent glitches during the endurance event.
More and more teams ask for these Siemens software tools along with product data management, mechatronics, and our other software.
We also provide supported teams with no-cost on-demand/online training and Formula Student-specific design tutorials. Siemens' Formula Student and FSAE forum has many valuable tips for designing, simulation, guidance for accessing e-learning, and much more.
We look forward to seeing the FSA teams again in 2020!
Appendix Photos
Female engineers are an integral part of many Formula Student teams' engineering staff, such as a suspension design
Signage for Joanneum Racing Graz team (1st place overall Formula Combustion)
that helps explain the car's main features to FSA Design judges. Communication skills are honed at FSA not only engineering design and simulation skills.
Global Formula Racing team is unique in the world – the only fully international team.It includes students from DHBW Stuttgart University in Germany + Oregon State University in the USA. The team is an advanced practitioner of Digital Twin engineering methodology – an absolute necessity when designing together across an ocean and 8,000 kilometers! One of only a couple of of teams in the world that built and campaigned 3 cars in one season: Electric, Driverless & Combustion racecars. The team uses Siemens software extensively – note Siemens logo on rear wing.
Five teams in the background waiting for their turn on the practice track.
This article first appeared on the Siemens Digital Industries Software blog at https://blogs.sw.siemens.com/academic/siemens-software-helps-develop-engineering-talent-partnering-with-formula-student-austria/