Corporate
Get to Know our Free Additive Manufacturing Tutorials in this Webinar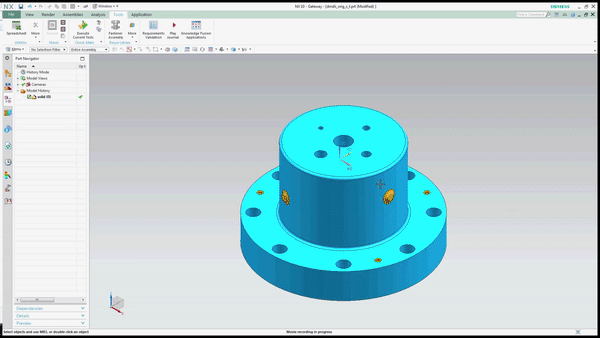 In the new Introduction to Additive Manufacturing webinar you will learn more about our free Our Free Additive Manufacturing tutorial and apps.
Additive Manufacturing with NX Tutorials
These tutorials will allow learners to quickly:


Understand the capabilities of NX


Perform topology optimization on a CAD part


Understand topology optimization from a modeling application perspective


NX Additive Manufacturing Toolsets
These apps, developed by Dr. Sam Anand's team at the University of Cincinnati's Center for Global Design and Manufacturing with NX Open with the help of NX API functions will optimize and extend the NX Additive Manufacturing capacity.
Working with these apps, learners will be able to use NX Additive Manufacturing to:


Assist with support structure generation


Support structure accessibility


Orientation optimization


Detecting and highlighting features that are difficult to manufacture based on DFAM violations, prediction of build parameters and more


What's better than industrial-strength software, real-world competitions and a dynamic community? How about free training and curriculum that ties it all together? Did you know that all schools and teams that have Siemens software
licenses are entitled to FREE access to Learning Advantage? No? Well then you should check out our Intro to Learning Advantage webinar and make the most of this awesome resource! You'll also want to check out the other webinars in this series to learn more about the great free learning resources that we offer!
Learning Advantage is our custom learning portal featuring over 4000 on-demand learning assets. It's always free for our academic partners, students and customers. Features include a simple user interface, robust reporting functionality and an ever-growing library of courses, tutorials and short videos. Additionally, a special Academic Resource Center section which features a discipline-driven comprehensive course curriculum is available exclusively to and built especially for our academic partners.
Already using Learning Advantage? Share your favorite courses, tutorials or curriculum packages with us below in the comments!
This article first appeared on the Siemens Digital Industries Software blog at https://blogs.sw.siemens.com/academic/get-to-know-our-free-additive-manufacturing-tutorials-in-this-webinar/