Corporate
Four Ways South Korea Supports Engineering Education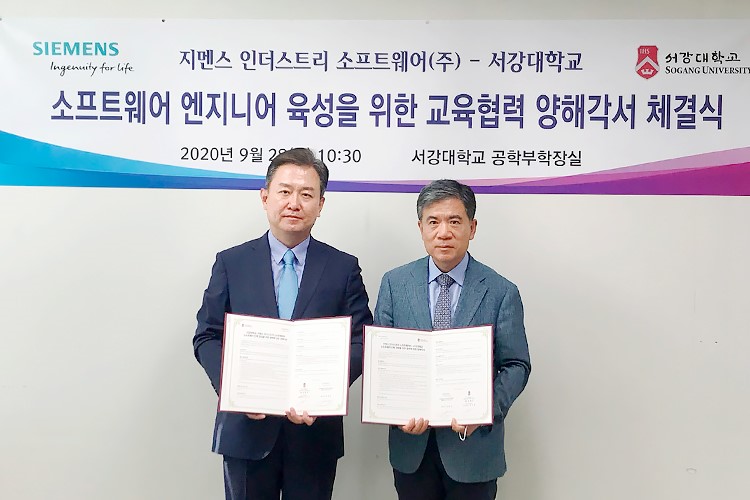 South Korea is home to many of the world's largest and most innovative companies. From the automotive industry to electronics and semi-conductors, a pipeline of engineering talent is needed to sustain the current pace of growth in Asia's fourth largest economy. Siemens DISW is working to support this effort and inspire and cultivate the next generation of engineers in a variety of ways. Read below to learn four fundamentals ways Siemens DISW and South Korea work together to support engineering education.
University Partnerships
Over the years Siemens has built partnerships with many universities around the country to help support exceptional STEM education. This past year, Siemens bolstered their commitment to these university partnerships by signing a Memorandum of Understanding (MoU) with many university leaders. These MoU's show Siemens' dedication and investment in creating a platform for future engineers.
In recent years, Siemens signed MoUs with Hanyang, KAIST, Sogang, Konkuk, Pusan National University, Chungbuk National University, Kookmin University, and University of Ulsan. The Dean of the Doyoung School of Engineering at Sogang University, spoke about these partnerships and said,
"Through this collaboration with Siemens, I expect our educational curriculum to be given a spur toward further development to lead the Fourth Industrial Revolution, and, by fostering professional experience and capabilities in the manufacturing engineering field, the School of Engineering will foster Sogang students as future leaders of the digital age."

Dean Jeon Doyoung of the School of Engineering, Sogang University
Developing special online courses with universities in South Korea
Courses on fundamental engineering concepts are developed using Siemens software as part of these partnerships. By giving traditional theoretical education an added boost by including project-based learning and industry-grade software, students can build their resumes while applying theoretical concepts to problems they may face on the job.
University partner, Hanyang University will develop a smart manufacturing course using Siemens Digital Industries Software solutions and plans to offer both online and offline training programs by 2022 to help enrolled students build on existing skills and sharpen their knowledge. At Soongsil University, smart manufacturing courses will be developed in tandem with the engineering department. The universities plan to create a 'Siemens Smart Factory Workshop' course. In addition, its AI Mobility Business Group will open self-driving training courses. All of courses allow for professors, graduate students and undergraduate students to use Simcenter™ Prescan™ software, an advanced safety vehicle simulation solution of Siemens.
Cumulative online training for students
In addition to developing courses using Siemens software like Simcenter STAR-CCM+ and Solid Edge, Siemens provides robust online training for students through our platform Xcelerator Academy. Partner universities can use the platform to supplement traditional coursework and allow students to choose their own learning paths. Xcelerator Academy has hundreds of courses and give students the ability to get certified in software proficiency and further develop skills they will use in the workforce.
Meanwhile, Siemens also supports universities on-site and online special lecture courses . These courses help students better apply the industry required knowledge and skills they are learning in classes. Every year hundreds of students attend the training.
Supporting student competition teams
Another important aspect of supporting student innovation is investing in student-run teams. These student competition teams allow young engineers to apply what they are learning in classes to real-world projects .This can help expose them to the facets of engineering they are most interested in. Everything from the CAD modeling of the prototype to the business decisions of budgets and sponsor recruitment is handled by the students. Siemens provides support to numerous teams including Hangyang University's Baqu4 student team.
Using Simcenter STAR-CCM+, Siemens computational fluid dynamic software, the team could better understand model flaws and improve their design. Baqu4 students team said,
"Thanks to Siemens' grant of Simcenter STAR-CCM+, we were able to design the vehicle's aerodynamics devices. Furthermore, through CFD analysis, we found the target values and evidence."

Baqu4, Hangyang University
It's clear that the state of engineering in South Korea is in great hands. To find out more about our academic partnerships with universities around the world, click here.
This article first appeared on the Siemens Digital Industries Software blog at https://blogs.sw.siemens.com/academic/four-ways-south-korea-supports-engineering-education/