Corporate
Formula Student Germany 2019 – the Most Advanced Student Competition in the World!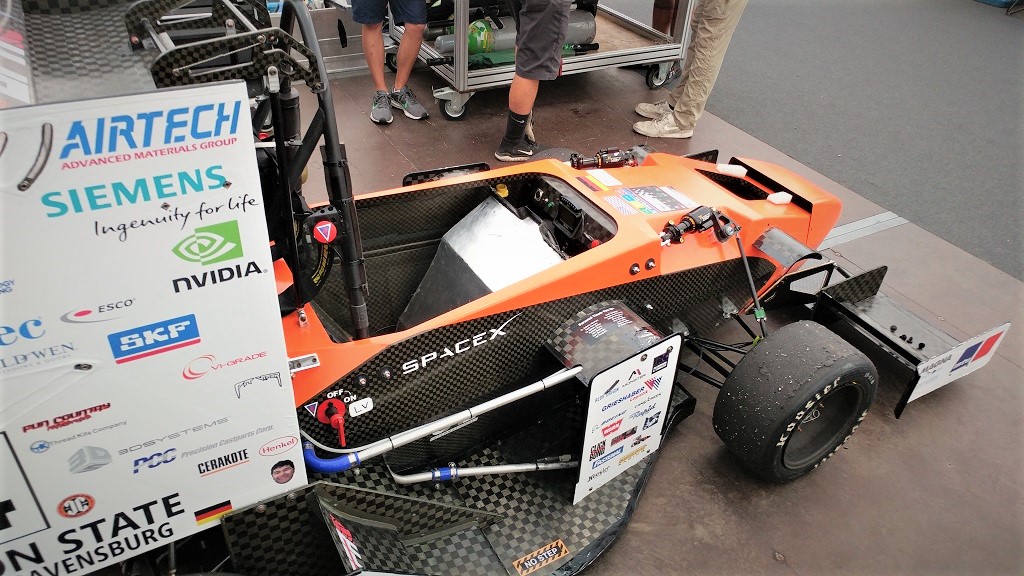 Siemens Digital Industries Software's academic program has been supporting Formula Student Germany (FSG) teams with software, training, and collaborations for many years. Siemens Software was again a sponsor of the 2019 FSG event held at the Formula 1 track in Hockenheim, Germany the 2nd week of August, 2019.
Contents:
Digital Twin Engineering Excellence Award
Students turn to Siemens software
Appendix 1 – Career success stories
Appendix 2 – Additional Photos
This world-class university student competition not only includes combustion and electric powered racecars, it features the most advanced student-built autonomous formula racecars in the world, for 4 years now. The autonomous racecar class is called Formula Driverless.There are also driverless Formula Student events in China and Spain but the most sophisticated driverless student teams all compete first and foremost at FSG.
All the top-tier autonomous electric, and combustion teams at FSG use a Digital Twin style engineering methodology with extensive use of virtual models, simulation and product data management, and nearly all top-tier use Siemens software.Siemens offers software grants, technical support, workshops and online training at no cost to Formula Student/SAE teams worldwide, so they can implement Digital Twin engineering methodology with a powerful and integrated software suite.In addition to extensive training workshops at the FSG event, Siemens also put on a boot camp for FSG teams with instructor-led trainings in late September at two Siemens training centers in Germany. Online/on-demand software training courses, and Formula Student-specific tutorials and expert tip articles are available year-round.
FSG Event Overview
The Formula Student Germany 2019 competition challenged University undergraduate and graduate students in 119 european and international teams to conceive, design, fabricate, develop, test, and compete with formula-style racecars. Teams compete in static presentations such as design, business, and cost to judges from the auto industry, then compete in dynamic events on the tarmac such as acceleration, skidpad, autocross, endurance, and energy-efficiency. Using best-in-class, integrated engineering software from Siemens helps with all aspects of the competition.
In addition to the FSG event, Siemens supports and attends Formula Student events in the USA, Austria, China and Japan. For more images from FSG, see the Photos Appendix below.
Digital Twin Engineering Excellence Award
Siemens sponsors a prestigious Award at FSG – the 'Siemens Digital Twin Engineering Excellence Award', which honors three teams for their achievements in this most modern and effective engineering methodology – which every top-tier Formula Student team uses to a significant degree.In fact, without the advanced simulation and design practice of Digital Twin, it's simply impossible for teams to compete at the highest levels of FSG!
Watch this video of the 2019 Siemens Digital Twin Award Ceremony (skip to the video time stamp of 54:35).
Siemens also recognized the 'Most Rapid Progress Toward Digital Twin' Honorable Mention of the Dynamis PRC team from Politecnico di Milano university – and the Special Mention of the close 4th place 'expert Digital Twin' team AMZ Racing from ETH Zurich university, who also won 1st place in the Formula Driverless class.
The 1st place winner of the 2019 Digital Twin Award,for the 2nd year in a row, was Greenteam Uni Stuttgart, who depend heavily on Siemens software for key design and performance aspects of their racecar – also integrated into a sophisticated, self-developed PDM (product data management) system.
The GreenTeam car's all carbon-fiber composite chassis and aero downforce package were designed and simulated with NX for 3D CAD and STAR-CCM+ for 3D computational fluid dynamics (CFD) simulation.GreenTeam also achieved 7th place in the highly competitive Formula Electric class, out of 39 teams, and 6th place in the extremely difficult technology challenge of the Formula Driverless class. They even designed their own electric, in-hub motors with a sophisticated embedded cooling design. This enabled these powerfully compact motors to perform throughout the lengthy Endurance event – in their rapid all-wheel-drive Formula Electric car.
The KA-Raceing team from Karlsruhe Institute of Technology earned a close 2nd place in Digital Twin excellence – earning a score across the 7 judging metrics that was a mere 1% behind 1st place.
The KA-Raceing team presented their sophisticated use of 3D design, 3D printing prototyping and intricate metal-printed parts. These advanced 'Digital Twin parts' propelled them to 2nd place in the hotly competitive Formula Electric class, out of 39 teams. and another great 2nd place in the extremely difficult technology challenge of the Formula Driverless class! … plus a strong 19th place in the large and competitive Combustion class.Like GFR, this team pulled of the quite difficult feat of designing, building and competing three (3!) racecars in one year.
The only international team, GFR, makes extensive use of Siemens design and simulation tools in all aspects of their racecar design, simulation and fabrication. Their motto is "TWO NATIONS. ONE TEAM. ONE MISSION".They co-design/co-simulate/co-fabricate and co-competed a total of three race cars (Electric, Combustion and Driverless). They coordinated this effort across 8,000 kilometers and the Atlantic ocean, which is only achievable with Digital Twin methods. GFR uses the entire range of Siemens software tools.Against 60 teams, many that have larger budgets, GFR earned an impressive Second place in the hotly-contested Formula Combustion class.
Industry commitment
FSG is the most intensely industry-supported university competition in the world. These students are highly sought after by industry because they are prepared to do real engineering as soon as they start their careers – because they not only design and build a new race car from the ground up, they must work as a team to do this while handling business, project and cost management, marketing, recruiting and training new members, and logistics.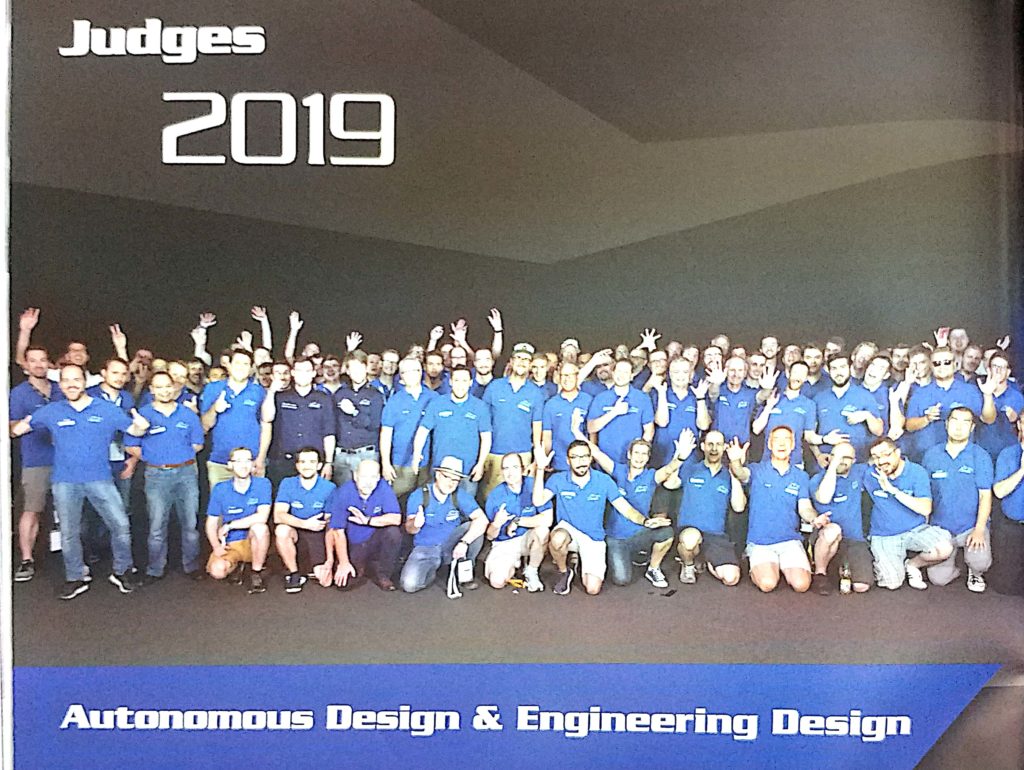 FSG students have proven to be passionate, hard-working, smart and high-initiative engineers (despite many schools not giving much or any academic credit for their Formula car projects.)Engineering theory classes are difficult enough to handle, but these students often put in 80-hour weeks or more to compete at the highest levels in Formula Student.Siemens offers no-cost software grants and training resources to help address the engineering workforce gap due to aging demographics in all of the countries that have significant automotive industries.
Many FSAE event sponsors are among Siemens' engineering software customers. We are pleased to aid in preparing students for their careers through our support of FSG!
Female Formula Student Engineers & Drivers
Female engineering students, and racecar drivers, are an integral part of Formula Student teams. Women are also well represented on the business and communications sub-teams.
Students turn to Siemens Software
Siemens Software supports ~300 Formula Student/SAE teams worldwide. This includes nearly every top-tier team in the world. Teams are turning to Siemens because they realize that we can help them overcome issues with hard-to-learn, limiting, or incapable engineering software and they can use our Formula student-specific tutorials, and online software tools training resources to reduce their software learning curve, make better design decisions, and focus their time on developing a better car. We also partner with them to keep the developed content relevant to them.
For example, Siemens collaborated with 4 student teams to develop a STAR-CCM+ simulation template so that students can build a complete CFD simulation in 1 hour. Users simply tag their parts and the sim looks for these tags to feed into a surface wrapper, the meshing operations, models, boundary conditions, reports, plots, and scenes. This is made possible by the way STAR-CCM+ interconnects each step of the simulation process and through robust, high quality meshing.High-performance computing in the cloud at no cost for student teams using STAR-CCM+ software has also been arranged!
Another collaboration with the California Polytechnic San Louis Obispo team led to the development of an article that shows how to setup a radiator duct and fan sim in STAR-CCM+. This includes an experimental validation and design exploration studies.
We see that more and more Formula Student/SAE teams are discovering that their existing CAD software cannot handle large assemblies – and their existing software doesn't support composite-fiber fabrication simulations, complete CAM, accurate FEA, wire-harness design tools or e-learning – all of which we provide through an integration of NX, Fibersim, and VeSys – all with online training courses. VeSys software even integrates with their chassis designs in NX to calculate 3D wire-lengths – so the wire-harness can be ready as soon as the chassis is fabricated.
For printed circuit board (PCB) design, software like PADS Professional replaces common buggy 'freeware' PCB software. This professional level PCB tool is especially critical for Formula Electric teams who have to design custom high-voltage, high-current boards packed into a compact space in their racecars. Electrical integrity can be checked with the companion PCB verification tool called Hyperlynx, to prevent electrical glitches during the Endurance event for example.
More and more teams ask for these Siemens software tools along with product data management, mechatronics, and our other software.
We also provide supported teams with no-cost on-demand/online training and FSAE-specific design tutorials. Siemens' Formula Student and FSAE forum has many valuable tips for designing, simulation, guidance for accessing e-learning, and much more.
We look forward to seeing the amazing FSG teams' innovations in 2020!
———————————————————————————-
Appendix 1 of 2 – FSG Student Career Successes

(These 5 interesting post-FSG stories are copyright FSG)

—————————————————————————————–
Appendix 2 of 2 – Additional photos from FSG
[End]
This article first appeared on the Siemens Digital Industries Software blog at https://blogs.sw.siemens.com/academic/formula-student-germany-the-most-advanced-student-competition-in-the-world/