About 100 Students and Faculty Attend Training at PACE Annual Forum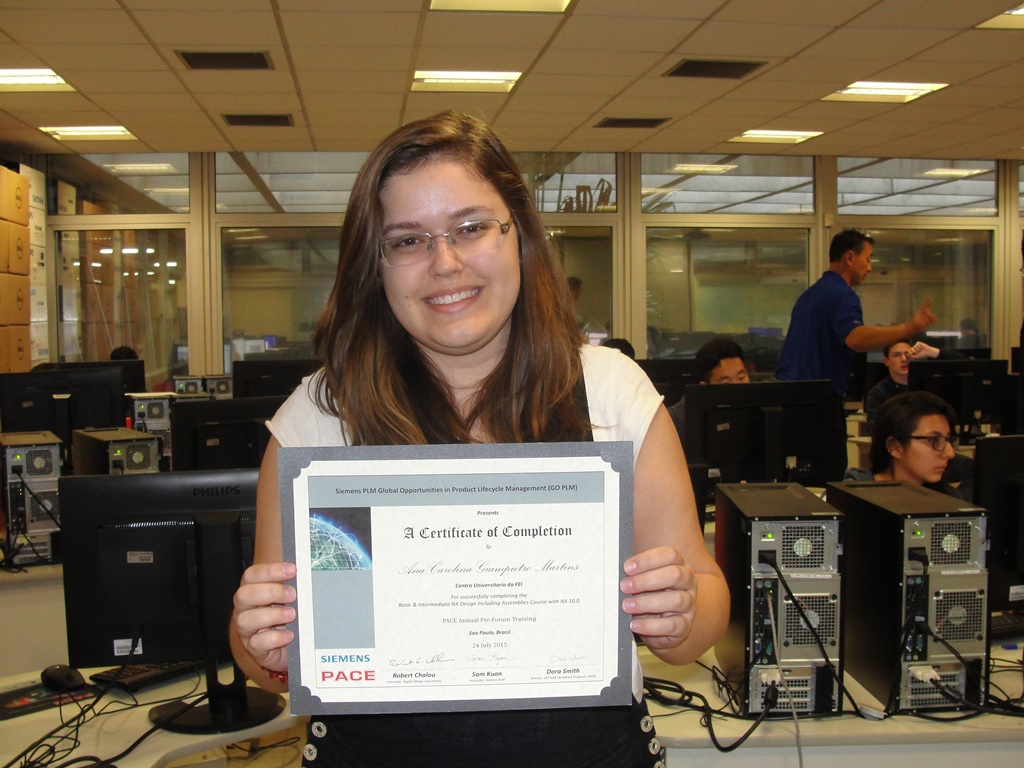 One benefit of attending the PACE Annual Forum is not only to share the yearlong work with peers and the industry representatives, but also to receive a professional training. Roughly 100 students and faculty participants attended training and about 50 of them took the NX certification exams.
Group picture with the instructor Bob Chalou in the NX training course.
Students and faculty and the instructor Sam Kuan in his NX training course.
Participants had a chance to take one of three training courses: Basic and intermediate NX Design, Tecnomatix and Teamcenter at University of São Paulo.
Sixty-eight students and a faculty member received a certificate of completion for the NX training. The participants gained the knowledge to develop basic solid models and drawings.
Ana Giampietro from Centro Universitario FEI, Brazil, received the NX Certificate of Completion.
"The training taught me the best way to get from point A to point B." Suraj, a student from SJCE, India said. "If there are a hundred ways of doing something, what is more efficient way to get there was taught in the NX training."
Watch Suraj's interview to learn about his use of NX 9 in RSMS and CIC competitions.
Eight students and two faculty members completed and received certificate for Tecnomatix. They learned the functions of digital manufacturing tools to enable collaborative project. After completing the training, they can create and perform robotic and human simulations.
"I liked the training…because I think it is a useful software that can help someone on the market effectively and someone that is working on the project like RSMS," Lais from University of Sao Paulo said.
Also, 12 students and two faculty members received the certificate for successfully completing the Siemens Teamcenter training. Through the training, participants were introduced the concept of PLM and the basics of the software applications.
Participants also took the NX certification exam. Seventeen out of 57 students and faculty received the Certificate of Achievement at the PACE award dinner on Thursday, July 30th.
Check out the Flickr page to find more PACE pictures from Sao Paulo, Brazil.
This article first appeared on the Siemens Digital Industries Software blog at https://blogs.sw.siemens.com/academic/about-100-students-and-faculty-attend-training-at-pace-annual-forum/