Corporate
2022 Formula Student N. America – Top Teams' Testimonials Highlight Software Keys to Success
There were two Formula SAE North America competition events in the summer of '22, both held at the Michigan International Speedway track – one event for combustion class racecar teams and another date for electric powertrain racecar teams. Both events are sponsored by Siemens Digital Industry Software, Inc. with staff attending both events to support student teams with software grants and technical advice.

The automotive industry really stepped up their engagement at Formula SAE Michigan, as we come out of the worst of the pandemic and complete in-person events are held this year. There was even more industry support than the pre-pandemic 2019 event. SAE made a highlights video for the event.
Siemens also awarded a Digital Twin Engineering Excellence Award for the 2nd year to three deserving teams.
Digital Twin Electrical Engineering Excellence Award
For the 2nd year, a prestigious Digital Twin Electrical Engineering Excellence Award was given after scrutinizing select Formula Electric racecars by an expert Siemens judge, Paul Johnston. There is an emphasis by SAE and Siemens to encourage the transition from combustion engineers to a battery-electric drivetrain – the technical talent desired by industry.
An Honorable Mention for their thoughtful architectural approach to the electrical system went to the University Of Toronto Formula Racing.
The 3rd place prize which came with a prize of $1,500 went to the North Carolina State University – Raleigh's Pack Motorsports formula electric team!
The 2nd place prize with a $2,500 digital twin engineering excellence prize was earned by the formula electric team from McGill University!
The 1st place winner of the 2022 Siemens Digital Twin Electrical Engineering Excellence Award – came with a $3,000 prize. This team achieved a high degree of efficiency and value from their digital twin models while using virtually every relevant application from Siemens' Xcelerator suite of software. The integration of all the software helped overcome project stresses – for example handling team members graduation turnover. Also they took great advantage of Capital's software-enabled integration of the electrical harness design into the carbon composite monocoque chassis CAD model – while also light-weighting the high-voltage wire-harness by at least a couple kilograms. (saving kilograms is a big deal in a 202 kg racecar!)
The top Digital Twin Electric expert team for FSAE 2022 – a truly international team – went to the Global Formula Racing teamat Oregon State University/Germany's DHBW Ravensburg University!
"Siemens software has allowed Global Formula Racing (GFR) to create a digital twin of our Formula Student car in all aspects", said Wesley Morris, GFR's ePowertrain Mechanical Lead. "Not only does GFR use Siemens NX to design and easily handle the large assembly that is our car's digital twin – the 3D model of our car is also used as both a reference and tool for the fabrication and assembly of the car. The 3D model is automatically integrated with other Siemens software packages such as Capital Essentials for wire-harness, Simcenter Star-CCM+ for aero downforce analysis, and FiberSim for composites design. This enables an even more accurate digital twin. Fibersim even tells us in advance how to prevent fabrication flaws preventing wasteful cost and labor! Since our 3D CAD model in NX is so integrated with the other Siemens tools, we can ensure that our simulations are accurate regardless of the sub-system. The ability to bring together all engineering disciplines that make up a comprehensive Formula Electric car digital twin with Siemens software has been a major factor for GFR's consistent success at competitions."

See this video for a more technical and illustrated explanation of how GFR uses Siemens Xcelerator suite of engineering software.
See this video by the McGill team on how they use Siemens software to enable their success.
Now, the OVERALL WINNER OF FORMULA ELECTRIC 2022...
…which is another elite Siemens-sponsored team…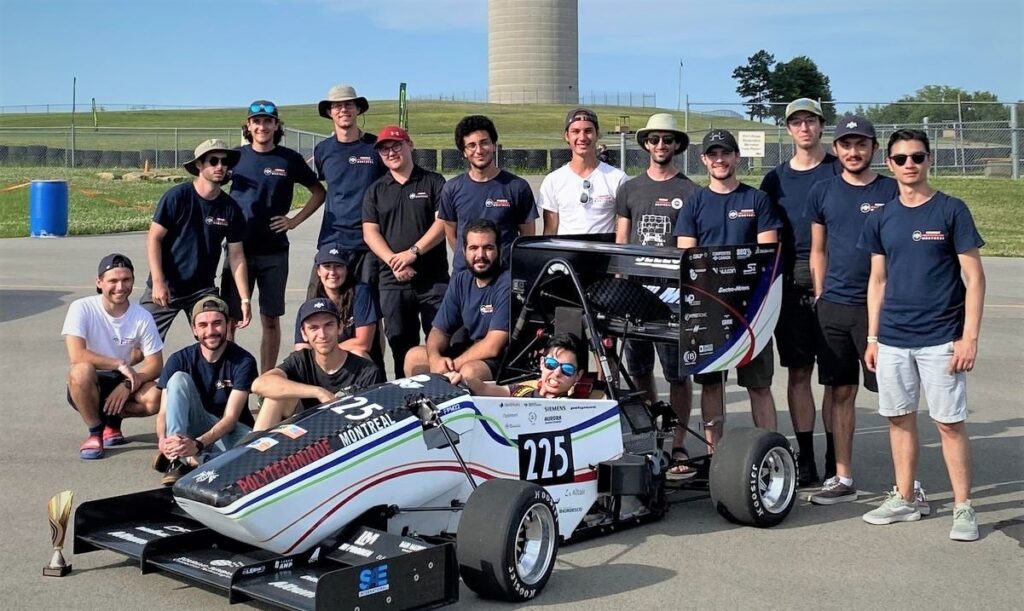 The Formule Polytechnique Montréal team won the overall 1st place for Formula Electric Michigan! They are also enthusiastic users of Siemens software. The team also took 1st place in the grueling Endurance race, 2nd in Autocross, 4th in Skidpad, as well as 2nd in Acceleration
"The entire team would like to thank Siemens for your support. Your tools have been a great help to our team in both designing and validating major parts of our vehicle", said Alexandre Bélanger, Technical Director – Formule Polytechnique Montréal. "We are currently using Simcenter Star-CCM+ to predict the behavior of our aero downforce package and to lead our design decisions. Last year, we decided to remodel the car's nose and related wing. We made many iterations on Star-CCM+ to drive our design process. We also used it to test early versions of a new front wing and rear diffuser, to improve downforce and thus cornering grip. The full-car simulations were really useful to determine major performance target variables such as the car's lift and drag coefficient – which will then be used in other simulations such as lap-time track simulations. As students, we are greatly thankful of the fact that your software offers a large array of easy to access tutorials, online training, and FSAE-specific aero articles that have helped us in learning how to properly use Star CCM+ to its maximum potential. We think it is a great initiative by Siemens to show off our work done using your software. We are extremely grateful for your support."
As mentioned above, there was possibly the strongest showing of industry support ever at an FSAE North America event, which is great to see as we come out of the worst of the pandemic. These students had to struggle with tough conditions to get these cars designed, fabricated, tested, and transported up to thousands of miles to Michigan. so they really appreciate all the sponsors support and volunteers that help run the event.
Following are some example photos of the industry sponsors, but first a list of industry sponsors and a picture of the Siemens booth (though most of the time we're out talking to students in the pits or judging.)
Sponsors: General Motors, Ford, Tesla, Lucid, Rivian, Blue Origin, Daimler Trucks, Mahle, ZF, Nissan, Honda, Cummins, Multimatics, Bosch, Fox Factory, BASF, BAE Systems, Actalent, Siemens, and more.
Be sure to see the Photos Appendix below, with lots of pictures of student built tech!
Apologies to the sponsors not photographed here, there were too many for a blog article!
Want No-Cost Software for your Student Team?
Siemens software plays a crucial role in equipping and training student teams all over the world to enable success. Learn how to request a full-featured commercial software licensing grant for your team here.
Useful Links for Student Teams:
Global Academic Partner Program Home
Student-Exclusive LinkedIn Group – Network with industry professionals, educators and peers
Curriculum Hub – Free classroom downloads (great for virtual classrooms, too!)
Academic Certifications and Digital Badges – Get certified in NX, Solid Edge, Simcenter Amesim, MBSE and more, plus earn digital badges to show off your student competitions and software expertise on your resume.
Student Edition Software Downloads – Free software with instant downloads for students and educators!


Photos Appendix:

Following are interesting photos of FSAE student car technology at FSAE Michigan, along with a few Siemens logos on sponsored student cars, (even team shirts :-).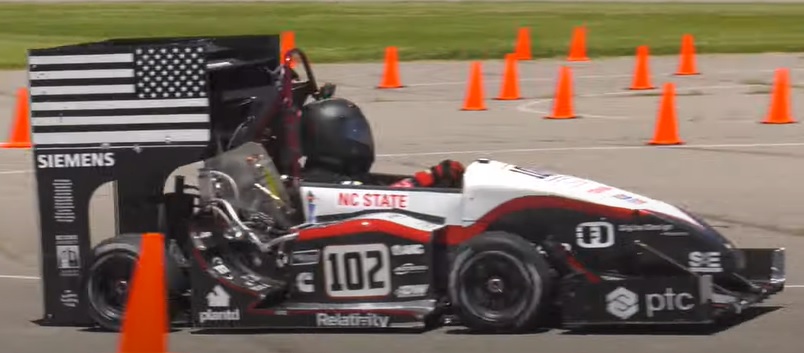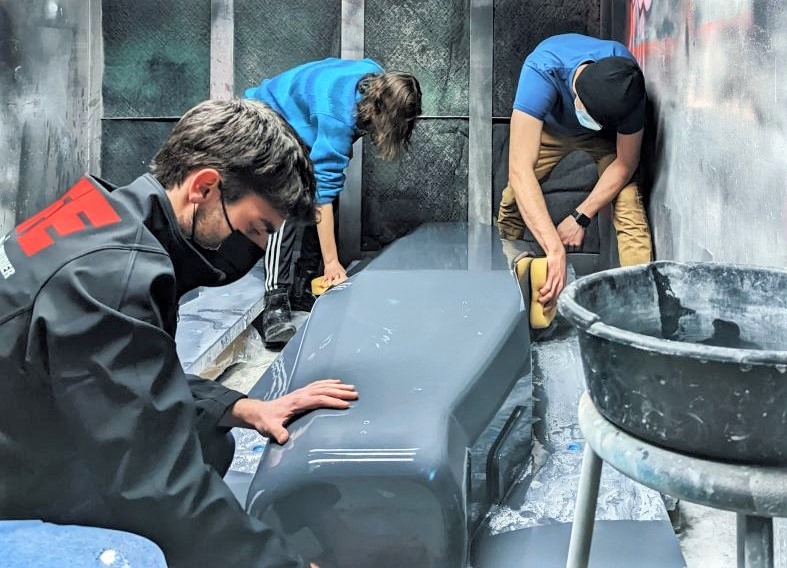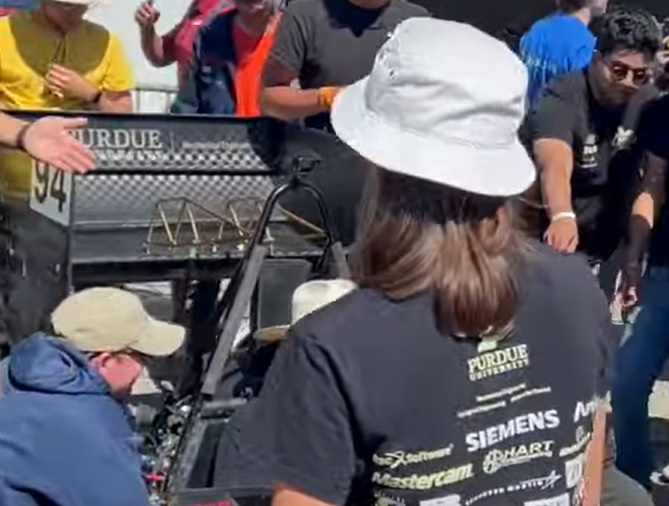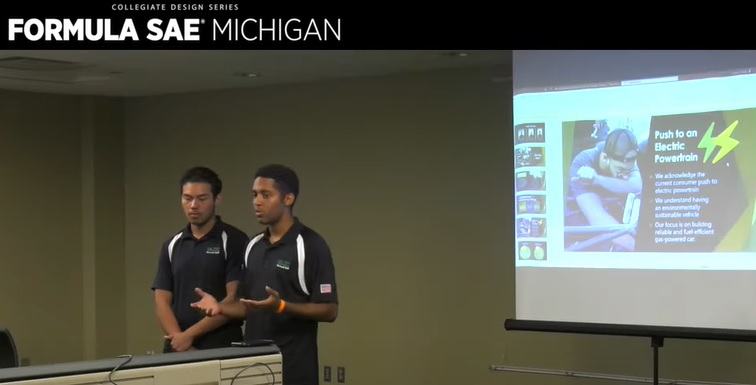 <end>
This article first appeared on the Siemens Digital Industries Software blog at https://blogs.sw.siemens.com/academic/2022-formula-student-n-america-top-teams-testimonials-highlight-software-keys-to-success/