Products
New in Zel X: June release
A host of manufacturing enhancements and improved workflows highlight the most recent release of Zel X, available now from Siemens Digital Industries Software. The June release of Zel X expands Cloud-native CAM and introduces new Shop Operations functionalities, as well as other enhancements designed to help your job shop perform more efficiently.
Cloud-native Computer-aided Manufacturing (CAM)
Zel X's CAM leverages proven Siemens technology to program and machine high-quality parts with exceptional speed, combined with the convenience of browser-based access. Even if you already have CAM software, you can free-up those licenses by programming simpler, prismatic parts in Zel X.
Spend less time programming and more time machining by swapping out error-prone controller-based, or manually typed G-code. Model-based programming means you can focus on cutting strategies rather than checking dimensions, and program while your machine is running.
Thanks to the friendly environment and included user guidance, you don't need extensive programming or Computer Numerical Control (CNC) technology expertise, great for introducing new machinists and empowering design and engineering personnel.
Tool path simulation: Play, pause, and step the virtual cutting tool forward and backward along the generated tool path to see how it will move on the real machine tool.
G-code editing: Use the built-in G-code editor to refine or add custom lines. Post multiple CAM operations into a single NC program by using the new program groups.
Edit CAM setups: Switch the machine control in a setup to post out the desired G-code when process plans change.
Shop Operations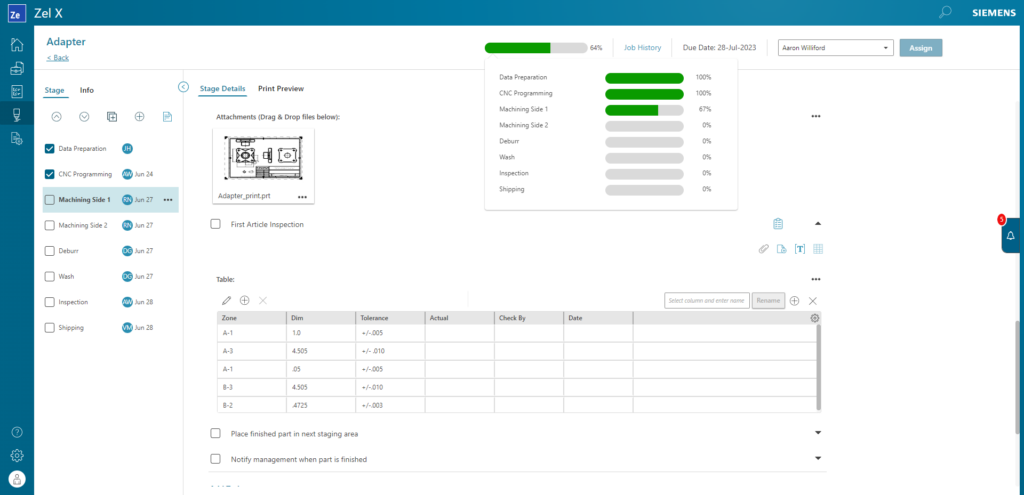 Another major enhancement is the introduction of Shop Operations, a new job tracking and management environment with tools designed specifically for machine operators and managers. The easy-to-use suite of functionalities gives you the ability to efficiently plan, execute, track and communicate tooling preparation, materials handling, machining and inspection.
Planning: Lay out the processing steps for each job, save and reuse processes for future jobs, assign users to jobs and stages, and assign due dates to ensure the process is complete on time.
Execution: Receive clear work instructions on any device, with references to the right project data at your fingertips. Track progress with a touch-screen checklist. Collaborate efficiently with others via assignments and notifications.
Customer communication: Share the progress of jobs with customers via live status link to reduce email and phone communications.
Traceability: Capture comments and lead times to help with future workflow improvements. Store whole jobs for reference.
Further enhancements in Zel X 2306 include:
Collaboration
Project access: Project creators can now designate another user as a co-Owner. The new Owner role is a "full access" role that gives the user the ability to edit and manage the project details and project team. This allows for multiple owners and the ability to easily transfer ownership of a project from one user to another.
Search: A new search enhancement enables users to view and edit files directly from within search results. This saves time by providing an easy option to quickly open the files in either the online viewer, editor or in Augmented Reality (AR).
Expanded file viewing: File view and markup is now supported for SolidWorks, OBJ, and IGES file types, which join the growing roster of supported file types that also includes — images, PDF (2D), single JTs, Capital electrical design, NX (drawings, parts and assemblies), Solid Edge (drafts, parts and assemblies), Microsoft Office (Word, Excel and PowerPoint), HyperLynx, DM PLMX, IGES, STP and STL.
Design
Dimension selection and editing: Dimension enhancements include the ability to automatically place dimensions, the added support for tolerances, and much more.
Improved part visualization: In the Zel X design environment, users can now easily define the color and opacity of parts.
Usability
Large file upload: To support ever-growing file sizes, especially those for simulation files and results, users can now upload files of up to 500 GB each.
Copy and Paste shortcuts: Traditional copy and paste commands (Microsoft: Ctrl+C/Ctrl+V, Mac: Cmd+C/Cmd+V) are now support when copying and moving files. Notes remain associative with files when being copied and moved.
Everything you need, sized for your size business
Purpose built with exactly the tools you need to speed contract and part manufacturing, Zel X makes it easier to handle quotes, manage jobs and work orders, make parts, and collaborate with teams of all sizes.
The continuous release cycle of Zel X ensures delivery of those tools and functionalities as soon as possible, allowing your machine shop to move faster.
Browser-based, in an app designed with your needs in mind, Zel X helps your whole team can get started quickly so you can win more business.
Learn more about Zel X, click here.
Ready to try Zel X? Click here for a free 30-day trial.
This article first appeared on the Siemens Digital Industries Software blog at https://blogs.sw.siemens.com/zel-x/2023/06/26/zel-x-2306/