Corporate
Benefits of cloud-based solutions for electronics manufacturers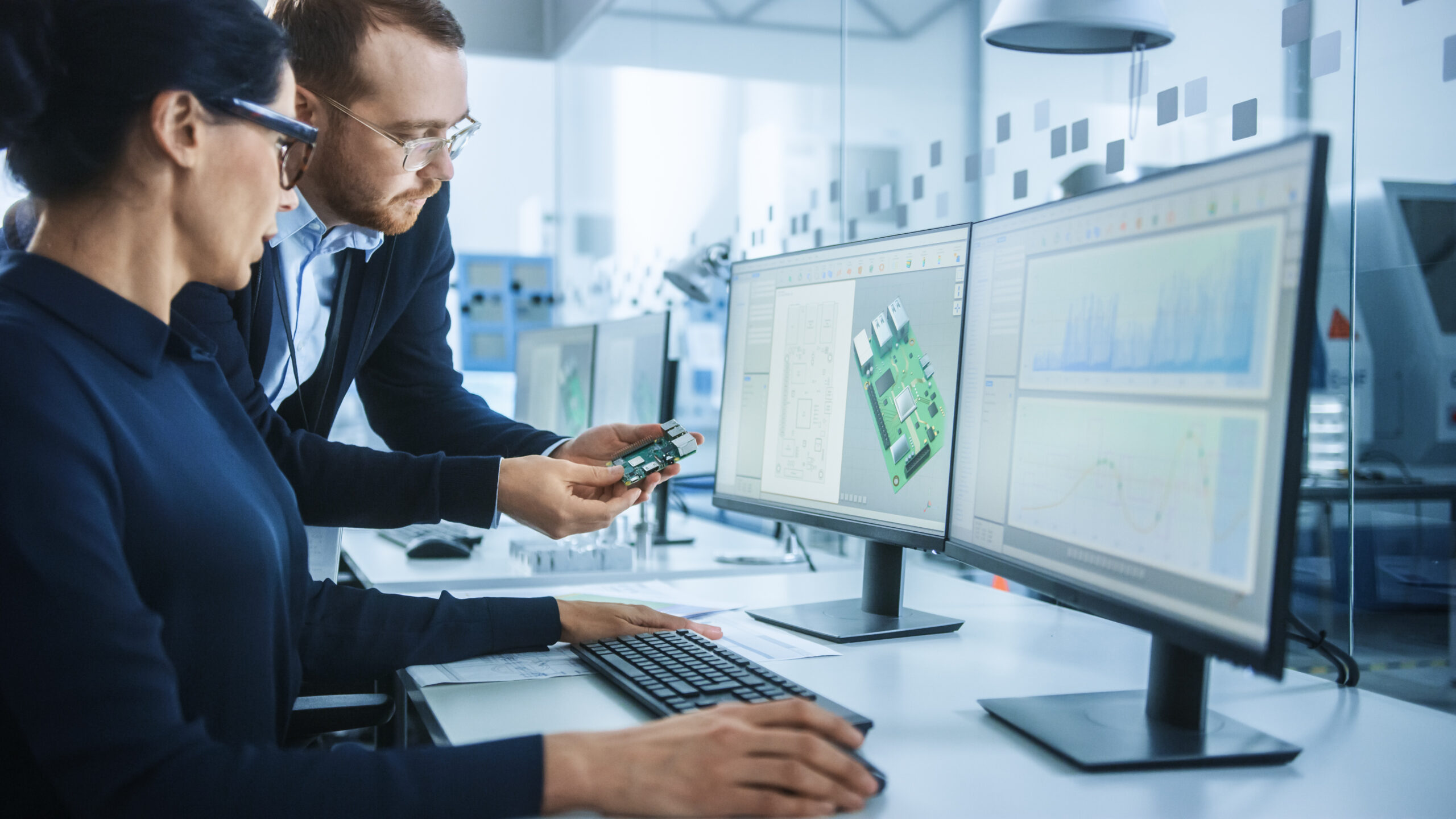 Cloud-based solutions can help to improve communication and collaboration between different departments within a company and enable everyone to access the information they need from any location. This can help to improve decision-making and reduce the risk of errors. In addition, cloud-based solutions can help electronics and printed-circuit board manufacturers save money.
By reducing the need for on-site software licenses, servers, data storage hardware and IT staff, companies can reduce their overhead costs. And, as cloud-based applications are typically subscription-based, companies only pay for what they need, which makes them more scalable and cost-effective. Cloud-based solutions can help manufacturers to be more agile and responsive to change. With the ability to quickly deploy new applications and services, companies can experiment with new processes and procedures without the need for costly and time-consuming IT projects.
With the rise of cloud-based solutions over the past few years, a new service-centric approach to product development has emerged—called cloud-based manufacturing or electronic manufacturing services (EMS) 2.0. This approach is based on a network of suppliers and a shared resource pool accessible through an online platform. During the development process, companies can search for and select the best-fit manufacturing capabilities, specifications and pricing for their projects or products.
Cloud-based manufacturing offers multiple benefits for both designers and manufacturers, including:
Quick, accurate quoting. Designers can upload their design files to the platform and quickly receive or view quotes and bill of materials (BOM) details from multiple EMS companies.


Easy access to multiple manufacturers. With online access to a wide range of manufacturing options, designers can efficiently explore varied options across whatever geographies they choose. This also opens the way to finding low-cost manufacturing options.


Intelligent recommendations. Cloud-based platforms often incorporate an AI-powered recommendations system to assist designers in choosing the right EMS according to their requirements and priorities regarding production capabilities, capacity, quality, pricing and turnaround time.


Simplified procurement. Cloud manufacturing service providers may share a BOM and quote upfront before acquiring components and getting a product manufactured. This way, users can get an estimate of expenses that would be incurred and avoid unexpected costs.


Easier project management. Cloud-based manufacturing provides full visibility into every aspect of production operations. This makes it simpler to manage projects and enables better resource planning across the end-to-end project.


Supply chain resilience. With cloud-based collaboration tools to provide decentralized globally accessible product models, manufacturers can move projects around multiple facilities without impacting the timeline or data integrity.


Scalability. Large manufacturers often struggle to cost-effectively produce small orders, and smaller contract manufacturers often cannot manage large-volume orders. With cloud manufacturing services, it is simple to switch between different manufacturers during the various stages of the product lifecycle. After the initial low-volume orders for early adopters, scaling up to mass volume and back down to low-volume toward the end of the lifecycle becomes seamless.
DFM in the cloud
Design for manufacturing (DFM) analysis is the next logical step in taking PCB design and manufacture to the cloud. The most compelling reasons for moving the DFM process to the cloud are speed, collaboration, scalability and accessibility.
Speed is the most obvious reason to move DFM to the cloud. With on-premises solutions, engineers must wait to requisition, install and configure the necessary software, which is often a time-consuming step. With a cloud solution, they can start immediately. But speed is not just about starting quickly. Cloud-based DFM solutions, such as PCB Flow, can also help designers iterate faster. With the ability to make changes and see the results in real-time, designers can experiment more and get to the optimal solution faster.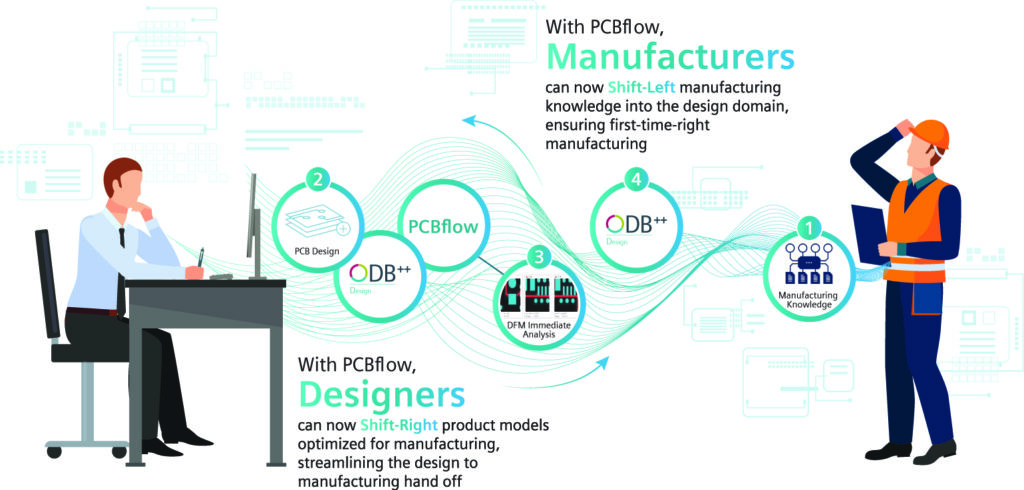 Collaboration is another key reason to move DFM to the cloud. With on-premises solutions, it can be difficult to get everyone on the same page. With a cloud solution, multiple engineers can work on the same DFM analysis at the same time. This can be a huge time-saver, especially for large projects. Collaboration between geographically disparate design teams is no longer an issue because all are working on the same project simultaneously. Likewise, collaboration between designer and manufacturer no longer needs to be an arduous process. Cloud storage and collaboration can offer secure data transfer between stakeholders as well as direct communication to clarify design intent and reduce time-to-market.
DFM analysis particularly is influenced by the improved collaboration offered by the cloud environment. To date, communication between designer and manufacturer was a time-consuming process, with no standard format to convey true manufacturing capabilities or constraints accurately and efficiently to designers. Previously, manufacturing rules, such as for design rule checking (DRC) and DFM, were conveyed between parties by phone or in complex standards documents and spreadsheets. Now, a single cloud collaboration platform can serve both designer and manufacturer, providing the opportunity for manufacturers to directly communicate both their capabilities and limitations. Designs can be quickly modified to conform, and any uncertainties can be clarified using in-app tools such as chat, notifications, etc.
Scalability and resulting cost savings form the third reason to move DFM to the cloud. On-premises solutions are limited by the number of software licenses purchased, whereas cloud-based solutions are typically subscription-based with no upfront cost. Cloud-based solutions scale up or down as needed, paying for what is used, resulting in cost savings. This is especially relevant for small- and medium-sized businesses where the use of DFM software can be sporadic, and purchase of permanent tools might not be justifiable.
Accessibility is another important reason to perform DFM in the cloud. Cloud-based solutions can be accessed from anywhere, so engineers can continue to work on DFM analysis even when they are not physically in an office or onsite at the fabrication or assembly plant. In the emerging post-COVID19 hybrid mode of work, this is a big advantage for maintaining efficiency. The online software needs no maintenance or updating, guaranteeing access to the most recent version, latest features and functionality with no additional operator or IT investment. These solutions are accessible to all potential users, regardless of the company's size or budget. This egalitarian access will further disrupt the balance of enterprises vs. smaller businesses and startups in the electronics design industry because it makes quality DFM and collaboration with previously unreachable partners.
(This is the final blog of a two-part series, if you'd like to read the first blog, please click here.)
---
Susan Kayesar holds a BSc from Tel Aviv University and brings 20-plus years of experience in the PCB design and verification industry. She is an expert at cultivating creative software solutions to meet real-world customer needs and, in the past, has provided support, training, and consultancy services for both simple and complex product implementations. In her spare time, Susan enjoys travel, hiking, and coffee. Susan is a Technical Product Manager for Siemens Digital Industries Software.
This article first appeared on the Siemens Digital Industries Software blog at https://blogs.sw.siemens.com/xcelerator/2023/07/12/benefits-of-cloud-based-solutions-for-electronics-manufacturers/