Corporate
For small-to-medium-sized businesses, Siemens Xcelerator means thriving, not just surviving
Small-to-medium-sized businesses (SMBs) can face several obstacles and challenges, which includes contending with increasing global competition and a large enterprise's seemingly limitless resources and technological capabilities. Adoption of advanced and digital technologies can be met with resistance due to complexity, cost, and lack of resources. And still, products are becoming ever more complex across all industries as customers demand more personalization as the lifecycle of products is compressing.
Other challenges include:
Inability to react in real-time to production or design adjustments, which lead to cost overruns, missed delivery and reduced efficiency
Lost market share and revenue and inability to grow due to current methods and processes unable to handle complexity
Unrealistic customer expectations due to global competition
Continued cost of prototyping causing delays, quality issues and increased errors
Growing skills gap and a lack of talent
Juggling multiple data formats or lack of real-time bill-of-material (BOM) visibility
How can SMBs meet these challenges with confidence, and not just survive but thrive?
They need easily accessible, affordable solutions that enable rapid delivery of higher quality, customized designs, while reducing development and outsourcing costs.
Knocking down perceived barriers
There are perceived barriers when smaller companies are either unfamiliar with what new technology has to offer or they perceive it as being too expensive for their smaller-sized business.
Companies like Rurok Industries prove otherwise. The founders of Rurok Industries were not satisfied with the bikes they were using. So, they created a business to produce mountain bikes that met their expectation. But developing high-end, precision-engineered products like a new bike is challenging because it requires a comprehensive and costly testing and prototyping process.
With the adoption of Solid Edge, part of the Siemens Xcelerator portfolio, Rurok could design, optimize and validate their designs digitally, which reduced development time by 20 percent and minimized prototyping. They were confident in their product development and could invest in the growth of their business. Now they can compete on a global scale.
Rurok recognized that their designers worked best whenever and wherever inspiration strikes—making instant accessibility to the latest project data imperative. The conditions were perfect for the team to take full advantage of Siemens Xcelerator Share, a new app in the Siemens Xcelerator portfolio available as a service, that synchronizes data from common CAD software to the cloud. With this next-generation project collaboration tool, Rurok's various product development teams could view, measure and mark up CAD models in Solid Edge using a simple browser interface. The app then synchronizes the files as they work, making project data accessible to any team member, from anywhere. It became the expressive communications tool they needed to easily describe their ideas while looking at the same design models directly. Even their riders and racers, who had never used PLM or CAD before, could get involved in the discussion.​
Embracing a digital future
Businesses of all sizes can manage the complexity and deliver tomorrow's smart, connected products today. They can outpace their competition with personalized solutions that are quickly adaptable to changing business conditions.
Personalized solutions come with a freedom to choose only the capabilities that a business needs. A flexible, open ecosystem allows any business to tap into a vast network of partners and developers, work multiple programs to share data and enables collaboration with their customers and other suppliers.
One of the tenets of the Siemens Xcelerator portfolio is its comprehensive digital twin. It creates closed-loop connections between the real and digital worlds with a digital thread across the value chain of product design, production and performance. For SMBs, integrating domains provides a wealth of technological advantages from the ability to reduce the number of prototypes to removing bottlenecks to capturing real time feedback in a closed loop environment. Just this alone can lower the cost of designing and manufacturing better products faster.
More and more SMBs are embracing Siemens Xcelerator and its cloud-enabled as a Service, proving they can take hold of the capabilities from Teamcenter, NX, Simcenter, etc. as and when they need them.  
Each new success story is knocking down perceived barriers. SMBs can thrive on a global marketplace with the adoption of affordable, accessible and flexible digital tools.
The agile startup
Cox Marine is a British startup that was eager to revolutionize the outboard engine industry. As they developed their outboard motors, they were determined to reinvent a service model that would also accommodate their network of 200 dealers and representation in 100 countries.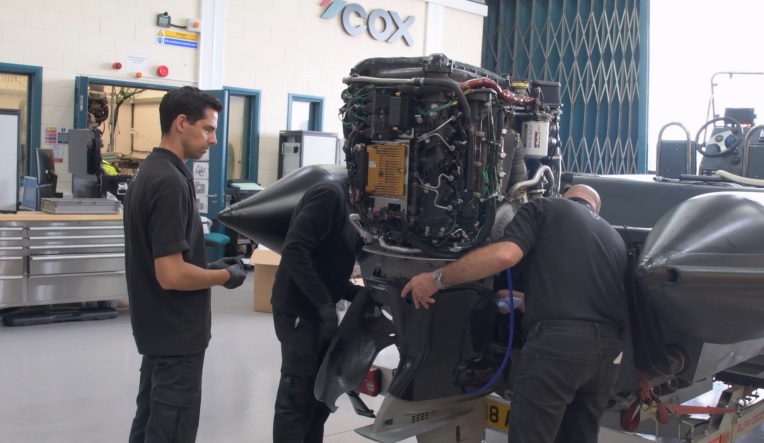 As a small startup, they faced monumental challenges, such as entering a highly-competitive marketplace with both a product and a matching business model. They had to find relief from the massive costs of technology so they needed to be agile, flexible and scalable because they didn't have the infrastructure that their larger competitors had.
Cox Marine needed to integrate the right digitalization tools to succeed in both product development and to support a growing international business model.
By taking a digitalization approach and integrating with the digitalization tools of Siemens Xcelerator, they created their first product, the CXO300 outboard engine. It was more fuel-efficient while also being high-powered, high-performance, more durable and cleaner than most of the outboard motors on the market.
We had to make something as small and light as a car engine, but as strong and robust as a big truck engine. Software plays a huge role in understanding how to optimize and design structures. There are so many elements to consider.

Joel Reid, Global Sales Director Cox Marine
Digitalization and customization
As the skills gap grows and the struggle to recruit engineering talent continues, every company must be flexible and scalable to meet the needs of their projects. They must have partners they trust, that have experts and domain knowledge they can count on. The flexibility of the Xcelerator as a Service (XaaS) solution means companies can do the same amount, or more, work with fewer skilled technicians. Remote work is not going away, so SMBs can look toward XaaS for secure, trusted cloud-enabled technology without the investment of an internal IT infrastructure. With the flexibility and scalability of XaaS, any company can scale up or down when needed and access their product design at any time, from anywhere and on any device.
Imagine it's a Friday afternoon and a customer calls to make an urgent change on a product you're creating for them. Because the weekend is upon us, it will be near impossible to talk to your supplier. This causes delays, which holds up production because changes to the design must be made and tested.
Because you have the cloud-based solutions and can access a bevy of software and services like simulation and verification software, you can make immediate changes, run tests to verify before going to production, make manufacturing more flexible without losing time, and not have to spend the weekend worrying about this urgent change.
SMBs want to thrive. They want to have the ability to compete on a global scale whether they have a handful of employees, or hundreds. To address the main challenges such as shortened cycle time to bring products to market faster, designing more complex and personalized products, protecting their margins and decreasing costs, SMBs need a future-focused approach. Xcelerator as a Service is proving to be the solution to help them remain flexible and adaptable regardless of any challenges that come their way.
This article first appeared on the Siemens Digital Industries Software blog at https://blogs.sw.siemens.com/xcelerator/2022/02/21/for-small-to-medium-sized-businesses-xcelerator-means-thriving-not-just-surviving/