Corporate
How Tokamak Energy is solving the world's energy problems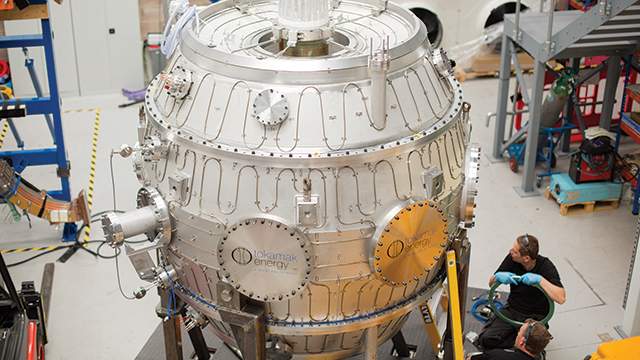 Where do you begin to tackle one of mankind's biggest engineering challenges? This is the question Tokamak Energy is trying to solve in order to create sustainable, fusion energy via tokamak machine. But first, what is a tokamak machine?
A tokamak is a magnetic confinement device which uses a magnetic field to confine plasma and develop and produce controlled thermonuclear fusion power. Essentially, it creates and contains a star.
The challenge for Tokamak Energy is creating a compact version of a tokamak that is only a few meters wide as oppose to the publicly-funded one that reaches 20 stories high. They weren't just designing and manufacturing a compact tokamak but engineering a solution to demonstrate breakthrough physics.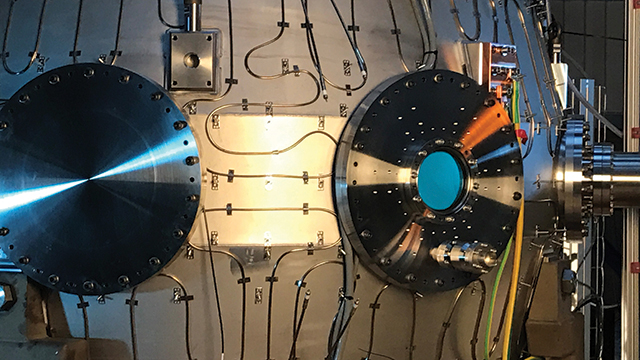 How to tackle the world's toughest engineering problem
Tokamak Energy has produced two laboratory prototypes. The first prototype known as ST25 HTS demonstrated the use of high temperature superconductor (HTS) magnets. The second prototype, the ST40, uses copper magnets but is a major engineering challenge as Tokamak Energy aims for exceptionally strong magnetic fields, up to three Tesla at the center of the plasma. The engineers understand the physics, but the big question is how to contain and control the plasma at extremely high temperatures and pressures.
They resolved the issue with a maximum pulse length, for the magnetic field, of about one second to prevent the copper from overheating. With this issue settled, the devices can operate permanently with these high temperature superconductors. Tokamak Energy has its sights set on a plasma temperature of 15 million degrees Celsius, which is hotter than the center of the sun, and then eventually on 100 million °C.
To build the 50-ton ST40 using easy-to-machine special steel and copper alloys, which need to be corrosion- and heat-resistant while providing low magnetic permeability, high conductivity and structural stability, Tokamak Energy utilized Solid Edge software and Teamcenter, both part of the Siemens Xcelerator portfolio, with the support and guidance of Siemens Digital Industries Software solution partner OnePLM.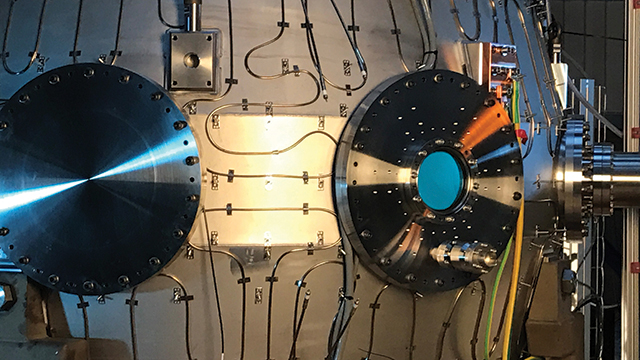 "We knew that we had a series of design challenges to tackle so we were looking for an industry-standard tool with excellent parametric ability," says Bill Huang, senior tokamak engineer. They knew that Solid Edge would fulfill their requirements.
Solid Edge ensured the extreme complexities of the tokamak machine had precision and structural integrity. They were able to simulate stress on components and assess forces and constraints as well as any crucial knowledge around possible displacements and movements. Solid Edge has meant Tokamak Energy could accelerate the overall development process, allowing their engineers and design team to also identify potential issues.
Combining the virtual world with real world
Collaboration and speedy decision making are key to success and Solid Edge meant Tokamak Energy could have multiple people working on different aspects of development. By highlighting potential issues and identifying essential equipment, Tokamak Energy could determine how to manufacture and assemble the device before they actually did it.
We started out with no existing hardware and created everything in a virtual world. With Solid Edge we can communicate on various levels, sharing geometry to design new parts. A decision that might previously have taken a few days can now be made within a few minutes

Damian Lockley, mechanical design consultant, Tokamak Energy
Being an investor-driven company, Tokamak Energy must consistently ask how to build and improve prototypes. With Siemens Xcelerator, they have remained agile and innovative with the capabilities of making quick updates, better decisions and increasing collaboration opportunities.
We are tackling one of the very biggest challenges that mankind faces – the rapid provision of plentiful, cost-effective, clean, carbon-free energy. To do this we have to be using the best-in-class materials and technologies, including the best design tools for the job.

David Kingham, CEO, Tokamak Energy
Embracing digitalization solutions from the Siemens Xcelerator portfolio and having a trusted partner in OnePLM, Tokamak Energy has successfully been able to:
Re-use of design data cuts development time
Use precise geometry to ensure designs are right first time
Save time with effective team collaboration tools
Confirm design integrity through analysis
Identify potential problems early in the design process
Reduce decision making time from days to minutes
Take advantage of product development agility
Read Tokamak Energy's full success story here.
Learn more about Xcelerator as a Service:
This article first appeared on the Siemens Digital Industries Software blog at https://blogs.sw.siemens.com/xcelerator/2022/02/14/how-tokamak-energy-is-solving-the-worlds-energy-problems/