Thought Leadership
Sustainability is becoming more than relevant to industrial businesses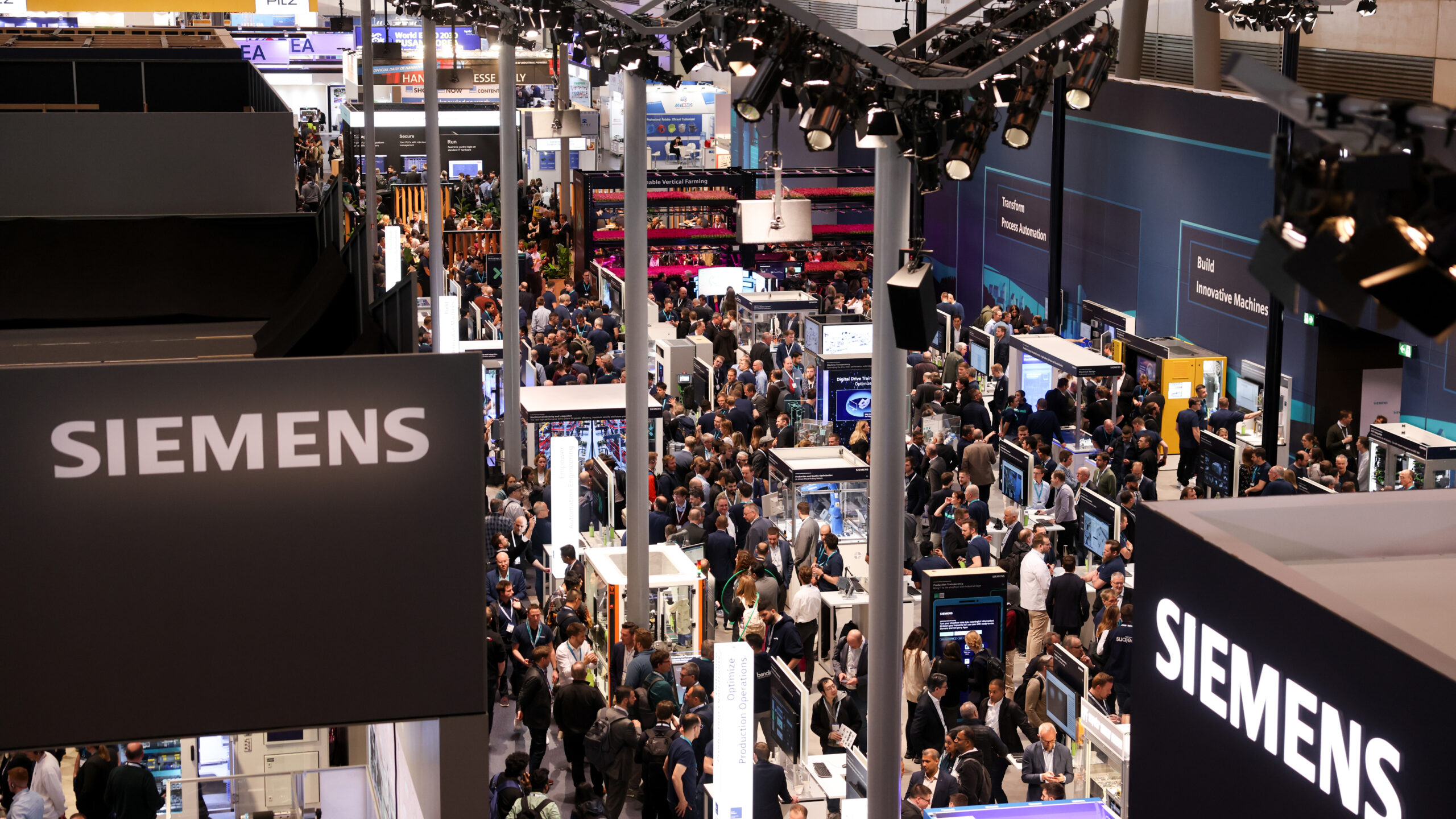 Hannover Messe may not be a household event, and especially so for North America, but it is one of the largest industrial tradeshows for the European market. Companies from the region and doing business there bring their latest and greatest to show off what they have been working on. Siemens is no different, but it is a great way to look at what we offer across the entire enterprise on sustainability. While I was not able to attend firsthand, I did get a chance to sit down with Eryn Devola, our Head of Sustainability at Siemens Digital Industries, to get her thoughts. Here is the transcript from part of that discussion:
Nick: What stood out to you the most regarding sustainability? And what might be the impact on industrial transformation?
Eryn: I think the biggest thing for me is that sustainability was very prevalent as you went through all of the displays and all of the companies. And I find this as someone who works in this area to be very encouraging, because we all know that no one entity can solve our sustainability crisis, it will take many companies working together in ecosystems, and communities, and villages, however you want to define that, to be able to achieve these goals. So it's really encouraging to see so many companies putting it in the forefront of their messaging and at their booths at the Hannover Messe.
Nick: We were one of the major exhibitors at Hannover Messe, what did Siemens have to say about sustainability this year at the event?
Eryn: So the big thing from my side, or that we wanted to make sure to portray is that sustainability isn't an add-on, it's an important outcome, but it has to be aligned with other important outcomes that your company has. That you want to be better, faster, more profitable, and more sustainable, and you have to be able to overlay this all at the same time. Sustainability isn't its own thing, but it's really integrated into all of the work that you do into your design work. When you're looking at performance, you also need to look at those environmental impacts, you need to look at those social impacts – all at the same time that you're looking at cost and quality impacts. You can't think about it as a separate topic, it really needs to be something that's part of your overall approach to so many of those typical business tasks.
Nick: In the lead up to the event, I got to see some of the examples and case studies we would be using to talk about sustainability and the wider industrial processes we support – and the two standouts were around the battery industry and vertical farming. Could you elaborate a little on what was happening in the booth?
Eryn: Yeah, exactly. And there were some other things, so if you looked through our booth, you saw right away in that battery area that we had a battery recycling station there, talking about how they're able to really recover over 90% of the material from that battery and recycle it. And that helps do two things, one, it drives sustainability, but it also helps secure supply chains, and it also helps with the processing. If I take a virgin material out of the earth, I've got I do a lot of cleaning, for example, on those minerals. Or, if I'm taking them out of a post process, they don't require that same level of post-processing. So that's maybe one example where we really want to talk about sustainability ingrained into a recycling process. But also, the other piece of it, and we had a station there at the Hannover booth as well, that talked to our new NX tools that really integrate, as I mentioned before, those sustainability aspects, at the same time, I'm looking at geometry, or physical properties.
And you really just need to be thinking about that really early in the design, to plan for that recycling, to plan for that end-of-life. There was a display there that talked to some of our additive manufacturing, where we're able to do end effectors for robots, and looking at, by really planning for the function, and really rethinking how you design that type of part, you can use a lighter part that then will result in a lighter robot. You can really look at how you can save and optimize resources along that entire value chain, that's another example. But really, there are so many of them, I'm sure that there are 20 more that I'm not recalling at this moment.
Nick: There was obviously a lot going on this year, but what did you find to be the most interesting, new, or exciting solution we showcased?
Eryn: So what's new and exciting? I would say, for me, less about what's new, although Industrial Operations X is really exciting. This is where we're able to take some of that same digitalization work we've been doing in the design process, and really put it in the factory process, and really look at how are we doing a virtual PLC for example. It is a big new offering for us, how we can do that switching, without having to have those physical parts, again, really driving the optimal use of our resources.
But ultimately, I'm most excited about how we're taking our existing tools, and putting in additional functionality that serves sustainability. Last year, at the Hannover Messe, we announced SiGREEN, and the Estanium network as key levers for us around carbon footprint tracking. And what we see is, over the last year, we've engaged with hundreds of customers regarding SiGREEN, we've done 30 proof of concept installs, and we're really able to then extend that offering, and make it even easier to use, and get integrated with. We also see industrial organizations that pull together competitors, like the Catena-X, looking for solutions, and looking to Siemens to help them with these types of solutions like SiGREEN.
Nick: You mentioned SiGREEN and Estanium, I know the former is our tool to help companies track their impact. What is Estanium?
Eryn: So Estanium is an independent network of which we are a founding member along with… I have to look up how many other companies, but basically, this is a network that's set up to exchange carbon footprint data securely in a certified way. You could use our SiGREEN software to participate in it, but you don't have to. And it's really about creating ecosystems and having the free flow of data. We are one founding member, but there's actually a whole network of companies here, and this talks to the greater ecosystem story, that we want to make sure that we have to not just create solutions for us, but we really have to be reaching into industries, working with others for any of us to be successful.
Nick: So last question, you also participated in a panel at Hannover Messe, can you tell us a little bit about a discussion? What kind of topics were discussed?
Eryn: We had a panel that we really focused on circularity. We hear so much right now about carbon footprint, which is very important, but we see circularity as that next lever. The lever that really talks more to topics like water usage, like biodiversity, like toxic substances, or substances of concern, and circularity is really the methodology, or the thought that pulls all of that together. In particular, in the panel that I participated in, we talked to Pyrum, which is a company that designed a technology to recycle tires. One of the things that we talk a lot about with circularity is, if you design it to be recycled, you can get through there. You can figure out what's going to happen to it the entire way through the value chain, from cradle until its next cradle.
However, we have a lot of brownfield designs out there, we have a lot of waste that we still need to figure out what we're going to do with. And Pyrum has come up with a way to recycle these tires, and turn them into feedstock for the chemical industry. And one of the things that's the most interesting to me to think about there is, one of their challenges was really finding a home for that, finding the right partners, and the right funding to scale. And I think that that's really something we need to continue to think more and more about, is how we as Siemens, and how industry in general can support these startup companies as they innovate this technology, and really help them bring it to scale.
---
This was only a fraction of the great discussion I was able to have with Eryn and I will be returning with even more in the coming weeks about the battery industry and vertical farming. But until then you can always check out more information on Siemens Sustainability on our website. Thank you and we hope to see you back soon.
Siemens Digital Industries Software helps organizations of all sizes digitally transform using software, hardware and services from the Siemens Xcelerator business platform. Siemens' software and the comprehensive digital twin enable companies to optimize their design, engineering and manufacturing processes to turn today's ideas into the sustainable products of the future. From chips to entire systems, from product to process, across all industries. Siemens Digital Industries Software – Accelerating transformation.
For more information on Siemens Digital Industries Software products and services, follow us on LinkedIn, Twitter, Facebook and Instagram.
This article first appeared on the Siemens Digital Industries Software blog at https://blogs.sw.siemens.com/thought-leadership/2023/06/09/sustainability-is-becoming-more-than-relevant-to-industrial-businesses/