Thought Leadership
Digitalize PCB electronic systems for safer autonomous vehicles – part 1 of 8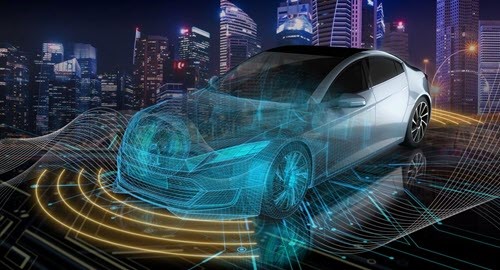 PCB electronic systems, such as electronic circuits and printed circuit boards, must achieve higher levels of fidelity, quality and robustness to address the looming technology concerns.

With the exciting emergence of autonomous vehicles, electric vehicles and advanced driver assistance system technologies, new engineering development capabilities are critical to address the safety, reliability and durability of the electronics driving and controlling these new trends.
A circuit board, or commonly called a Printed Circuit Board (PCB) mechanically supports and electrically connects electronic components using conductive tracks, pads and other features which are etched from one or more sheet layers of copper laminated onto and/or between sheet layers of a non-conductive substrate. These components are usually soldered onto the PCB to electrically connect and mechanically fasten them.

Traditionally, most automotive electronic systems circuit boards had marginal functional and reliability requirements. If an instrument panel or radio circuit board failed, it would require an inconvenient visit to the dealer for service. Failure of even more safety critical electronics for engine controls, ignition, slip control (antilock braking system/traction control) and transmission control systems would result in a vehicle that would not start, move or would display a red "idiot light."
However, with the advent of autonomous and electric vehicle technologies, the reliability of the electronics systems design and their hardware/circuit boards is quickly becoming a paramount, urgent focus in the industry. An electrolytic capacitor that overheats or surface mount component solder joint that fatigues and cracks due to thermal or vibration stress can result in potentially catastrophic system failure. Such a functionality breakdown could result in a car driving into a lake.
Light imaging, detection and ranging (LiDAR), optical cameras and ITS (Intelligent Traffic System) connectivity all need to work reliably 100 percent of the time to ensure safety. The often encountered Trouble Not Identified (TNI) may be a traditional curse for computers, smartphones and flatscreen TVs – but can't be accepted for the next generation of vehicle technologies with so many stringent safety requirements that need to be met.

Vehicle OEMs and suppliers are now demanding proof of robust, reliable, durable circuit board and electronic systems designs. But what is needed, and how is this demonstrated? How can digitalization help? We'll discuss this in my next blog.
This concludes the first part of our series on electronics systems and the challenges to provide solutions for products of the future. In subsequent parts, we discuss:
About the author
Greg Roth is the director of automotive and transportation solutions in the Industries Group at Siemens PLM Software. In his current role, he champions CAD, CAE & PLM technologies and processes for companies at a global enterprise level so they can achieve substantial reductions in product development costs and time while improving overall quality. He previously held positions at Ford Motor Company, Eaton Corporation and Amcor Packaging. He was also chief engineer for the CAE and NVH departments at ZF-TRW Automotive North America Braking Systems in Livonia, Michigan. Greg holds an master's degree in mechanical engineering from the University of Michigan, a master's degree in electronics and computer controls engineering from Wayne State University and a bachelor's degree in mechanical engineering from Michigan State University.
This article first appeared on the Siemens Digital Industries Software blog at https://blogs.sw.siemens.com/thought-leadership/2019/02/28/digitalize-pcb-electronic-systems-for-safer-autonomous-vehicles-part-1-of-8/