The role of PLM in future ship design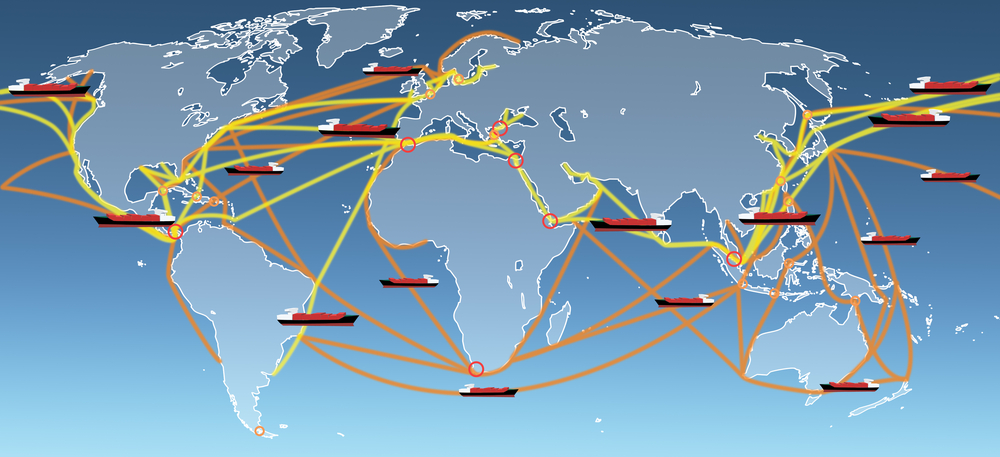 Reducing fossil fuel consumption is the most straightforward way to reduce emissions. The automotive and aerospace industries have made great strides in fossil fuel reduction, but the shipping industry has a long way to go to catch up.
As one blogger noted: "In the period 1990 to 2013, the energy cost per mile of driving a car decreased by 20%, while the energy cost of flying reduced by 7 percent (per available seat mile). By comparison, during the same 25-year period, shipping became less efficient, increasing both energy usage and pollution by around 10 percent."

In 2009, another comparison reported by UK newspaper the Daily Mail said the 16 biggest ships produce more pollution than all the cars in the world. Though the hyperbolic claim has been shown to be taken out of context, it's worth noting why fewer ships are producing more emissions than millions of cars. First, large container vessels use fuel oil and diesel, which produces more sulphur-oxides and nitrous-oxides than automobile fuels. Second, "modern cars are designed to be cleaner and greener and to produce fewer emissions" — likely because, in the mid-1960s, the auto industry had been singled out by regulators for more stringent efficiency and emissions standards.
In the aerospace industry, intense pricing competition drives the race to reduce fuel consumption with the creation of more efficient and lighter components, which also reduces emissions.
The common denominator in the aerospace and automobile industries' success is their use of advanced PLM technologies. PLM can improve speed-to-market and reduce costs of innovating designs, helping companies to achieve sustainability goals efficiently.
Successful sustainable designs put pressure on shipping
Several trends indicate that ship designers and builders need to become more proactive about designing, building and maintaining more environmentally sustainable ships. In April 2018, the International Maritime Organization (IMO) adopted regulations that aim to cut greenhouse gas emissions by half (per 2008 levels) by 2050.
Also, public pressure is growing from consumers, brand names and non-government agencies for more environmental and societal accountability across supply chains.

The success of automobile and aerospace industries demonstrates that that digital technology not only helps companies meet sustainability goals, but drives business growth by promoting product innovations that increase margins and grow markets.
Covering the cost of more sustainable shipping
One thing holding back potential design-driven efficiency improvements in future ship designs is the cost of change. The shipping industry is conservative by nature, and technology and process improvements are not top priorities. Instead, many shipbuilders still design ships using traditional methods that are over 100 years old—by building scale-models and running towing tank tests.
Though the shipping industry is comfortable with traditional methods, the problems with this approach are numerous:

• Risk of scaling inaccuracies: Physics varies at model scale versus full scale, so there's a significant risk of getting the performance expectations of the vessel wrong, resulting in lower fuel efficiency and consequently higher impact on the environment through increased emissions.
• Speed: Tests for conditions and components performed separately take more time and are more challenging to integrate.
• Cost: The lengthy series of tests requires more of the most expensive testing component—engineering time.
Designers using ship design software with digital simulation do not have these problems because they can efficiently complete simulations at ship scale and under "real" operating conditions. With digital simulation, designers can test multiple factors (hydrodynamics, aerodynamics, propulsion) in one environment. This simulation provides a holistic and realistic view of what will happen under real-world conditions. Also, the results are more accurate for novel or more specialized designs.

PLM solutions make it more efficient (and so more affordable) to produce unique, innovative solutions that improve sustainability. When combining a full-scale simulation with generative design, design automation and intelligent design exploration, designers can quickly identify, test and optimize designs that they likely would not have come up with on their own.
Digital twins offer more efficient ship maintenance
Modern PLM technology also can improve shipping sustainability through more efficient ship maintenance. Foundational to this is a real-time digital record of the ship and its system in the form of digital twins, which allows all lifecycle records to be maintained in one place and kept up to date. When the shipbuilding process is digital from the start, maintenance, major overhauls and future modernizations of fleets happen faster, ship downtime is lessened and the results are more effective.
A digital twin also improves the performance of ships already in use, making retrofits of new technology possible throughout a ship's multi-decade lifespan.
The power of digital design technologies
Connecting digital design tools gives a much greater understanding of ship performance and can lead to significant design improvements. Doing so enables designers to perform full ship system performance analysis and find optimal fuel consumption for different operating scenarios.

For example, Wärtsilä, which manufactures and services the whole propulsion system and other equipment in the marine market, used advanced PLM and simulation technology to understand and improve their performance much earlier in the design process, resulting in fuel savings. The company used digital twins of proposed innovative vessel designs, combining a system-simulation of the engine and propulsion system with a computational fluid dynamics (CFD) model of the vessel at full scale. They credit the approach with enabling them to predict performance, reducing inefficiency and increasing innovation more accurately.
Shipping industries' digital future
Changing course is a complicated maneuver for the shipping industry. As a result, the shipping industry has been comparatively slow to adopt modern digital design solutions. With pressure growing to reduce carbon emissions and other impacts on marine ecosystems, the shipping industry will have no choice. They must innovate or face penalties, or worse.

By investing in modern PLM tools, participants all along the marine supply chain will not only be investing in cost-effective strategies to meet sustainability goals, but they will also be investing in a more competitive future for themselves, and for the industry at large.
This concludes part two of our series on sustainable shipping. In part three, we discuss how advanced PLM technologies and design simulation software will help the shipping industry meet new shipping regulations and other sustainable shipping goals.
About the author
Jan van Os is the vice president of marine industry strategy for Siemens PLM Software and helps the company define industry-specific market solutions for marine customers. Jan has also been employed at Damen Shipyards since 1988. During his time there, he has worked as project engineer, project manager, yard manager and managing director of a ship repair yard. From 2009 to 2017, he was the product director of offshore & transport, a department specializing in the design and construction of offshore support vessels, multipurpose vessels, offshore patrol vessels, fishing vessels and custom built vessels. Jan was born in the Netherlands in 1964 and completed his technical studies in naval architecture in 1987.
This article first appeared on the Siemens Digital Industries Software blog at https://blogs.sw.siemens.com/thought-leadership/2018/07/11/the-role-of-plm-in-future-ship-design/