Thought Leadership
Mobility as a service's impact on parking and city design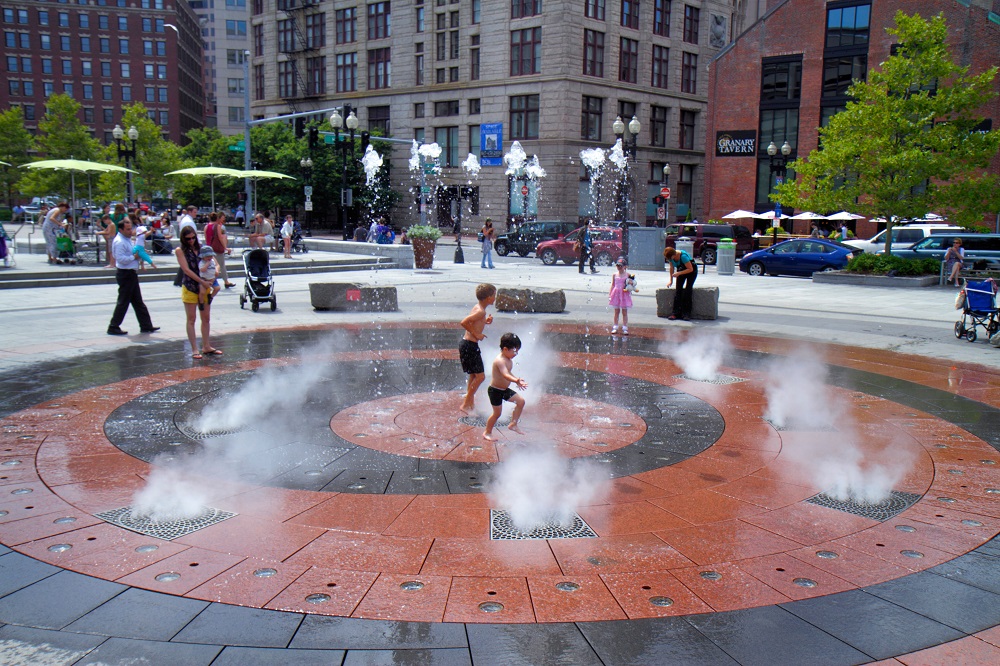 Autonomous cars are forcing automakers to rethink how they design and engineer cars for the future. These cars will look more like mobile living rooms instead of the ultimate driving machines, and new composite materials will be preferred over traditional materials.
With these changes, and with mobility as a service gaining popularity, automakers face a potentially massive change to their industry: people will no longer want to buy or own cars. Instead of selling directly to customers, automakers could be selling to companies that provide mobility as a service.
Some visionaries are trying to understand what this potential future holds, and I spoke with one of them. Gernot Spiegelberg, the head of electro-mobility in the Corporate Technology division of Siemens AG, sees the potential autonomous cars have to transform cities and the idea of owning cars.
In the first part of our conversation, we talked about the impact autonomous driving has on mobility as a service. Here, we discuss some of the more specific ways cities could change with mobility as a service, as well as how today's engineering tools and software must transform to meet new demands.
Ed Bernardon: It's interesting that there are all of these changes in technology – we're already starting to see some of them in autonomous cars and electric drive. But you start to mention some changes that are more subtle and harder to cover.
You've commented on how the manufacturers of cars will not sell directly to the consumer, but to the service providers. What do you think some of the changes might be in some of the cities we live and the highways that connect them? How do you think these changes in the car will impact the places we live?
Gernot Spiegelberg: A lot. But it depends on which business case you cover. If you cover the business case – of the opinion of the existing car manufacturers – they think and they articulate that the autonomous ability of cars, in existing cars, will provide an advantage for the customer: more safety, more convenience with driving. But, they think the cars will be sold to private customers.
If this is the effect, it really will not impact the cities. Private ownership of the car means that when you don't want to drive the car, the car has to be parked. Inside of the city, the situation of parking areas will stay the same – parking [garages], whatever else you think.
It is not really necessary that cars have to be parked inside of the city when in private ownership. They could go outside the city autonomously and park there, but the number of cars moving inside the city are double than what's needed for transportation: some transport people, and some run to their parking without transporting.
In this way, the concept of cars will not really change. The cars will look like they do today. They will migrate a bit in small steps, but not really a lot, like a normal cell phone in the direction of an iPhone.
The other way is, mobility as a service will occur. Because then, you don't really possess a car. This means the car will bring you wherever you want to go. And then, when you're there – you've arrived at your destination – the car will leave autonomously and start the next transport of the next passenger. These cars will run as much as possible and will be parked nearly never.
Therefore, with mobility as a service, you don't need further parking places inside of cities. You only have hubs where the mobility provider will maintain the cars, where they'll charge the cars, and so on, but you will not see these charging places somewhere in the city. They will be elsewhere.
You will get much more in functionality in mobility as a service than you will get for the same money in private ownership. The car is used eight times more, and therefore, you will get four times more functionality at half the price.
Ed Bernardon: So the engineers of today will have to begin conceptualizing and designing all of these new systems. Can you give us some comments on how you think the engineering tools and software used today are going to have to evolve to help engineers get their work done efficiently for this new type of automobile that we're going to have in the future?
Gernot Spiegelberg: Now you are on a very, very important point. What I guess is, the car manufacturers – and this is what I think can be a disaster for the future – the car manufacturers will not understand fast enough what they have to fulfill.
If the future will occur in this manner I mentioned before, mobility as a service, the following effect will [occur]: the cars will be used much more than today's cars. This means the cars will be used up to eight times more than today's existing cars. At the end, this leads to the fact that the cars and their lifecycle will be over after two, up to three, years. Then, you have to launch a new car.
At the end of the day, this means that we have innovation cycles and development cycles of a maximum of two, maybe three, years. It's much less than what we have today in the auto industry.
To fulfill these requirements, we need a complete new development — but to which end? We have to develop these cars mostly in the virtual world with the digital twin. Otherwise, we are too slow. We have to reinvent the complete reshape of developing the functionalities of the car – the shape of the cars – and the integration of this by software in the loop, vehicle in the loop and then test on the road.
If mobility as a service continues its growth in popularity, automakers will have to rapidly increase its development cycles to stay competitive.
What I think we'll have is one test on the road – one drive – to look that the car is running well. But it should have nothing to do with the development of the car. It's only a test.
What you have to do first is bring the car and its behavior completely – not only from the shape of the car, not only from the packaging of the car. What we are doing today with CAD in something like this in Teamcenter [product lifecycle data management software], you have to integrate the complete functionality of the car based on software in the simulation. Then, you can run the car as a product in a virtual environment.
Then, you really know how the behavior of this autonomous agent in the future environment will be. But this is not enough. If you have this information – how the product you want to produce or manufacture later on, how it has to be manufactured – you have to interlink this information from [product data management solutions like] Teamcenter from our house with another PLM; this is Tecnomatix [for manufacturing planning and simulation]. But Tecnomatix has to get the data set from the product, and has to provide automatically the best manufacturing device as a digital factory.
In combination of the best way to produce this with a rearrangement of the product, which should be better produced than before – in this rearrangement, it should be an optimization process. And after this is finalized, you can push a button, and at that point, you invest in the real world. This means that the Tecnomatix world has to make a list of what the car manufacturer has to require from our side so that they can build their manufacturing line based on our technology.
As engineering demands change with mobility as a service, Siemens PLM is preparing to help automakers meet these new engineering demands.
But this is not all. What I think the next step is, is that the manufacturing line should produce mechanical and physical items for the car itself, including the integration of software and the functionality. And then the car will come into the real world. And it transports people and goods.
In this real world, the car has the ability to run autonomously and it has the ability for deep learning. What will the car do? It will compare its performance with the needed performance for some additional, to be learned, situations. And this information will be given back to our PLM software in Teamcenter, and a new concept of the next car will be produced or will be developed in its own machine world. It's an evolution process which doesn't need real, human information.
This is what I think can happen in the next time if we, in Siemens, run this in the right way forward. But we have to do so. Otherwise, others will do [it], because this device is very important for the mobility provider to provide the best service for the customer being transported.
—–
As private car ownership transforms into mobility as a service, the "unparked" car will slowly become a reality. Parking spaces won't be needed in cities, opening up new areas for people to live, work and play. Rather than giving traffic or speed violation fines, city law enforcement will have more time to spend on other pursuits since autonomous vehicles won't exceed speed limits or violate traffic laws. Although it's a current source of revenue for cities, parking fees and speeding fines will be eliminated!
The Big Dig in Boston may provide insight as to the nature of this transformation. The nearly $15 billion project replaced the city's elevated artery that ran through the center of downtown with an underground highway. The project opened up 300 acres of land for other uses, and a new urban park was created in this space: the Rose Fitzgerald Kennedy Greenway. The Greenway provides:
• Multiple local and international contemporary public art exhibits
• Venues for 300+ yearly events for clubs, organizations, performances, fitness classes and festivals
• Sustainable, organic horticulture, and a space for children and pets
• Unique water displays, such as the Rings Fountain, and the Harbor Fog that emits a cool mist
• New England's most accessible carousel for those with physical or auditory disabilities
Before the Big Dig
After the Big Dig
The city of Boston continues to find new ways to reuse urban space that was once a congested area.
Such improvements have revitalized downtown Boston. As mobility as a service becomes a reality, reuse of current space dedicated to parking could revitalize many other cities.
In my introduction to this topic, we discussed how Tesla software engineers provided bug fixes for the Model S based on information collected from cars on the road. Tesla wirelessly provided these releases and corrected most major bugs within a week of the initial release, an impressively short update cycle for a complex software product.
Car companies now collect the data needed to feed what Gernot described as an automatic creation of the next version of a car in its own machine world – a world which may eventually require much less or even no human engineering input.
Robots in manufacturing are common, but robots in design are new. IBM's Watson recently correctly diagnosed a 60-year-old woman's rare form of leukemia within 10 minutes, a diagnosis that doctors had missed for months. Such applications of AI are inevitable in the design world, initially for more mundane design tasks, and eventually for more creative ones.
PLM products like Siemens Teamcenter is an example of information management software that integrates data, processes and business systems. The emphasis of such systems is expanding in data and design creation in contrast to data management. For example, the Specialized Engineering Software segment of Siemens PLM provides products that free engineers from the grunt work of daily tasks so they have more time to do what they are paid to do, primarily innovate and design. These steps are reducing the time needed to innovate and are providing the groundwork for future automated design systems.
This concludes the second part of my conversation with Gernot Spiegelberg. In part three, we discuss the challenges with designing autonomous cars that function in a mobility as a service world.
About the author
Edward Bernardon is vice president of strategic automotive initiatives for the Specialized Engineering Software business segment of Siemens PLM Software, a business unit of the Siemens Industry Automation Division. Bernardon joined the company when Siemens acquired Vistagy, Inc. in December, 2011. During his 17 year tenure with Vistagy, Bernardon assumed the roles of vice president of sales, and later business development for all specialized engineering software products. Prior to Vistagy, Bernardon directed the Automation and Design Technology Group at the Charles Stark Draper Laboratory, formerly the Massachusetts Institute of Technology (MIT) Instrumentation Laboratory, which developed new manufacturing processes, automated equipment and complementary design software tools. Bernardon received an engineering degree in mechanical engineering from Purdue University, and later received an M.S. from the Massachusetts Institute of Technology and an MBA from Butler University. He also holds numerous patents in the area of automated manufacturing systems, robotics and laser technologies.
This article first appeared on the Siemens Digital Industries Software blog at https://blogs.sw.siemens.com/thought-leadership/2016/11/23/mobility-as-a-services-impact-on-parking-and-city-design/