Top 5 things to know about our manufacturing layout application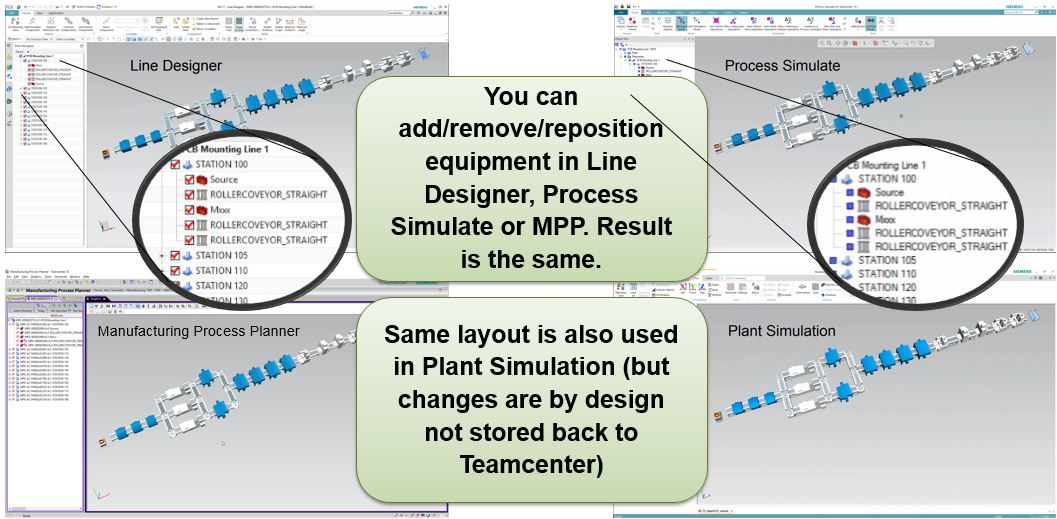 Line Designer is a manufacturing layout application tightly integrated with Siemens' Teamcenter. Siemens' PLM system helps companies manage increasingly complex products to maximize productivity and streamline global operations. Line Designer is used to sketch, plan, detail, present and document production systems in a manufacturing plant. The software uses an equipment library managed in Teamcenter. The same library can be used by other manufacturing applications. Layouts are stored in Teamcenter so that they can be directly reused by other applications.
Why is Line Designer important to your business?


Layout and Library can be shared with other manufacturing applications through Teamcenter


Reduces effort of data-collection/conversion


Provides more efficient change managementManaging plant lifecycle (changes to production systems) is a key prerequisite for Digitalization, Industry 4.0


Our winning combination
Line Designer (on Teamcenter) plus validation tools such as Siemens' Process Simulate and/or Plant Simulation and Point-Cloud (laser scan) support in all products to visualize as-is plant, offer a complete line planning solution. Users can realize a quick return on investment by efficiently creating layouts and using them in validation tools to ensure feasibility and to optimize throughput. Point-clouds make it much easier to initially digitize existing production systems.
Top 5 things to know about Line Designer – Manufacturing Layout Application


Managed layout


Managed library


Ease of use


Utilize the power of NX


Multi-disciplinary collaboration


1. Managed Layout
With Line Designer you have one common layout managed in Teamcenter; a single source. This will reduce engineering time by efficient change management. A managed layout will reduce your data-collection, conversion and re-creation efforts.
Managed layout provides always consistent data, improving the engineering quality and reducing engineering efforts. How is this possible?The manufacturing layout (created in Line Designer), the material flow simulation, robotic/human simulation, and process planning are working on the same data seamlessly. This process eliminates media breaks and offers efficient management of changes. Material flow simulation optimizes throughput and find bottlenecks based on the layout. Robotic/Human simulation add kinematics and detailed motions to the layout, and process planning links product with process and equipment in the layout.
2. Managed Library
The managed library in Line Designer requires eliminates the effort to maintain and update multiple libraries. It is just one library with all information needed about the equipment and enables you to manage access and release/deprecate library elements.
3. Ease of use
With Line Designer you can create layouts efficiently using drag and drop, snap elements in position, and use easy entry masks to modify parametric equipment, use manipulators to move or resize equipment. By assigning roles, you can give every user only the buttons he really needs.
4. Utilize the power of NX
One of the best things about Line Designer is the ability to get more done with less effort while you use powerful capabilities with ease. NX provides simple entry mask and manipulators to modify parametric objects, the ability to use collision detection during positioning, powerful capabilities to derive drawings and realistic visualization
5. Multi-disciplinary collaboration
Line Designer is part of Siemens' Production Systems Engineering solution. It covers the mechanical elements and Siemens' Automation Designer is an integral part that covers electrical and software engineering, with interfaces to EPLAN and TIA-Portal.
The solution allows you to increase engineering quality by integrating mechanical-, electrical-, and software engineering. With multi-disciplinary collaboration you will reduce engineering time by efficient change management in one tool environment and parallel engineering. How is this possible? With the collaborating disciplines. Mechanical (Plant Structure from Line Designer), Electrical (EPLAN circuit diagrams), and Automation Software (TIA-Portal hardware and software), working seamlessly on the same data. The collaboration eliminates media breaks and creates the efficient management of changes. The process leads to always consistent data, improving the engineering quality and reducing engineering efforts.
If you have a comment about this article, please leave share it in the comment section below.
This article first appeared on the Siemens Digital Industries Software blog at https://blogs.sw.siemens.com/tecnomatix/top-5-things-to-know-about-our-manufacturing-layout-application/