Products
Siemens SynthAI Presenting at Leading AI Technology Conference
SynthAI, will be featured at NVIDIA's AI technology conference, GTC 2022 September 19-22.
Exciting momentum gains after Siemens and NVIDIA, a pioneer in accelerated graphics and artificial intelligence (AI) recently announced the expansion of the partnership to enable the industrial metaverse and to increase the use of AI-driven digital twin technology. Siemens Xcelerator portfolio, including the AI powered machine vision automation platform SynthAI, will be showcased at NVIDIA's AI technology conference, GTC 2022 September 19-22. The event will be a virtual conference where developers, researchers, and thought leaders can attend keynotes and technical sessions to explore the latest technologies and breakthroughs in AI and the Metaverse.
As mentioned in our previous blog, SynthAI is a cloud solution that allows manufacturing engineers to easily generate synthetic data and train vision machine learning algorithms from CAD models for object detection in robotics and other systems. The use of synthetic data accelerates the data collecting and training process, which is typically seen as a cumbersome and labor-intensive procedure. Rather than waiting for preproduction parts to be ready or using complex processes to generate synthetic data, machine vision specialists only need to provide the part's 3D CAD data to SynthAI.
It is evident that both Siemens and NVIDIA share a common vision that the industrial metaverse will drive digital transformation and bring industrial automation to new heights. At GTC, AI and Metaverse pioneers can learn more about the interconnected synergies between the industrial metaverse and Siemens AI-driven digital twin technology.
On Monday, September 19 from 11:00-11:50 am EDT, join the Simulive session, How to Build a Custom Synthetic Data Pipeline to Train AI Perception Models, with Siemens robotics expert, Zachi Mann, to feature SynthAI and other AI-driven solutions alongside other AI and Metaverse trailblazers. Viewers can attend the technical keynote discussing the NVIDIA Replicator, an omniverse-based development environment for generating synthetic data. Siemens is actively collaborating with NVIDIA to evaluate how Replicator can be used as a simulation and rendering engine for SynthAI. During the keynote, hear how SynthAI and NVIDIA Replicator could be used as an underlying technology to accelerate validation. Although SynthAI does not utilize Replicator just yet, the end vision is to easily batch massive synthetic data generation tasks to further accelerate validation and training for robotics and other industrial systems.
To kick-start the next phase of the partnership, the plan is to connect Siemens Xcelerator, our open digital business platform, and NVIDIA Omniverse, an open platform for 3D design and collaboration to achieve significant breakthroughs in the industrial metaverse. Siemens Xcelerator allows companies of all sizes to access digital technologies, including Siemens' cloud-based machine learning training solution, SynthAI, to transform the way manufacturers compete, collaborate, and connect. A key solution to this technology is AI, which can drive insights from massive datasets and train computer models to accelerate the time-to-market for manufacturers.
Attendees can learn more about SynthAI at NVIDIA GTC 2022 to understand how Siemens is taking its depth of knowledge in both product engineering systems and production preparation and planning to help accelerate digital transformations for our customers. Register for GTC 2022 to learn how Siemens and NVIDIA are accelerating the convergence of AI and digital twin technologies. Discover how solutions from Siemens Xcelerator portfolio, like SynthAI, are defining a new path to digitalization for our customers.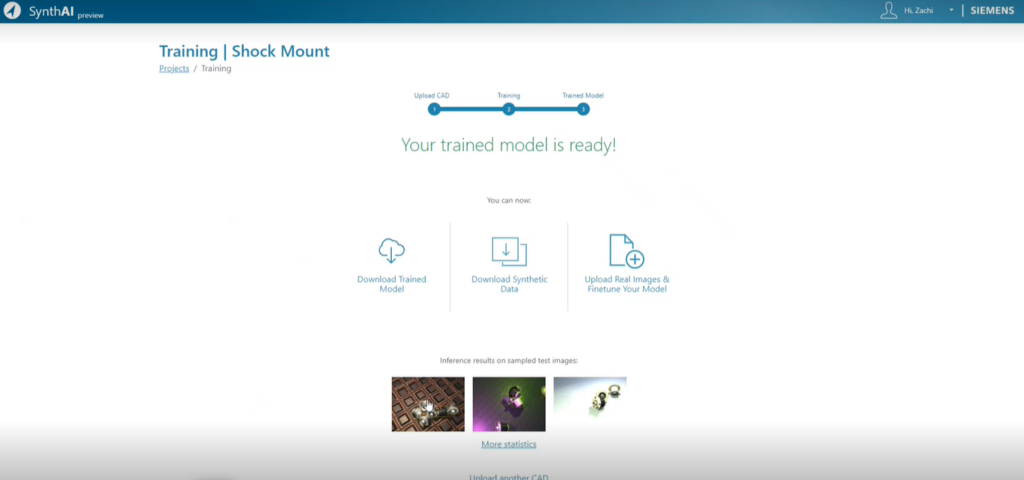 Use synthetic data to accelerate machine learning quickly and easily for vision-based automation systems.
This article first appeared on the Siemens Digital Industries Software blog at https://blogs.sw.siemens.com/tecnomatix/siemens-synthai-presented-at-leading-ai-technology-conference-nvidia-gtc/