Customer success: Electric car factory for BAIC BJEV
The sales champion of China's electric vehicle market, BAIC BJEV, has built the group's first mass production base for energy vehicles. To strengthen the brand, improve product quality, and produce vehicles that can even better meet the market's needs, the company took advantage of Siemens hardware and software and its SICAR standard for the automotive industry.
Although the rapidly changing market is bringing many challenges to automakers, Beijing Electric Vehicle Co., Ltd. (BAIC BJEV) has its own winning strategy. As a leader of China's electric vehicle industry, BAIC BJEV sold 158,000 vehicles in 2018 and has been the sales champion of China's electric vehicle market for six consecutive years. However, there are still hurdles to tackle, including decreasing subsidies and growing competition. How can the company develop the middle and high-end market? How can it maintain its leading position in the market?
"We hope to strengthen the brand effect, improve product quality, and produce vehicles that can better meet market needs. And all of these goals can only be achieved by continuously improving our capabilities of digital R&D, manufacturing, and management," says Wang Qingzhou, General Manager Qingdao Industrial Base of BAIC BJEV. "Siemens' integrated hardware and software solutions and its SICAR standard specifically designed for the automotive industry have helped us build the group's first mass production base for new-energy vehicles in Qingdao. This has also laid a solid foundation for building our digital factory."
Siemens' integrated hardware and software solutions and its SICAR standard have helped us build the group's first mass production base for new-energy vehicles.

Wang Qingzhou, General Manager Qingdao Industrial Base of BAIC BJEV
Qingdao Industrial Base covers an area of more than 1,600 acres and has maintained its rapid development since the start of production at the end of 2015. The EC and EX series models are produced here, where the complete production process takes place, from iron sheets to the finished product.
Complete base and data archives
How to assemble tens of thousands of precision parts into a car? The unified data platform is critical for the production process and guarantees that all links are integrated correctly. Using Teamcenter and Polarion, an application lifecycle management solution, BAIC BJEV is able to build complete base and data archives for the entire product lifecycle – including design, process, and manufacturing – and synchronize the information across all departments involved.
Knowledge sharing among R&D experts
In the past, R&D experts were "buried under their desks" because information couldn't be shared in real time, and it was also easily distorted during the process of transmission. If one department changed the drawings and other participants didn't update simultaneously, the risk of error increased enormously.
Now everyone puts their work on the same "desktop," which realizes the "unification" of the data file. All R&D experts involved can refer to each other's design systems and process plans, and the agreed-upon solutions can be directly migrated to new models. The reuse of knowledge saves time and costs, which in turn speeds time-to-market for new models.
New models easily applied to the production line
Bie Yonghui, Section Manager of VSS Auto of Digital Industries, Siemens Ltd., China, explains, "In the past, when a new model was applied on the production line, there might be thousands of problems. Now, using the Siemens software and hardware solutions, these problems can be reduced exponentially."
Before the official start of production, Tecnomatix, the Siemens process simulation software, can perform production feasibility analyses in a virtual environment in order to troubleshoot potential problems in advance. In addition, production process simulations ensure that the best manufacturing process is selected from all possible alternatives.
Performance optimization through simulation
How can a manufacturer guarantee the performance of new research and development models? Virtual simulation testing is essential. BAIC BJEV has adopted the simulation and test platform Simcenter to make performance optimizations to vehicle mileage, NVH (noise, vibration, and harshness), heat, fluid, intelligent driving, and other parameters.
Li Zhiming, Senior Presales Director for Automotive and Transportation Industry of Siemens Industry Software: "In the future, BAIC BJEV's data on product development, simulation engineering and manufacturing engineering is expected to be managed integrally on the Teamcenter platform. This will provide a solid foundation to support the customer's digital development."
Messenger from the "brain: of the production
"In the execution of manufacturing, Totally Integrated Automation (TIA) solutions are like a flexible limb, providing efficient and accurate execution of production planning orders transmitted from the 'brain'," said Luo Dengyuan, Manufacturing Engineering Department Director of BAIC BJEV
Standardization with SICAR
From the design and development of vehicle models to the actual manufacturing and then inspections, testing, and service, the automobile manufacturing process is extremely complex. Without standards, the links may not be interoperable, which can lead to unnecessary problems.
For example, there are four suppliers in the welding line at Qingdao Industrial Base. If each supplier provides products based on their own standards, the first-line workers may face different types of machines, different types of interfaces, and different methods of operation, which is bound to waste time and money.
Siemens has solved the problem with the SICAR, a standard for the automotive industry. It's been fully applied in the second phase of the Qingdao Industrial Base, and it fundamentally guarantees system consistency.
For line integrators, the use of standard HMI, variable generation tools, and function blocks can greatly simplify programming and enable high-quality design and commissioning in a short period of time.
At BAIC BJEV, this set of standards doesn't just ensure project consistency and the quality of the follow-up products, it also helps improve the operational standardization of front-line workers, reduce equipment maintenance costs, and make production and maintenance more efficient.
Construction of the next digital car factory
BAIC BJEV is currently building a high-end intelligent factory in Beijing. The new factory is expected to be an exclusive factory for ARCFOX, a high-end BAIC BJEV brand. In addition to the company's existing high-end cars, LITE and ARCFOX-7 are also going to be produced at the factory.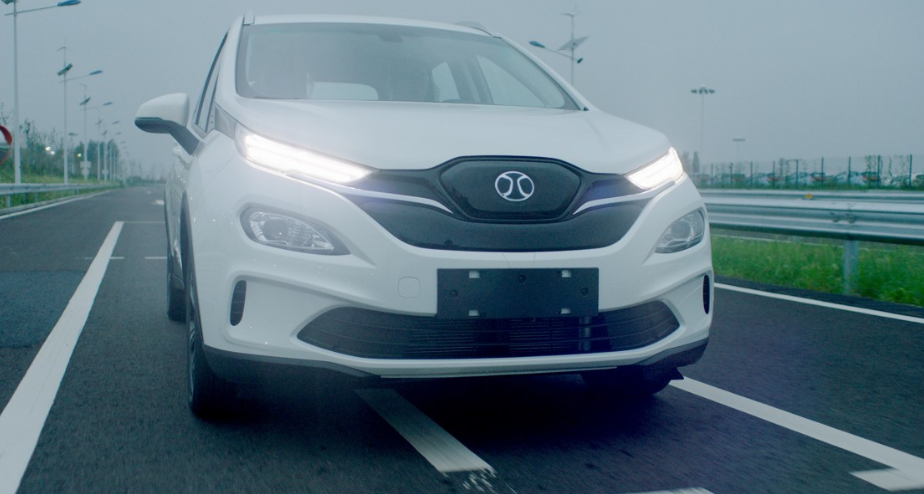 Liu Weixia, Digitalization, Process, and IT Director at BAIC BJEV affirms: "In partnership with Siemens, we benefit not only from its solutions but also from the added value, including standardized and agile development and a digital mindset."
During the construction phase of the production line, Siemens helped BAIC BJEV build a digital twin of the devices and equipment. Virtual commissioning technology was used to create a virtual simulation of the entire production line, allowing the necessary debugging and corrections to take place before the actual project was established.
Simatic PLC SIM Advanced can even issue logic control commands directly to the virtual production line, making all virtual equipment in the digital world work just like they were on the actual production site. As a result, the construction cycle of the production line can be shortened significantly.
This article first appeared on the Siemens Digital Industries Software blog at https://blogs.sw.siemens.com/tecnomatix/customer-success-electric-car-factory-for-baic-bjev/