Composites Material Tracking, Planning & Cutting Optimization for the Aerospace & Defense Industries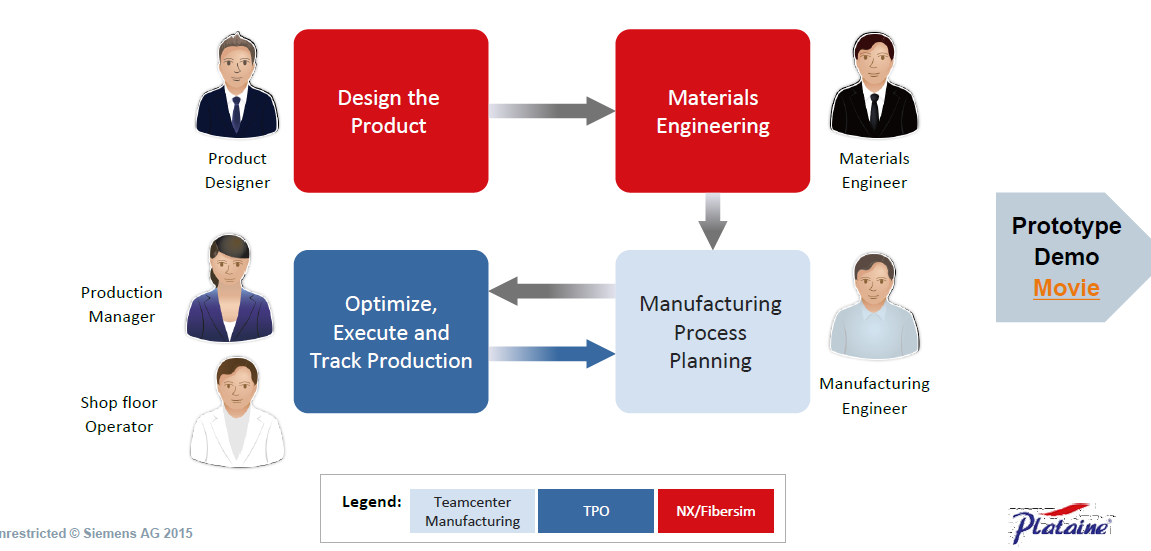 By Avner Ben-Bassat, President & CEO, Plataine Technologies
I had the pleasure of delivering the presentation, "Composites Material Tracking, Planning & Cutting Optimization for the Aerospace & Defense (A&D) Industries," at Siemens' PLM Connection 2015 conference. During the presentation, I described how Plataine's TPO solutions address the core problem of manufacturing business, production and engineering teams operating separately with loosely integrated systems. This article summarizes the highlights of the talk. Please contact me if you have any questions about the Plataine and Teamcenter Manufacturing integrated product.
First let me introduce Plataine. We believe that intelligent automation, mobility and the Industrial Internet of Things (IIoT) push the productivity envelope in manufacturing. We have global original equipment manufacturer and tier-one customers and achieved the 2014 JEC Innovation Award for Software. Our cloud-based solutions are IIoT driven, provide context aware software optimization, and help bridge the gap between Enterprise Resource Planning (ERP), PLM/CAD and shop floor systems to deliver immediate, tangible and measurable return on investment.
The Challenges of A&D Industries
Inflexible manufacturing production plans with poor visibility and costly changes can result in slower reaction time and extend lead times; waste time, labor, and material resources; produce excess Work In Progress (WIP) and raw material inventory; and put quality and customer satisfaction at risk.
The Plataine Approach to Industry Challenges
Step 1: Guarantee visibility and control on the production floor; leverage RFID and other sensor technology to automatically track inventory and other mobile assets on the production floor, such as raw material, WIP, tools, assemblies and staff, in addition to classic use of tracking machines (stationary units) on the factory floor.

Step 2: Alert & Optimize. A rich digital context is the basis for context-aware software, generating real-time alerts and optimization. We take a holistic approach to consider all elements of the problem at once.

Plataine & Teamcenter Manufacturing Integrated Product
Our production optimization for Teamcenter– integrated product optimizes composites raw material usage.

Siemens PLM Solutions and Plataine TPO: Target Users and Workflow
Customers benefit from the increased automation, flexibility and accuracy of manufacturing planning; increased automation and improved control in manufacturing; improved material yield and reduced labor costs; and feedback look from production to planning.
To summarize, the TPO solution is modular and standalone/integrated. A prototype of integrating Plataine TPO to Teamcenter Manufacturing is being worked-out. The first beta customer is a shared A&D customer. You can learn about our three uses cases by reading the complete presentation attached.

This article first appeared on the Siemens Digital Industries Software blog at https://blogs.sw.siemens.com/tecnomatix/composites-material-tracking-planning-cutting-optimization-for-the-aerospace-defense-industries/