Products
Why You Should Consider Simple Change Management in Teamcenter?
Motivation for Simple Change
"Life is really simple, but we insist on making it complicated"

Confucius
When I sat down to write this blog, the first thing that came to my mind is the quote above because it inspires me to stay focused both in my personal and professional life. It is also a quote that flashes when I look at some of the software applications we use every day and sometimes wonder, "Why does it have to be this complicated?" There was probably a good reason why some applications appear that way… the underlying business processes that they were built to support, were complex. However, isn't software all about making our lives easy and let it do the heavy lifting? I am sure everyone reading this would agree, and that was essentially the motivation for a simple change management process in Teamcenter.
Benefits of Change Management
Engineering change management is one of the foundational building blocks of any PLM solution. Teamcenter offers one of the best and most comprehensive change management capabilities in the business, no matter your organizational change management strategy. Using CMII certified change process, Teamcenter customers get the benefits of leveraging industry-standard best practices to track, process, report, and audit changes. Engineering changes can impact product characteristics, result in expensive tooling changes, delay program timelines, and even disrupt production activities if not handled carefully. Hence a formal, multi-step change process is much needed
when handling high-impact engineering changes, and Teamcenter fully supports this with the necessary rigor.
Common Engineering Change Management Questions
What if the change is simple, but you need to track it?
What if you need to inform stakeholders of the minimal change?
What if the clock is ticking, and you need to process the change and get it out the door quickly?
While there is no right or wrong answer to the above questions, it starts pointing us to a more fundamental question – Should all changes be treated equally? I hope the answer is a resounding NO.
Look at the picture below and guess which of these changes would require the rigor and discipline of a formal change process versus ones that you would consider to be a simple change.

If you answered 1 and 3 require a formal change while 2 and 4 are candidates for simple change, you are correct. So, if changes come in different shapes and sizes, shouldn't the change processes follow suit?
Introducing… Simple Change in Teamcenter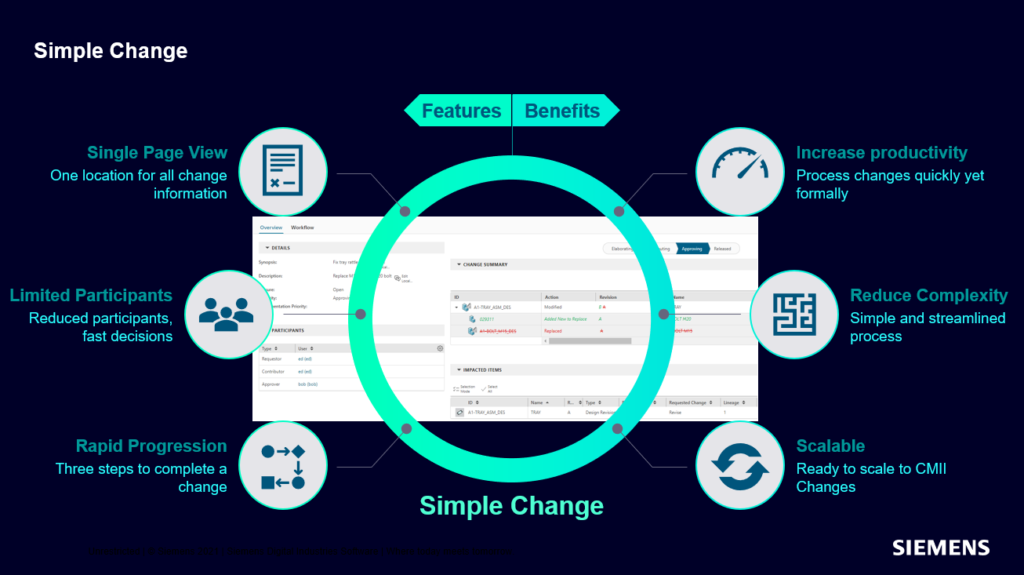 Improve Accuracy and Productivity with Simple Change
Simple change is ideal when you want to quickly yet formally track and process a change with minimal participants. It leverages the strengths of our core change management capabilities while simplifying them to quickly and efficiently process simple changes.
If this sounds like something you can use to streamline your business processes and improve your productivity, please reach out to your sales contact to learn more about this capability.
If you're interested in more information, don't miss:
This article first appeared on the Siemens Digital Industries Software blog at https://blogs.sw.siemens.com/teamcenter/why-you-should-consider-simple-change-management-in-teamcenter/