What You Missed At Realize LIVE! 2019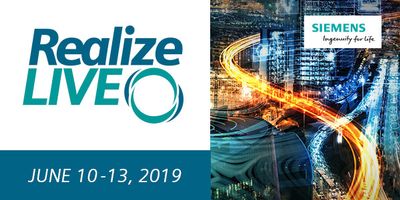 Realize LIVE! 2019 has commenced! The week was packed with knowledge-filled sessions, exciting contests at our activation booth, and subject matter experts and demos at the Teamcenter kiosk in the Solution Center! Realize LIVE! was held for the first year in Detroit, MI! And for those of you who aren't aware, Realize LIVE, formally known as PLM Connections, was last week, June 10-13th! 
We first want to thank the customers, partners, and potential customers coming to learning more about not only what we are doing here at Siemens but also learning what others are doing with our software. The Teamcenter track was a full four-day track, including a separate one-day Teamcenter Product Cost Management track. Without our customers, event sponsors, and partners this event would not have been the same.
In addition to the Teamcenter connections, there were 16 (SIXTEEN!) other connections that were running simultaneously, and there was also a Solution center filled with booths, giveaways, and contests for attendees to win great prizes! There were also hours of hands-on training sessions that were included in the conference. Each training session was led by an industry leader to showcase sessions around the most pressing challenges met in today's world! The countless peer-to-peer interactions made it easy to collaborate on issues and problem solve.
The first keynote of the conference was held by Tony Hemmelgarn, President, and CEO of Siemens Digital Industries Software. He touched on a couple of different topics, but the main speaking point was related to how you can accelerate your digital future – maximize now, optimize next, and leverage your community. He talked about how the symbiotic relationship between hardware platform technology and applications continues to evolve, changing our lives and replacing many of the devices and services that we used to depend on. He then went on to talk about how we are experiencing a digital industrial revolution where accelerated innovation is disrupting entire industries. Products are becoming smarter, more complex, and increasing consumer expectations for personalization. The importance of global connectivity and technology advances in generative engineering, additive manufacturing, AI, autonomous behavior and immersive visualization are unlocking the new potential to create value. 
Following the keynote from Tony Hemmelgarn was the Teamcenter keynote presentation. Joe Bohman is the Senior Vice President of Lifecycle Collaboration Software for Siemens Digital Industries Software, a business unit of the Siemens Digital Factory Division. Joe was accompanied by Jamie Wilkins, who aided in the presentation, giving a live demo to the crowd of what Teamcenter can do today! 
Throughout the week there was full coverage of the Teamcenter portfolio and customer stories throughout the Teamcenter track. Topics ranged from VR to Requirements Management, Teamcenter Integrations, Active Workspace, Cloud, Change Management, IMM, Supplier Collaboration, a Teamcenter Leadership Q&A, and so much more. 
The Solution Center was where all the booths were held. In addition to our regular Teamcenter kiosk, which had subject matter experts and demos, we also had a Teamcenter activation booth. This booth held two separate contests!
One contest was a Teamcenter Go VR! timed contest. The idea of the game was to use our Teamcenter Visualization VR software and complete a specific set of tasks the fastest. The time started when you picked up the first tool and ended when you put that tool back in the correct spot. For this specific contest, we had a first and second place prize. First place won an HTC Vive Pro Headset. Second place won an HP Mixed Reality Headset.The winners of this contest were Daniel G, and Matt P. (Pictured below)
The other contest was a Teamcenter Community Scavenger Hunt. The entries had to fill out a scavenger hunt and search through the community for the correct answers. At the end of the conference, the entries were "graded" to ensure the correct answers were written, and the winner was randomly drawn. The winner of this contest was Jim V. (Pictured Below)
We had a blast meeting all of you at Realize LIVE! 2019. If you have your own photos to share about the event, feel free to share them on social media with the hashtags: #RealizeLIVE, and #Teamcenter! See you next year in Vegas!
This article first appeared on the Siemens Digital Industries Software blog at https://blogs.sw.siemens.com/teamcenter/what-you-missed-at-realize-live-2019/