This just in: Aerospace & Defense Community Recognizes Siemens Leadership in PLM
In a just-released summary by the Aerospace & Defense PLM Action Group, "Multi-view BOM Solution Evaluation Benchmarks Report," Siemens Teamcenter is a decisive leader in every category covered.
Key findings:
#1 Fact – Siemens Teamcenter finished in the top rung in 100% of the scoring.
#2 Fact – Teamcenter scores as having nearly 20% higher scores than the combined average of the other competitors across all evaluated categories.
#3 Fact – In critical areas such as consumption of product requirements, BOM collaboration with the supply chain and updating to engineering and manufacturing changes – scores from Siemens were 70% higher than the combined averaged scores within the same areas from the other competitors.
The use cases covered in the benchmark include: Engineering Release (ER), Supplier Collaboration (SC), Bolted Join (BJ), and Engineering to Manufacturing (EM). Within ER and EM multiple scenarios were evaluated.
About the benchmark report
Okay, so why does this matter, and who exactly is the Aerospace & Defense PLM Action Group (AD PAG)? Founded in 2014, the AD PAG is an association of aerospace and defense companies within CIMdata's globally recognized PLM Community Program. It's really a type of PLM advocacy group for the A&D industry. AD PAG exists to promote common PLM processes and communicate with a singular voice to PLM solution providers. The domain experts who contributed to this report include
• Airbus • Boeing • Embraer • GE Aviation • Gulfstream
• Mitsubishi • Pratt & Whitney • Rolls-Royce • SAAB
And who are the PLM software providers covered in the report? That's easy: Aras, Dassault Systems, PTC, and Siemens Digital Industries Software. The chart below shows the involvement of these companies across the use cases covered.

We had a combined effort from our engineering and manufacturing teams across the company. The end-to-end development process is something we take seriously – especially when it comes to our Aerospace and Defense customers. It was also great to work with the PLM Action Group and CIMdata.
Other key findings:
Benchmark: "Ease of use"
The graph below (Figure 1) is a comprehensive look at how Teamcenter scored in the benchmark evaluation when it comes to "ease of use" across all use cases. From the early stages of Engineering Release to Manufacturing Consumption of Changes, you can see how well Siemens Teamcenter performs when compared to averaged scores (our competition).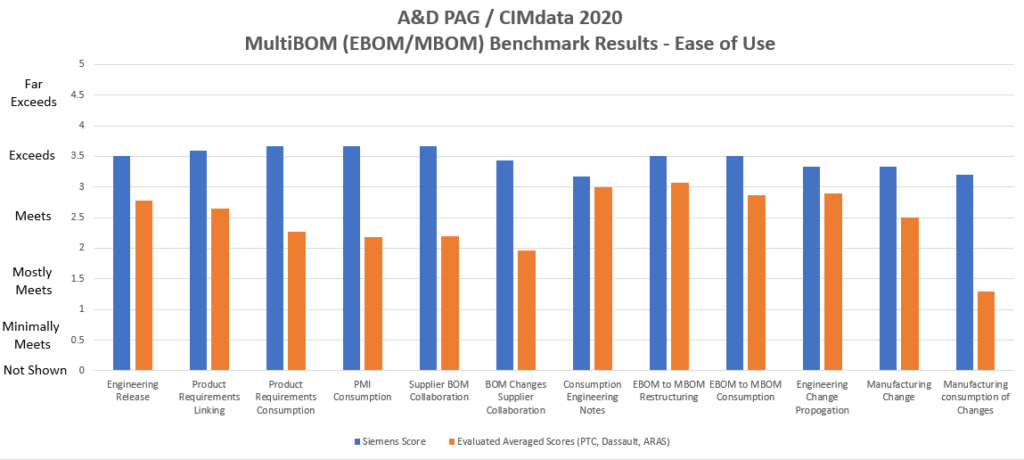 Benchmark: "Functionality"
Figure 2 depicts the clear leadership of Teamcenter BOM solutions in every category of functionality evaluated and exceeded the combined average of the other competitors.
Benchmark: "Categories"
Figure 3 depicts all the evaluated categories within the benchmark and the cumulative scores within each: "Engineering Release" – Reusing engineering downstream to manufacturing, "Supplier Collaboration" – BOM collaboration with suppliers, "Engineering to Manufacturing" – EBOM to MBOM structuring and updateability, "Bolted Join" – Hardware and engineering notes MBOM consumption. Notice in every category Siemens leads the industry while the competition is far behind.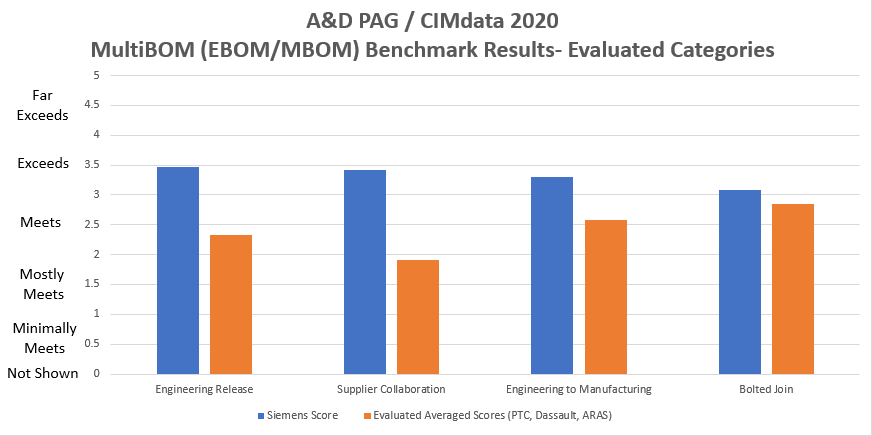 Final PLM leader thoughts
A few other findings worth mentioning. In the Engineering Release (ER) use case, the process of Leveraging Engineering Downstream to Manufacturing, Teamcenter scored 23% higher than the combined average of the other competitors. This is extremely important because it is an area within the enterprise that is commonly problematic for many companies, the integration, and collaboration between engineering and manufacturing. This set of use cases tested the ability of the PLM vendors to utilize and leverage engineering defined requirements and tolerances within the manufacturing domain to create a seamless digital thread between them. The results show that Siemens understands this critical domain and provides the leading solution that addresses customer needs.
In the Engineering to Manufacturing (EM) use case, EBOM to MBOM Structuring and Updateability, Teamcenter scored 14% higher than the combined average of the other competitors. I cannot stress just how important this capability and processes are when it comes to the needs of manufacturing to restructure the BOM for their use while maintaining intelligence and equivalence between engineering and manufacturing structures. This set of use cases extended this into the change process and tested the ability of the PLM vendors to perform updates within the structures with the highest level of automatic update and the least amount of rework. Clearly, Teamcenter provides greater initial capabilities needed for structuring and superior updateability for the downstream BOM in manufacturing.
Finally, in the Supplier Collaboration (SC) use case, BOM Collaboration with Suppliers, Teamcenter scored a significant 30% higher than the combined average of the other competitors. Again, this is a critical area of concern for Aerospace and Defense companies that rely heavily on their supply chains. As we transition to the digital enterprise, having suppliers connected to their digital twin and thread are instrumental in achieving the digital transformation. For many companies interacting with suppliers over BOM definitions is truly a struggle. Siemens outstanding performance in this benchmark area greatly improves this process with what now has been identified as superior BOM collaborative supplier capabilities.
In conclusion
We were very happy to work with the AD PLM Action Group and their work is a solid reference for the industry. Siemens Digital Industries Software is helping customers across the aerospace and defense industries meet their rapidly changing needs. Our flexible, adaptable and open software solutions have enabled Teamcenter to become a leader in PLM and a trusted partner to everybody from industry leaders and governments around the world to the most innovative start-ups in a city near you – who are dealing with complexity and transforming global transportation, urban mobility, and space exploration.
For details on how Siemens Teamcenter can best serve your needs and goals, or questions you might have on the CIMdata benchmark, please contact me at bill.lewis@siemens.com
This article first appeared on the Siemens Digital Industries Software blog at https://blogs.sw.siemens.com/teamcenter/this-just-in-aerospace-defense-community-recognizes-siemens-leadership-in-plm/