Products
BOMcheck Integration Streamlines Compliance Processes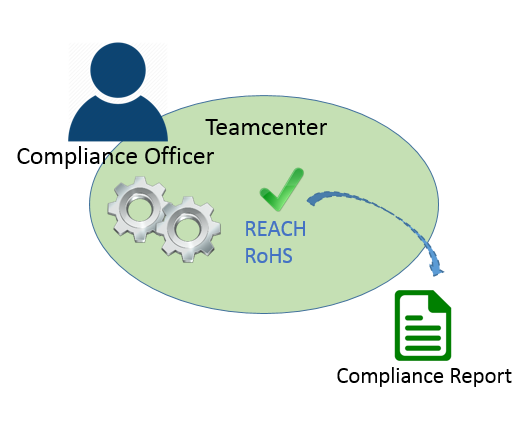 As highlighted in a recent Verdantix blog around product sustainability and stewardship, Siemens has released a new integration to the BOMcheck industry-led substances declarations web database for the high tech industry. Launched in May 2008 by Siemens AG, Philips, and GE Healthcare, the BOMcheck database has 7,000 users worldwide. A GE Healthcare newsletter to suppliers said, "BOMcheck has the simplest input interface we have seen and provides extensive help and data checking to reduce errors and highlight potential issues while you are working on your part declarations."
Why is BOMcheck integration important?
Manufacturers rely heavily on their supply chains for parts, and the materials used in the supplied parts must be checked for compliance against substance regulations such as REACH, RoHS, etc. The process of gathering/validating/approving, and integrating supplier declaration data to the product BOM before checking for compliance is cumbersome, especially without automation in place to streamline this process. In his article "RoHS and REACH Supplier Material Declaration Collection is a Process, not a Task!" Jim Kandler, Managing Director at RoHS Ready LLC, highlights, "I have heard many conference presenters go through their entire presentation on EU RoHS or REACH and conclude with, '… then all you need to do is collect the supplier material declarations.'This sets up uninformed people for a real surprise. Their approach is to address this effort as a task to quickly complete and be done with it. This line of attack is rarely successful and is often very discouraging, as we have seen first-hand."
Integrations to supplier databases that store supplier part declaration data can help to streamline the supplier disclosure process and decrease costs by reducing errors and rework. In addition, the ability to make declarations in an online database like BOMcheck reduces the work for suppliers since they can declare once and make this available to all or any of their customers. The Teamcenter integration to BOMcheck is highly automated and reduces the compliance officer responsible for the supplier declaration process. The BOMcheck integration takes advantage of functionality in Teamcenter that automates the processes of:
Identifying supplier parts in Teamcenter that have missing or out-of-date information
Sending missing/out-of-date part notifications to BOMcheck so that BOMcheck can manage collection of the part declarations from suppliers
Downloading supplier declarations from BOMcheck to Teamcenter for review by the compliance officer
The value proposition of the Teamcenter BOMcheck integration is best explained by an example workflow. First, a product engineer designing a CAD tool connected to Teamcenter integrated material management creates material assignments using materials managed in Teamcenter. Supplier material data and declarations are gathered via integration with BOMcheck.With BOMcheck, a request for data will automatically pull what information is available while simultaneously requesting the missing information.
Once the final materials and substances have been declared, a compliance officer runs the product through the Teamcenter substance compliance checker to ensure compliance against regulations such as REACH, RoHS, CA Prop 65, Conflict Minerals, etc., and any other custom rule sets defined by the manufacturer. Compliance is reported on a pass or fail basis with support for exemption processing. Finally, compliance status reports can be generated for the final product to be sold in any location in which the company wishes to operate.
Automation of the supplier declaration process delivers holistic product views, including material data from suppliers, to get accurate results when checking for compliance. By applying a comprehensive PLM strategy to your product development process that includes supply chain information from BOMcheck, you reduce the costs associated with becoming compliant and maintaining compliance and ensure that products are designed right the first time, maximizing your return on investment.
For more information around Teamcenter solutions for the management of materials, compliance, and sustainability, please go here.
If you'd like to see and learn more about BOMcheck:
Bill of Material Management Articles
About the blogger:
Tedie West is the Teamcenter product manager for the Substance Compliance and Integrated Material Management solutions. He has been with Siemens for almost 15 years and serves on several of the IPC standards committees.
This article first appeared on the Siemens Digital Industries Software blog at https://blogs.sw.siemens.com/teamcenter/teamcenter-bomcheck-integration-streamlines-compliance-processes/