Products
Quality Management Software Solutions: What's New in Teamcenter Quality 6.0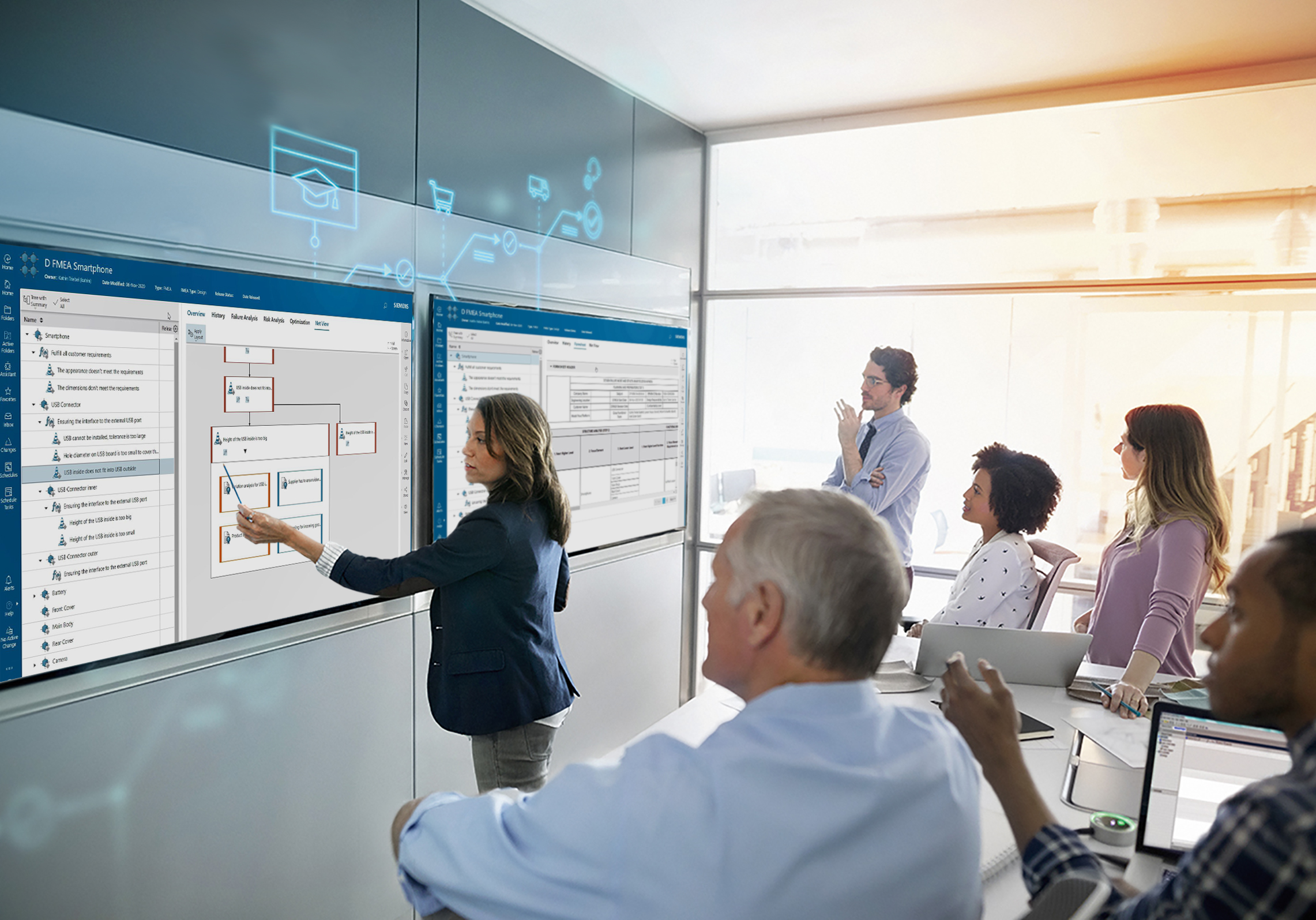 Optimize and improve product and process quality by leveraging the lessons-learned process!
We are excited to announce that the latest version of Siemens quality management software – Teamcenter Quality 6.0 — has been released! Teamcenter® Quality software version 6.0 includes enhancements to the following modules: Failure Mode and Effects Analysis (FMEA), Control and Inspection Planning, Quality Project Management, Problem Solving, Quality Issue Management and Quality Action Management. The combination of modules allows you to close the loop on quality processes in Teamcenter, which is part of the Siemens Xcelerator portfolio, the comprehensive and integrated portfolio of software and services from Siemens Digital Industries Software.
Benefits of quality management software solutions:
Optimize and improve product and process quality by supporting development with the lessons-learned process
Detect and manage potential failure with guided FMEA
Improve collaboration with engineering department
Support your company's ability to manage the problem-solving process
Improve collaboration with suppliers and partners
Latest features:
Create master and variant FMEA
Save time creating FMEA variants as well as optimizing the lesson learned
Provide FMEA structure enhancement in net view
Introduction of a new structure of quality processes
Enhance quality management workspace for problem solving
Leverage Teamcenter Quality using Partner Connect in Teamcenter
Improve quality by leveraging collaboration with engineering
With Teamcenter Quality Control and Inspection Planning, you can improve product quality, customer relations and satisfaction while decreasing development time. The integrated solution offers process and design-oriented inspection planning combined with control plan management to prevent rework and reduce costs. This picture shows an important goal of what Siemens wants to achieve with Teamcenter Quality. Our quality solutions help customers avoid domain segregation and reach the right stakeholders because it is native to the Teamcenter collaboration platform so all information is on a single platform. Therefore, the bill-of-quality (BOQ) makes all relevant information available to users.
Experience the benefits of closed-loop quality and start your digital journey for Quality Management with Siemens today! Would you like to get a general overview of our offerings of quality management software? Take a few minutes to look into our new Teamcenter Quality 6.0 fact sheet, or learn how to experience the benefits of closed-loop quality for best-in-class products with our videos experience.
Are you interested in more details on our quality management software solution components? Take a deep dive into five of them by reading these fact sheets:
Find out more about Teamcenter Quality on our website. Learn more about our approach to quality management software including the release of Teamcenter Quality 5.2.
---
Alessandro Cereseto is a marketing manager for the Manufacturing Operations Management (MOM) segment within Siemens Digital Industries Software, and has spent more than 20 years promoting MOM products, and now also the new Teamcenter Quality set of components. Manufacturing Operations Management (MOM) solution enables our customers to implement their strategy for the complete digitalization of manufacturing operations. It provides end-to-end visibility into production, allowing decision-makers to readily identify areas to be improved within both the product design and associated manufacturing processes, and make the necessary operational adjustments for smoother and more efficient production.
This article first appeared on the Siemens Digital Industries Software blog at https://blogs.sw.siemens.com/teamcenter/quality-management-software-solutions-whats-new-in-teamcenter-quality-6-0/