Products
Parts Catalog Authoring Quick and Easy!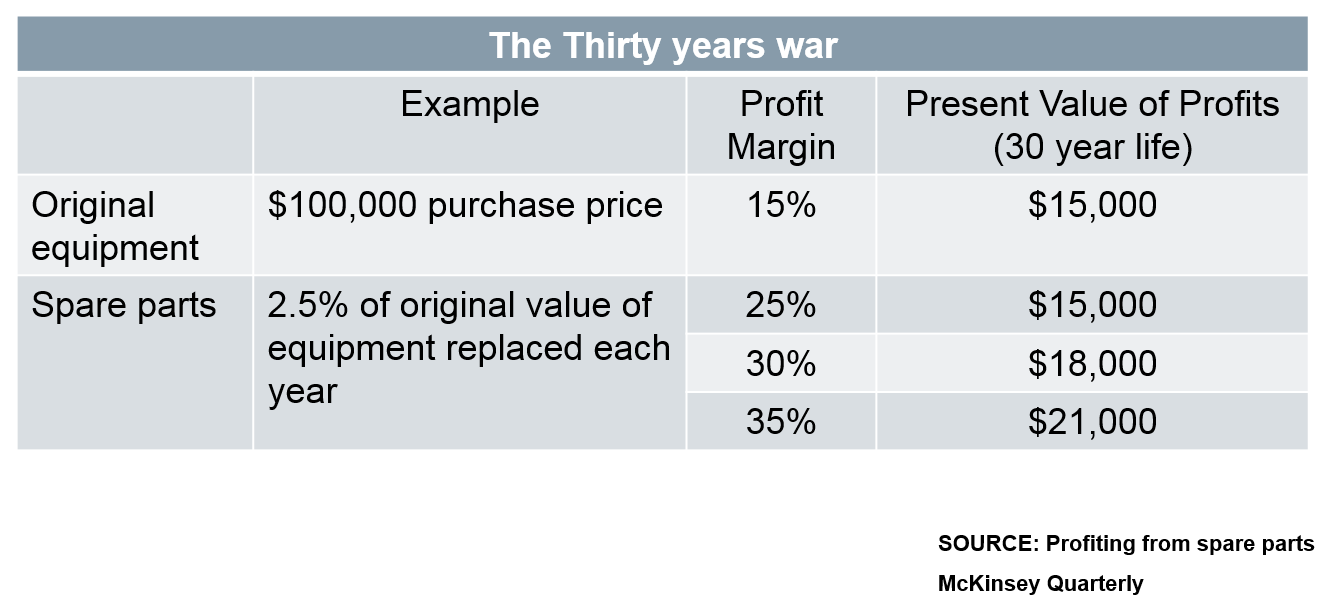 Parts Catalog in Teamcenter using RapidAuthor for Teamcenter
Many decisions are made when launching a product development. For many products with a longer lifecycle reliability, accessibility, and maintainability (RAM) is a critical component. When your customers buy your product, they have made a decision about the value to be derived from it over a given period of time. Customer loyalty will depend on the product operational status and total lifecycle costs over that time. For the manufacturer, spare parts used to help deliver product value to the customer can also be a large revenue and profit stream that adds to and may even surpass the profit of the original sale.
A McKinsey Quarterly report, "Profiting from Spare Parts", summarized in the table below shows that for manufacturers producing long life products, measured in decades, the profits from spare parts can easily meet and exceed the original sale profit on a net present value basis where only 2.5% of the original equipment value is replaced in terms of spare parts each year.
But to achieve that revenue and profit stream manufacturers need to minimize costs. Those costs include the production of parts catalogs, manufacturing the spare parts, processing orders for spare parts, and minimizing the return of incorrectly ordered spare parts.
To alleviate two of these cost factors, parts catalog production and reduction of return of misordered parts there is a simple solution. Generate parts catalogs directly from product design data all in one environment—your PLM. There are a number of reasons this works to address costs. First, you reduce any inaccuracies in hand offs of information from product development to the technical publication organization. Second, you can make the parts catalog specific to a product model or unit configuration. Also with the right authoring tool and usability for your parts catalog you can increase the probability of customers accurately ordering the correct part the first time.
The real question is how fast you can do it. You can see the Teamcenter solution for parts catalog authoring and publishing in this video. All you do is create the catalog object in Teamcenter, link it to the Bill of Material (BOM) of the product the catalog is documenting. RapidAuthor for Teamcenter then takes over the transformation of metadata and JT graphics (based on CAD geometry) to create a start point for the parts catalog using its RapidCatalog tool. RapidCatalog will automatically generate the part list table, hot spots, and a default product view. The author can adjust, create new pages based on the assemblies they want documented, and define views and explosions of the product.RapidCatalog will generate the parts catalog as a 2D document for publishing or as a 3D interactive catalog allowing the end user to rotate and zoom in to confirm the correct parts to order. These can be delivered via web, with no need for plug-ins for your customers.
But you probably are not done there with a one-time creation of a spare parts catalog. Products change and documentation must change too. Making a change in the design to improve some aspect of product or service for the product will require an update to the parts catalog. Is it faster to create a new parts catalog or just update the existing one? With Teamcenter and RapidAuthor for Teamcenter updates can happen quickly and almost automatically. Here in this video you see the design of the pump used early has been modified with an extended housing. All that is required to update the parts catalog is the import of the new version of the BOM into RapidAuthor and for the author to confirm acceptance of the changed product configuration. RapidCatalog will update the parts lists and illustration with the new parts, hotspots, and update the parts list in the table.
Extending the value of the product information already in PLM to quickly generate parts catalogs enables accurate documentation, helps customers to ensure properly orders parts, and reduces your reverse logistics costs from returned parts. All that adds up to greater spare parts profitability and customer loyalty.
To find out more about Teamcenter solutions for technical publishing visit Teamcenter technical publishing.
This article first appeared on the Siemens Digital Industries Software blog at https://blogs.sw.siemens.com/teamcenter/parts-catalog-authoring-quick-and-easy/