Products
Model Based Definition and the Pathway to Innovation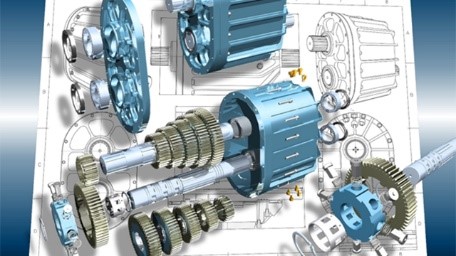 Manufacturers need to be able to ask and answer "What's next?" to discover ideas that will transform the market. Leading companies today are thinking about how to solve what might be called "the next big problem." The methods that companies use to discover innovative ideas to arrive at a solution for "what's next" will make or break how that idea performs in the market. Read more to understand how the model based definition can set you on the path to great ideas and innovative products.
In this series, we explore how a model based enterprise utilizing 3D JT data can help companies answer questions about what's next in their industry and what's next for JT. In part 1 of this series, I discussed the creation of the light bulb – and the impact of the model based enterprise. The ability to visualize 3D JT data freely in an enterprise was the "light bulb" moment for model based engineering.
Here, we discuss how model based definitions and enterprises are the next step in the JT effort.
Why is a model based enterprise is the next step?
A model based enterprise (MBE), and the practices required to support it, provide a pathway for the process of distributing innovation throughout an enterprise. When companies successfully create an MBE using 3D JT data, they have model based definitions capable of addressing issues present in product development, product manufacturing and processes beyond.
Where did the idea for a model based enterprise come from? As computer-aided design (CAD) became the norm in the industry for design and engineering, the full product development process became based on 3D models. 3D models are now the foundation for virtually all of discrete manufacturing. Using 3D data, the model base enterprise is extended beyond product development to all facets of the industry, including end-users in marketing, maintenance, and purchasing.
Serious problems develop as a broad range of users begin to use 3D engineering data sets. Full design content has intellectual property that is not meant for general distribution, downstream users need read-only access to 3D models and product manufacturing information must be able to replace drawings. There are immense risks with how data is managed. Companies must guarantee control of their data sets. With 3D data formats such as JT, which is an international standard for visualization and collaboration, users can trust the data they see and be sure the content is controlled and secure. Data formats such as JT help companies decrease the time required to develop products and maintain accountability. With a model based definition using 3D JT data, companies can create data that is complete, accurate, controllable and easily accessible.
The model based definition and digitalization
To have a model based enterprise there must be a process for model based definition (MBD). Integral to the model based definition is digitalization. A core component of digitalization is the digital thread, which connects valuable information about a product and how it performs throughout its entire lifecycle. The digital thread can have an increased impact on a company's performance the longer it is in place. A digital thread can even dictate how a company completes certain processes.
This idea of the digital thread connecting valuable information ties directly into MBE. Like the digital thread, the JT file is everywhere in model based definitions. JT files are the major player in creating a full distribution system for your innovation, which means the JT file can be the catalyst for the next big idea your company wants to bring to the market.
This is where Siemens Digital Industries Software enters the model based enterprise conversation. Siemens is developing and enabling solutions that give customers the means to deploy successful digitalization solutions. Like MBE, these solutions can transform the entire product lifecycle – which means customers have the tools they need to harness their big idea and bring it to the market.
This concludes part two of our series on MBE. In part three, we examine the role that Siemen Digital Industries Software has in MBE and four things happening today that will be the catalyst for the next big idea.
By blurring the boundaries between domains – across both physical and digital worlds – we bring the technologies of visualization tomorrow to our customers today. To learn more about Siemens Teamcenter solutions for Visualization, read more.
About the author
Mike Zink is a Senior Product Manager and Openness Evangelist with Siemens Digital Industries Software. He has more than 39 years of experience with software product development, project management, and manufacturing support. Mike currently has product management responsibility for the JT Open Toolkit, PLM XML Software Development Kit and JT2Go, the 3D data viewing tool for JT. He is also an openness evangelist and encourages openness in the industry through programs such as the JT Open Program and ISO standardization of JT. Mike has a Master's degree in software development and management and a Bachelor of Science degree in computer science from the Rochester Institute of Technology.

This article first appeared on the Siemens Digital Industries Software blog at https://blogs.sw.siemens.com/teamcenter/model-based-definition-and-the-pathway-to-innovation/