Products
Make Smarter Decisions with Active Collaboration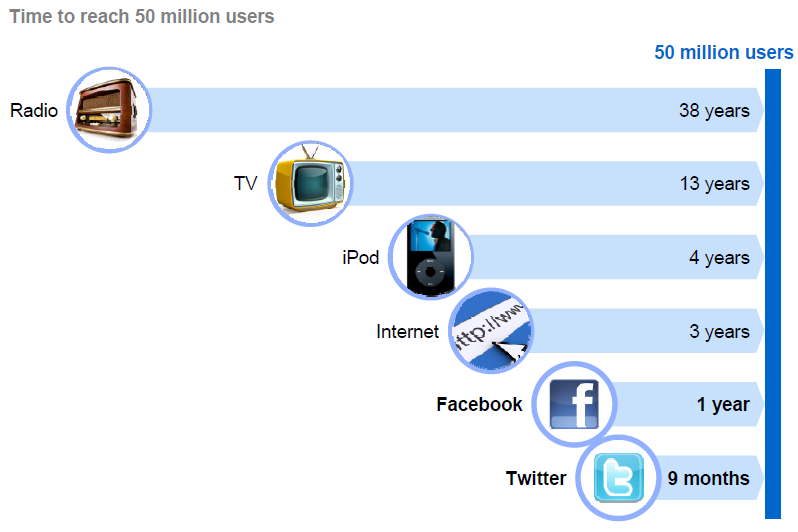 Happy New Year! I hope all of you enjoyed your Holidays. Today I will continue the Active Workspace blog post series with a discussion on how Active Collaboration enhances Active Workspace with social collaboration capabilities and help you make smarter decisions.
Social technologies, in their relatively brief period of existence, have found favor with consumers faster than any other technology innovations in the past. It took 13 years for commercial television to reach 50 million households and 3 years for Internet service providers to sign their 50 millionth subscribers. On the other hand, Facebook hit the 50 million–user mark in just a year and Twitter in nine months. Sweeping cultural, economic, and social changes have accompanied this accelerated pace of adoption of social technologies by the world's consumers.
Source: MGI_The_social_economy_Full_report.pdf
A new wave of social media applications is changing the way people communicate, creating a flexible, collaborative environment that fosters creativity and drives greater efficiency. For example, Amazon.com makes it very easy for people to share their experiences and ask questions about a specific product. Before Amazon, it was very difficult to find information about a product because they were scattered on multiple websites and online forums, most people didn't have the patience to search for this information so they had to rely on information provided by the salespeople. Today I rarely buy anything without consulting Amazon.com reviews first and I am usually happy with my purchase.
Active Collaboration brings social collaboration to your workplace and business. By enabling social collaboration in Product Lifecycle Management (PLM), we aim to bring the same transformation enabled by the social collaboration to your daily work life.
If you desire to leverage social media in your work life then Active Collaboration is a FABulous (Features, Advantages, and Benefits filled) offering for your Active Workspace environment. Let me start by discussing the Benefits of Active Collaboration for your business first, then I will correlate how these benefits are accomplished with its many Features and Advantages.
Benefits
Active Collaboration is a secure social collaboration application that will meet your needs today and tomorrow. Here are the benefits provided by Active Collaboration:
Enables secure, closed group and technical social collaboration within the boundaries of Active Workspace and Teamcenter's security model so you can have peace of mind that your information is not being exposed and discussed on public networks. Now you can confidently share knowledge beyond traditional boundaries.
Forms a social layer integrating and bringing context to your business. It enables users to communicate and collaborate quickly and easily inside the business application. So it leverages social media in your PLM environment to help tame technical challenges thus improve your productivity. Accelerate time to market!
Encourages open collaboration and co-creation, reduces time spent in unnecessary in-person meetings. Instead allows users to safely collaborate across dispersed geographical locations in their own time all the while being able to connect a face to the name for more "human" contact – with internal customers, stakeholders, partners, etc. bringing them into the conversation. Trust people!
Enables teams to focus on specific communication threads or areas of interest and track any activities using subscription. This helps you get your work done by allowing your organization to engage the right people and accelerates decision-making by seeking answers from experts. 
With emails, any knowledge shared can be easily lost down the drain, as shared knowledge in an email thread has a limited life is and can be easily forgotten. Other collaboration tools may offer perpetual life of shared knowledge but you will have to scramble first for the context and then for knowhow. Active Collaboration captures knowledge in the context of real work being done. The shared knowledge remains available, in the context, forever for people to refer to and search for, thus establishing an informal and searchable Knowledge Network! 
In summary, here are the transformative business benefits of Active Collaboration:
Empower people – Innovate anywhere – mobile, desktop, online
Engage people – Filter out the noise and illuminate ideas
Trust people – Safely collaborate with all parties involved, bringing them into the conversation to improve decision-making
Increase productivity – Knowledge is shared in context and in a searchable knowledge network
Accelerate time to market – through innovation, co-creation, contributing ideas, and collaborating on joint tasks.
 Now that you understand the benefits that Active Collaboration provides, let's dive down into its Features and Advantages.
Features
Rating
Active Collaboration enables a simple and familiar 5-star rating system as a standard method of collecting feedback from users about how they value specific products, services, or business objects. Typically higher ratings help minimize the fear of the unknown and bolster confidence. The rating provided can be termed as the importance of the object or its criticality in a specific business process. 
Comments
Enables users to provide comments on any Teamcenter objects. Commentary is a good way to begin a discussion or an information exchange in the context of the matter of interest. Relevant, helpful, or important comments can be tagged as "helpful". Such data points can help other users quickly focus on important comments first to help them make the right decision.
Q&A
Ask questions and get answers from experts. The most correct and informative answers can be tagged as "helpful". Other users can use this data point to quickly find the most helpful answer among all the answers in the threaded Questions and Answers. Users can even subscribe to the questions of their interest so they can be notified when new answers are added. Questions are categorized into three categories, All, Answered, and Not Answered, and they can be easily reached from the Active Workspace home screen.
Subscriptions
Users can "Subscribe" to notifications or bookmark the topic of their interest as a "Favorite". Users can also enable other friends and colleagues to follow certain topics which might be of interest to them. Subscriptions and Questions can be easily accessed from the Active Workspace home screen.
Active Workspace Home Screen
Advantage
Active Collaboration enables an exchange of ideas with a large community of experts –enables innovation through informal social collaboration and sharing domain knowledge efficiently throughout your organization.
Rating scorecards and classification, comments and Q&A tagging, likes, etc. all of these social interactions generate data points that can be measured, mapped, and utilized to enhance any Teamcenter data and to benefit your enterprise. It also helps to improve the search relevancy of the content.
Rating scorecard and classification help you to quickly narrow down the right content that you need
Comments are a good way to start healthy discussions, to enlighten bright minds, illuminate ideas, and inspire innovation and collaborative work ethics
Q&A enables you to get answers directly from experts without beating around the bush and allowing you to share your knowledge and experience
Subscription help you keep track of activities happening in your area of interest
A robust notification engine integrates all the features and keeps you updated with your social feeds, activities, and actions
All of the above social collaboration elements are brought together in one place, in Active Workspace's Collaboration panel
Active Collaboration enables interaction between geographically dispersed teams and team members  
The Collaboration Panel provides quick access to all social collaboration content
Summary
Active Collaboration provides a PLM-oriented social collaboration for Active Workspace users to collaborate with each other irrespective of their geography or teams. Collaboration interests bring like-minded individuals together to discuss, contribute and innovate informally within the framework of Active Workspace. Such people-centric platforms allow ideas to thrive.
This informal collaboration capability enables teams to focus on specific communication threads and fosters more informed decision-making by validating ideas with a larger community of experts to accelerate innovation and problem-solving.
Now that you're familiar with the Active Collaboration FAB, you can start to leverage it in your day-to-day work to help you design and collaborate more effectively.
Stay tuned for the next post, in this Active Workspace blog series, where my colleague, Srinivas Kuppa will continue the Find What You Need faster thread started by Samir in his video blog with new search enhancements introduced with Active Workspace 3.0!
This article first appeared on the Siemens Digital Industries Software blog at https://blogs.sw.siemens.com/teamcenter/make-smarter-decisions-with-active-collaboration/